Hot off the press are beautiful and dynamic custom food bag designs that we can't wait to share with you. Our featured brands below are full of personality—If you're looking for big inspiration, these hearty food bag designs will definitely get your light bulbs firing!
If you're still at the stage where finding inspiration for your own custom food bag designs isn't coming by too easily, you're not alone. Don't beat yourself up; many designers and business owners have gone from Study A to Study Z before achieving that perfect custom food bag design.
[Tweet "Need inspiration? Check out these beautiful food bag designs!"]
In the meantime, get inspired and take a look at our best food bag designs list, for remarkable custom bags that are both relevant and eye-catching!
---
Inkable Label Co.'s
Best Food Bag Designs List
---
EAT FREELY
Enjoy Life Foods is the fruit of co-founder Scott Mandell's hard work, stemming from a business plan in 2000, as a student at Kellogg School of Management. The company is a champion in its field—it is the first to receive independent gluten-free certification from GFCO and is also the first gluten-free company to receive non-GMO status for 100% of its products. All Enjoy Life Foods products are free-from the eight most common food allergens in the United States, as declared by the FDA–wheat, dairy, peanuts, tree nuts, egg, soy, fish, and shellfish. Enjoy Life Foods' earnest dedication to caring for everyone's health is made concrete in the impressive 60+ different allergy-friendly products they currently offer, including cookies, snack bars, seed and fruit mixes, baking chocolate, chocolate bars, and snack chips.
At Enjoy Life Foods, the entirety of the business focuses on the vital task of sustaining the market with foods that won't sacrifice taste for safety. Their goal and credo—EAT FREELY—is a promise to everyone that all offerings are specially made to be gluten-free and free-from the eight most common allergens. This certainly rectifies the many issues that come from consuming tasty foods that aren't made to be truly nourishing. People who deal with lactose intolerance, celiac disease, or are allergic or sensitive to soy, egg (or any of the top 8 allergens) can now savor delicious provisions without worry. The distinction of being the best source of tasty, allergy-friendly snacks is well-deserved by Enjoy Life Foods, in its enduring dedication and passion.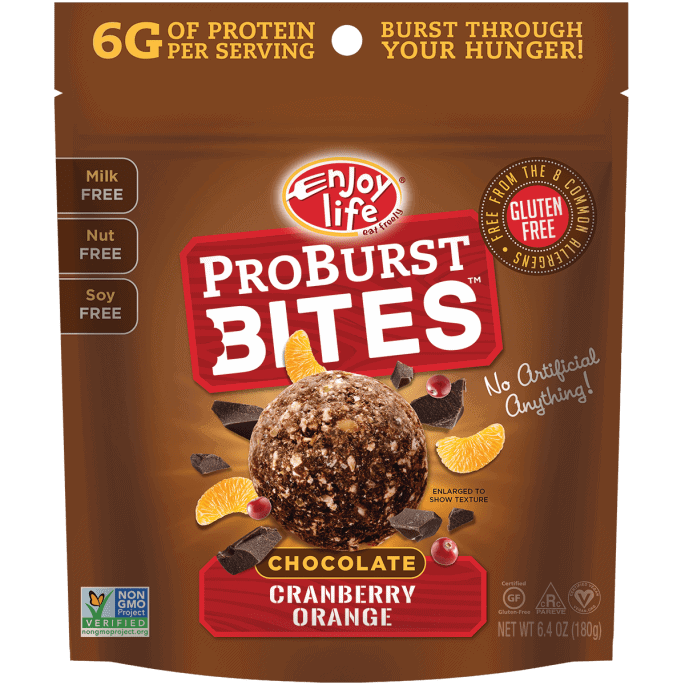 CUSTOM FOOD BAGS REVIEW:
We love the new ProBurst Bites™ food bags because the designs are dynamic, focus well on the product and product variants, and stay true to Enjoy Life Foods' fresh brand personality. Cinnamon Spice, Mango Habanero, Cranberry Orange, and SunSeed™ Butter all have the same format, and these are distinguished from the other product lines with the consistent use of the unifying brown background and identical framework. Each variant is easily identifiable with color coding that singles out each flavor easily.
FOOD BAG DESIGN TIP:
If you have many product extensions under your umbrella brand, make each product line appear analogous with each other by keeping your logo and other general art elements in the same position. When highlighting each product line and differentiating them from your other products, the key to making sure all your designs are cohesive (while also standing out) is by keeping the framework and layout identical and then adding and removing other art elements that dictate your brand variant's change in flavor, fragrance, application, or benefit. Designing your food bag artwork this way will add excitement and value to new product launches, while avoiding confusion that comes with a customer trying to button down a single product or product line from an assortment of other products under your brand.
Photo credits: Logo and all images by Enjoy Life Foods
---
STRONGER. FASTER. HEALTHIER.
Founded in March 2010, SFH (Stronger Faster Healthier®) is a separate division of Maine Natural Health dedicated to Sports Nutrition. Its Founder and Chief Scientific Officer, Dr. Jeff Leighton, is a professional pharmacologist, applying biochemistry, pharmacology, molecular biology, and functional genomics to the design of products that improve health. Working under and with the precepts of Maine Natural Health, breakthrough research and continuous scientific innovation has always dictated how each SFH nutraceutical product is designed and developed to ensure that each product has a positive effect on consumers' health and well being. Their cardinal message has always been consistent: The combination of a clean diet, exercise, along with correct supplementation—high strength fish oil and high quality protein—leads to long term health.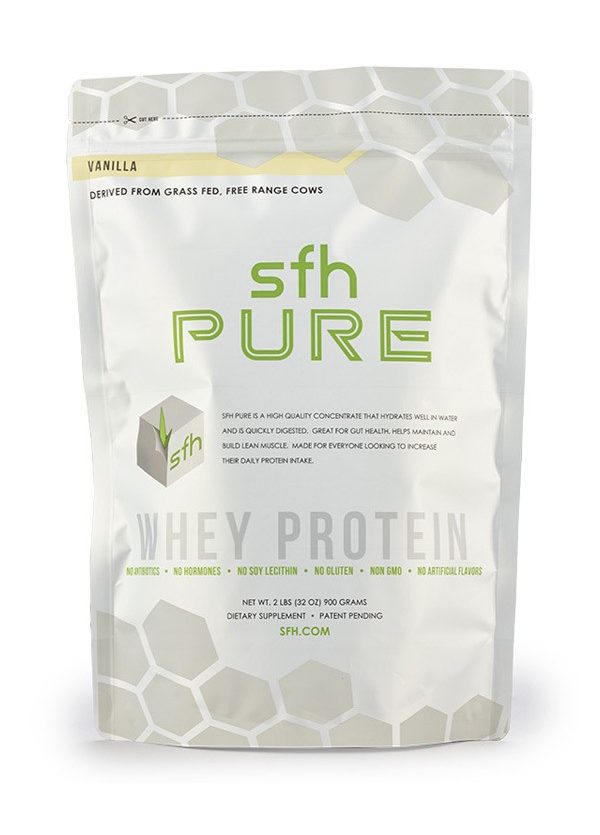 SFH routinely checks and re-checks all raw materials to guarantee each offering is up to par and stable for one year beyond the expiration date on the label. Constantly reading and updating information on their ingredients mean that each product is formulated in its best form following all relevant science issues, statements of health benefit, and crucial potential adverse reactions or events. The company's products are not meant to be standalone though—they take care of customers by highlighting the importance of annexing each chosen SFH product with clean diets and exercise programs. Uncompromising in quality, SFH focuses on muscle development, energy generation and utilization, and factors that enhance recovery after vigorous exercise.
CUSTOM FOOD BAGS REVIEW:
We think the subtle framing of all the textual elements using hexagon shapes on their custom food bag's front panel is both elegant and stylish. This cleverly draws the eye in toward the central point to focus on the brand and the type of product. Reading hierarchy is consistent across the board, with font sizes that help customers read the foundational text first become proceeding to the fine detail.

FOOD BAG DESIGN TIP:
Styling affects how your prospective customers will remember your brand. Are you a whimsical brand or do you want your brand to be perceived as no-nonsense and exacting? Does your brand stand for adventure and trying new things, or are you a heritage brand hinging on nostalgia? Make sure the style of the design of your custom food bags is consistent with your brand identity. In this example, there is no doubt that SFH positions itself as a scientific leader in its field, with the choice of color, fonts, and language projecting a clean and authoritative brand image.
Photo credits: Logo and all images by SFH
---
LIVE HEALTHIER
Organic Gemini is the company that produces Tigernut Snacks, a salubrious variety of products with Tiger Nuts as its core offering. Tiger Nuts are root vegetables rich in prebiotic fiber, iron, potassium, and other essential nutrients. Prebiotics act as food for the body's natural organisms, helping the gut's natural probiotics thrive. This wonderful healing ingredient was developed and made available as healthful snacks and beverages by George Papanastasatos and his partner Mariam Kinkladze. The powerful story behind the brand is a testament to the healing power of their products. Following Mariam's recovery after dealing with severe health issues, George set out to find solutions and discovered a study where women in similar situations were using alternative treatments and a raw food diet to find healing. They decided to pursue a holistic treatment first and reserve invasive surgery for the final alternative. Under the guidance of a holistic doctor, they both began a diet restricted to food that was raw, organic, Non-GMO, gluten-free, and dairy-free.
Established in 2013, Organic Gemini set out to share the many health benefits of TigerNuts by creating a line of snacks and beverages that feature this ancient superfood. Fans of the company's delicious products are rewarded with 40% of the daily recommended fiber with just a single ounce of Tiger Nuts! Today, the company continues to advocate for its passion for holistic food, sharing its health benefits to the world.
CUSTOM FOOD BAGS REVIEW:
We love the consistency of Tigernut Snacks' custom bag design on each of the brand offerings. While more often than not too much color can make designs seem cluttered, this example shows that with a keen eye and good taste, this can certainly work in your favor. There are no graphic elements or illustrations, even photos, however vitality and freshness is ably projected using the choice of font, color combinations, and by making the products speak for themselves via the transparent bag window. The result is a dynamic and clean presentation.

FOOD BAG DESIGN TIP:
If your food products are line extensions under a main umbrella product, using template layouts and keeping some elements consistent while changing up color schemes work well by providing cohesion to your custom bag designs. This gives a visual skeleton that is easy to follow. Does your product have a particular appearance or have a lovely mix of colors? Using windows—clear transparent sections on your bag—gives customers a nice preview of what's inside.
Photo credits: Logo and all images by Organic Gemini
---
EAT WHAT BUGS YOU
Introducing insects into Western society as a sustainable and healthful food source isn't easy. However Chirps Chips does it brilliantly and effortlessly, with the brand dishing out the first snack food made with insects, one chip at a time. Laura D'Asaro, Meryl Natow, and Rose Wang founded Six Foods last fall through the Harvard Innovation Lab's Venture Incubation Program, which later on established Chirps Chips. This amazing team was able to successfully integrate six-legged creatures into the market as a delicious alternative to other food staples. The production of their novel offerings produce far fewer greenhouse gas emissions than livestock, and taste is top notch as the group solicited the help of Geoff Lukas, the chef de cuisine at Sofra Bakery. This professional chef enabled them to perfect their recipes, and they tested these on hundreds of people to guarantee products that are as environmentally sustainable as they are scrumptious and nourishing.
High in vitamins and minerals, these insect-based food products are made with cricket flour. Cricket flour is made from slow-roasted milled crickets that are transformed into a light brown flour resembling brown sugar. This adds subtle, nutty undertones to all Chirp Chips products—the best part is that this superfood delivers up to 70% protein plus vitamins and minerals. Four crickets have as much calcium as a glass of milk, more iron per gram than beef, and require much less feed to produce meat because crickets are twice as efficient in converting feed to meat as chicken, at least four times more efficient than pigs, and 12 times more efficient than cattle. Today, Chirps Chips continues on a delicious journey that we are more than happy to savor.
CUSTOM FOOD BAGS REVIEW:
The branding on the custom bag designs of Chirps Chips hinges on descriptive terms such as "natural", "organic", and "sustainable". Using a kraft pattern background on their chips products and actual kraft paper bags for their cookie mix ties in well with their brand values. We love the cricket vector drawing on the lower right hand side on the bag front panels—this guy feels like the brand's ambassador, chock full of all-natural goodness. We love the packaging because the overall look is fun, wholesome, and personable. Framing most of the art elements in a speech bubble draws the eye in and toward the center, with good color and font size choices making the reading hierarchy easy to follow.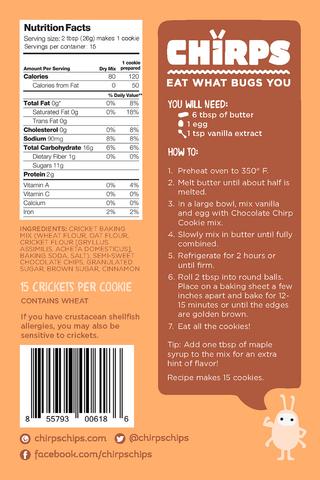 FOOD BAG DESIGN TIP:
As demonstrated in this example, the choice of bag material can truly transform the overall look and feel of your bags. Kraft definitely affords an organic and eco-friendly feel, just by virtue of its characteristic appearance. Consider the correct finish (gloss, matte, satin) to complete the "demeanor" of your custom food bags, or add finishing touches such as foiling or Spot UV to enhance particular art elements in your design.
Photo credits: Logo and all images by Chirps Chips
---
QUINOA GRAINS AND GLUTEN-FREE GRAIN PRODUCTS
Martin Bilodeau, president and founder of Cie 2 Ameriks, tasted quinoa for the first time during a backpacker trip after his studies. What seemed like an unexceptional meeting with this little grain blossomed into a passionate business fuelled by inspired values and the drive to succeed in the organic and fair trade market. GoGo Quinoa™ was born in 2004, utilising a lean team, mixing and bagging products locally. Now the company has grown and is headquartered in a twenty thousand square feet facility in Montreal and continues to grow its line by developing and manufacturing products that incorporate local ingredients to satisfy customers' tastes and needs. GoGo Quinoa™ thrives in making the best products that consumers can enjoy in confidence, always in good health, and with a smile.
The GoGo Quinoa™ range contributes an impressive roster of 40 organic, gluten free, and vegan made offerings made from quinoa and other Andean grains. Its umbrella company, Cie 2 Ameriks, is a manufacturer specializing in Andean grains and superfoods. GoGo Quinoa™ prides itself in the quality, simplicity, and pureness of its products' ingredients—this also bolsters their goal of providing healthful and nutritious products that are safe for those with allergies or food intolerances. People following a high protein diet, and even serious athletes can benefit immensely, and people with Celiac Disease or gluten intolerance will also benefit from it, since quinoa does not contain any gluten and acts as a nutritious alternative to any wheat product. GoGo Quinoa™ has indeed realized its mission of supporting the nutritional well-being of all by producing innovative, nutritious, and flavorful products, all the while doing this ethically and responsibly.
CUSTOM FOOD BAGS REVIEW:
We love the custom bag designs in this example because all varieties have a solid focal point, and each different variant is easy to identify. The style itself moves more toward clean and professional rather than pop art or vintage. Each bag design is conspicuous and straightforward in the presentation of clear and concise information. We prefer the solid color background layout to the half-and-half colored bags; however these stack nicely and both layouts have large product names that can be seen even from afar, which is something shoppers truly appreciate, adding to on-shelf appeal.
FOOD BAG DESIGN TIP:
Most often, designing custom food bag artwork can be an overwhelming task. If you need to use the whole front panel for product information and want to make this more look more professional, make a content outline first. Because this can quickly go from simple to cluttered, mockup sketches on paper rather than on screen can help you determine where it can get too busy. This especially saves time if you aren't too adept at handling graphics programs. You can always hire someone to finalize everything when you're set and ready.
Photo credits: Logo and all images by GoGo Quinoa
---
THE TASTY HEALTHY SNACK
Oloves is wholesome product that is hard not to love. The winner of 5 awards—Fresh Ideas, IFE (London); Taste Award, Anuga (Cologne); Trends and Innovations, Sial (Paris); Mercury Award, ITCA (Barcelona); Appetizer, Antipasti Category, NY—this tasty and healthy snack brand has garnered fans both kids and adults alike. Oloves are available in four lovely flavors: Basil and Garlic (formerly Tasty Mediterranean), Chili and Oregano (Natural Green), Lemon and Rosemary, Chili and Oregano (Ripe Black). These offerings are fresh, tasty, and natural pitted olives snacks that are low in calories, low in fat, gluten-free, vegan-friendly, and 100 % kosher. These all natural products are positioned as "lunchbox friendly" and great for lunch time, picnics, and snacks on-the-go. Lovers of clean and healthful diets are sure to show a whole lotta' love for these guilt-free, delicious snacks.
The company says the origins of the brand can be traced back to Spain, where they found these lovely little olives and were inspired to share them because they were so tasty! They bagged the olives, sold them on the beach, and ultimately brought the idea back home. With hard work, planning, and their passion for olives, Oloves was launched, and the lovely bags of marinated olives were finally sold commercially. All of Oloves snacks are 100 % natural, without nasty additives. On their site olives are vector art that are given speech bubbles; and these transform into unforgettable and marked brand ambassadors to match the fun and vibrant Oloves' brand personality that people from around the world have come to know and love.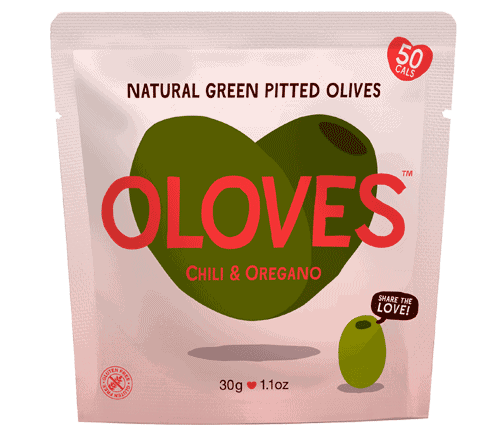 CUSTOM FOOD BAGS REVIEW:
We love Oloves' decision to veer away from the conventional and bulky jar packaging commonly seen with olives. This is a strong branding decision that makes them stand out on category shelf, as well as a smart functional aspect that communicates that this is a light and convenient, on-the-go snack. We think their custom gusseted stand up pouches have extremely personable and fun designs. The simple yet fabulous packaging matches the company and brand personality perfectly. The heart shape formed by two overlapping olives strengthen the brand messaging and that almost unnoticeable gradient gives a slight "blush" to each design.
FOOD BAG DESIGN TIP:
When packaging lighter and more delicate food products, contrary to something like grains and coffee, opt to use stand-up pouches. The unique shape of stand up pouches as opposed to regular gusseted bags ensure these are always right side up, with the contents protected to some extent and aren't easily crushed.
Photo credits: Logo and all images by Oloves
---
THE #1 FREEZE-DRIED FRUIT BRAND
The epitome of full flavor and nutrition comes in the form of Crispy Green, which was founded in August 2004 with a vision to be the leading provider of high quality, natural food products. The company's offerings support living a healthy life with the help of incredibly delicious freeze-dried fruit as a smart and satisfying choice for snacking. Crispy Green's hardworking and diverse team has been consistently providing high quality freeze-dried fruit snacks and adding new flavors to their product line, making sure that each customer is educated and empowered to make good snack choices. Each Crispy Green product has no sugar (only natural sugar from the fruit in all of their snacks), sweeteners, or any flavor enhancers and consumers can truly indulge in guilt-free snacking. Wholesome and delicious, these freeze-dried snacks use only the best natural ingredients—100% fruit and nothing else, light and flavorful, with no additives or preservatives.
Crispy Green is a healthy, on-the-go way to satisfy cravings with no added sugar. Their products are healthier than regular dried fruit, maintain 90% of the nutritional value and low in calories (less than 55 calories per serving). Their sophisticated freeze-drying process retains most all of the nutrients, which means that customers are able to add more fruit to their diet while delighting in snacking a wholesome natural product in light and crispy chip form. Available in 7 delicious flavors, apples, bananas, mangoes and other fresh fruits are transformed into incredibly light and crispy chips, answering the need for more natural and vegan choices in the market. These fruit snacks are gluten free, certified Non-GMO, kosher, and have no fat or cholesterol. The company's simple philosophy rings true: keep it pure, keep it tasty and keep it wholesome.


CUSTOM FOOD BAGS REVIEW:
We think Crispy Green's custom food bag designs are clean and simple and perfectly highlight the enticing contents of each food bag. All fruit feature favorites are depicted as hero shots on each front bag panel to celebrate the wholesomeness and vibrancy of each natural ingredient to the fullest, even showing the sectioned fruit slices. Creating food bag designs that incorporate actual images of the unprocessed contents adds an overture of vitality. This, combined with the vibrant colorful wave shape on the left hand side makes each food bag stand out in its freshness. The result is an enticing and energized set of graceful custom food bag designs.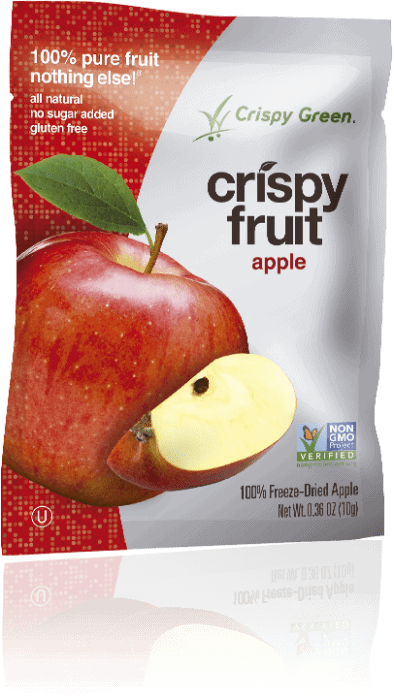 FOOD BAG DESIGN TIP:
When assembling the design of your custom food bags, it's well and good to add references to aspects of your product that you'd like to highlight. While textual elements is great, always use photos and visuals to make your food bags communicate faster. In this example, the artwork tells you clearly what to expect with simple context clues—the chosen color palette, imagery/featured ingredient, the most important brand benefits, and even a badge to certify that these are non-GMO. The result is the correct conditioning of both atmosphere and mood of the customer even before opening each food bag.
Photo credits: Logo and all images by Crispy Green
---
Your packaging carries the heart and soul of your brand, and we don't take this huge responsibility lightly. We're always excited to discuss branding and Prepress until we're absolutely happy with the end result. We hope you enjoyed our best food bag designs post—stay tuned for more custom bag design inspiration soon!
*Just a note that we believe that branding isn't everything: what makes your custom food bags work in the long run is the dedication you put into your products and services, from defining your brand values, to your company culture, to speaking about things that you care about through your brand's voice.
NEED ADVICE FOR YOUR OWN
CUSTOM FOOD BAG DESIGNS?
CLICK HERE FOR YOUR FREE CONSULTATION