Hot off the press are exceptional pet care product bag designs that speak volumes about dedication and heart, honoring both furry pals and their human families throughout the world. Our featured brands below are full of personality—If you're looking for big inspiration, these beautiful pet care product bag designs will definitely get your light bulbs firing!
If you're still at the stage where finding inspiration for your own pet care product bag designs isn't coming by too easily, you're not alone. Don't beat yourself up; many designers and business owners have gone from Study A to Study Z before achieving that perfect pet care product bag design.
[Tweet "Need inspiration? Check out these beautiful pet care product bag designs!"]
In the meantime, get inspired and take a look at our best pet care product bag designs list, for remarkable custom bags that are both relevant and eye-catching!
---
Inkable Label Co.'s
Best Pet Care Product
Bag Designs List
---
FUN * HEALTHY * TASTY.
Buddy Biscuits are the closest treat to homemade, and serves not only to satisfy but also nourish. Driven by its mission of providing a selection of wholesome and natural treats designed to meet every pet's unique needs, the company fine tuned recipes to create offerings that are free of additives such as corn, soy, artificial dyes, flavors, and preservatives. Each tasty treat includes only ingredients that matter, full of all-natural goodness, with its trademark shape that is instantly recognizable compared to other commercially available treats.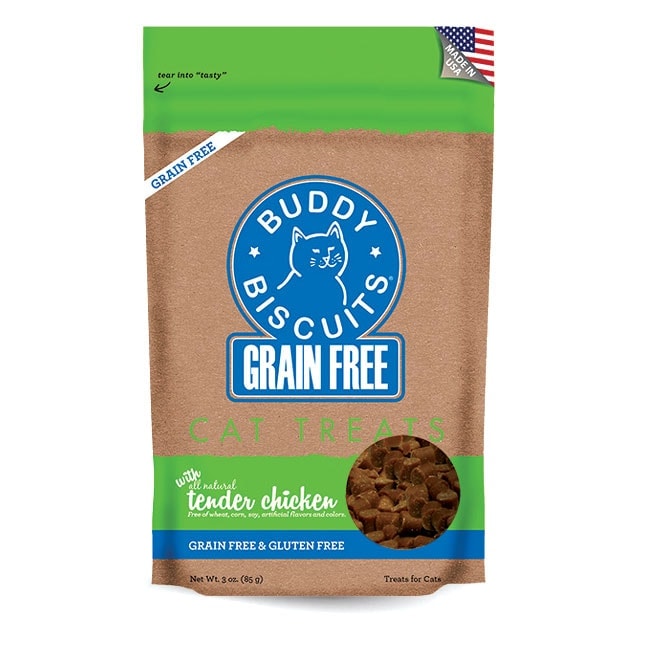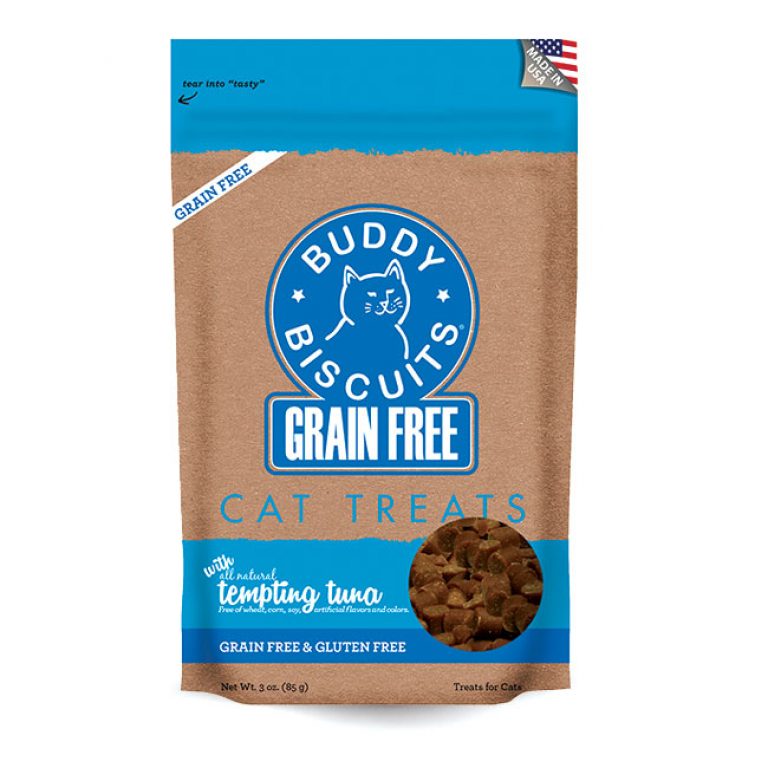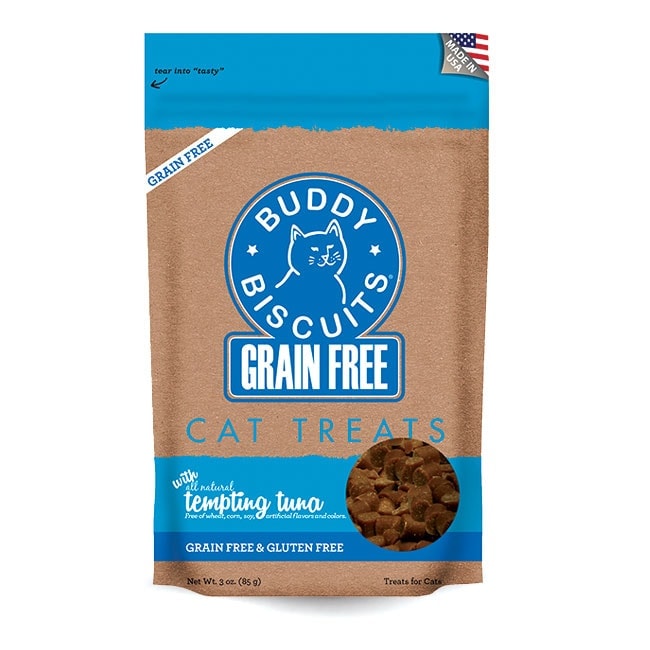 Both dog and cat parents have their pick of mouth-watering treats. Popular flavors and favorites include Bacon and Cheese, Grilled Beef, Peanut Butter, and Chicken for canines, and Savory Turkey & Cheddar, Tempting Tuna, and Tender Chicken for felines. Not only does Buddy Biscuits focus on flavor—they understand and recognize that format is equally important in each pet's enjoyment of treats time. Oven Baked, Soft & Chewy, Teeny Treats, Trainers, and Boosters each has a specific profile that helps pet owners choose the best type that their fur kids will love. Made by pet lovers for beloved pets, the company's products support the nutritional needs of dogs with pesky food allergies, persistent health conditions, or even just picky palates.
PET CARE PRODUCT BAG DESIGN REVIEW
Buddy, the brand's ambassador, is a friendly fella, chock full of all-natural goodness. This element is crucial in establishing the brand and solidifying its brand personality. We love the packaging because the overall look is fun, wholesome, and personable. Buddy is always present—whether as the original image or as a cutout shape on the bag windows—and the layout and arrangement of content make the reading hierarchy easy to follow.
CUSTOM BAG DESIGN TIPS
Use color to segment and for consistency. If you're having a hard time unifying the layout of your pet care product design of multiple related products, color schemes or template layouts work well by providing cohesion to your designs. This gives a visual skeleton that is easy to follow. Keep the layout uniform and stick to your color assignments so that customers are able to identify each product quickly.
Photo credits: Logo and all images by Buddy Biscuits
---

A true heritage brand, Fromm Family Food is an artisan pet food company based in Wisconsin. Keeping everything close to the chest, the company is family-owned and operated, and has been since 1904. They have remained perseveringly relevant throughout the years, maintaining a tradition of quiet innovation dedicated to the health and nutrition of animals. The company's brand reputation is built on ingrained family values and a commitment to doing what's best for their customers, employees, and business. From developing the first canine distemper vaccine, to introducing the concept of premium pet food to the world by pioneering the process of cooking meat and grain together to create the dry kibble food, Fromm Family Food is as impressive as they are passionate and hardworking.
Tom, Kathy, Bryan, and Dan Nieman are fourth and fifth generations of a business that has surely made a meaningful mark through their wholesome products. Business is a family affair—this distinctly includes our four-legged family members. Everything is carefully formulated and developed under the high standards of Fromm Family Food. Their dry pet foods and low-fat treats are produced at family-owned-and-operated USDA-inspected plants in Wisconsin; their grain-free treats are made in Wisconsin at a USDA-inspected partner plant; and their canned recipes are made at the family-owned-and-operated cannery in Wisconsin.
PET CARE PRODUCT BAG DESIGN REVIEW
We think the layout and design of these custom pet care product bags resonate the family's unyielding dedication and passion by highlighting brand equity and tradition on each bag. Regardless of product extension, the design proudly places the brand name front and center, with the product name and simple supporting text found inside the main rectangular central art element. There are no added affectations, no overtly stylistic approach to take away from the messaging. Each layout inspires vitality with the spirited, colorful palette, with other designs having added background illustrations and patterns for tasteful variation. The result is an elegant and graceful presentation.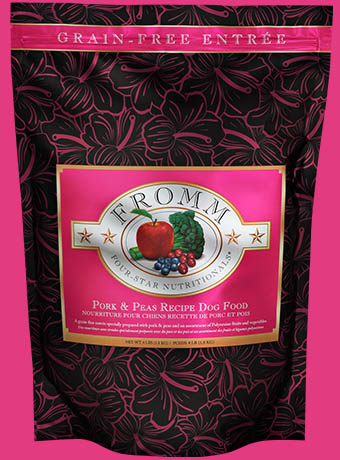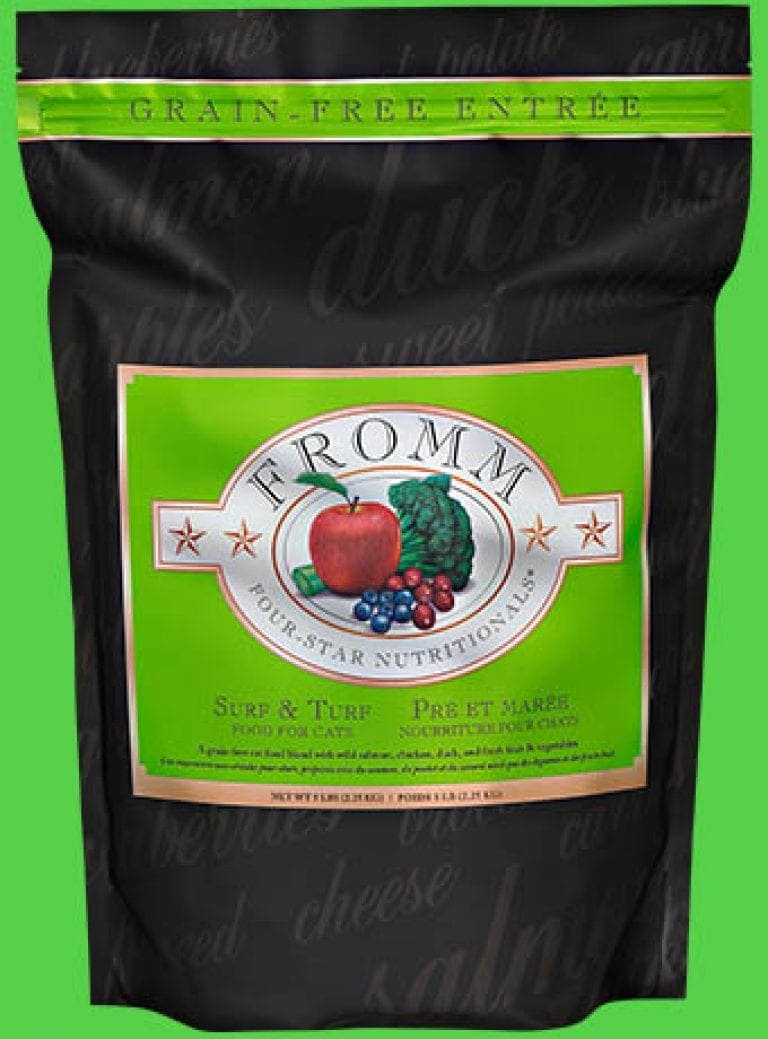 CUSTOM BAG DESIGN TIPS
As demonstrated by this example, the simple option of laminate or material can truly transform the overall look of your bags. Consider the correct finish (gloss, matte, satin) to complete the "demeanor" of your packaging. Don't try to add art elements on your pet care product bag design just so that you use up the whole bag panels—styling goes a long way with simple layouts. You can "pose" your products in a very involved setting and add embellishments without making each product shot too complicated and confusing.
Photo credits: Logo and all images by Fromm Family Pet Food
---
US MEAT-BASED TREATS DOGS LOVE!

Founded by Doug Martin and Sherry Huber, Etta Says!® is one of four brands under the umbrella company Treat Planet, a feel good, dog lovin' company based in Saint Louis, Missouri. From innovative chews to unique single source proteins, Etta Says!® products are made with 100% all natural ingredients from verified farms across the USA. The brand advocates the philosophy of their Treat Planet family—if they are not totally comfortable feeding their treats to their beloved dogs, they are not going to feed them to yours! Their impressive standards mean that customers can be assured of only the highest quality ingredients that are as tasty as they are safe and nutritious.
The brand educates people on the importance of what their name represents: Etta is literally "Head of the Household". This is construed as the important position our precious dogs hold in our hearts and homes. As the head of the household, dogs deserve only the highest quality and best tasting treats their families are able to give. Etta Says!® delivers on their brand's core foundation by consistently producing its meat based treats and innovative chews. A strong industry leader, the brand's offerings are unique, easy to digest, have no odor, and won't stain carpet. Their chews are unique because they are safer than traditional rawhide due to a proprietary manufacturing process that breaks down the rawhide and blends it with high quality proteins sourced from American farms. From fun 3 Foot Crunchy Chews, highly palatable Jerky, Sliders + Chews, to nutritious Freeze Dried YUMMS + Medleys and convenient Grab N Go Crunchy Chews & Bars, each Etta Says! ® bagged treats set is packaged to engage customers and showcase the quality their brand is built upon.
PET CARE PRODUCT BAG DESIGN REVIEW
We love the consistency of the pet care product label design on each of the brand offerings. The official representative, an illustrated dog, is designed to highlight the significance of dogs as the head of the household. The character, Etta, transforms into an unforgettable and marked brand ambassador to match Etta Says!®'s brand personality. The beloved Etta figures largely on the packaging and the layout makes each bag look almost like mini posters, with each "poster" successfully selling and educating at the same time. Everything is organized perfectly and the use of fonts and color ties in with the logo nicely.
CUSTOM BAG DESIGN TIPS
When packaging your pet care products (especially for perishables such as food), make your product shine by using a bag format with a clear section on the front panel. This showcases the offerings inside, giving customers a preview (clear view!) of the beautiful textures and colors of the various healthful and natural ingredients that go into each sealed bag.
Photo credits: Logo and all images by Etta Says!®
---
SILICA GEL LITTER
ZooPride, the official representative of the Gatchina feed mill (CCH) in St. Petersburg and Leningrad region, has been a leader in the animal feed industry in Russia for more than 70 years. The company specializes in the manufacture and sale of feed for farm animals and birds, as well as feed for commercial fish farming. With its large production facility in its Gatchina feed mill, Zoopride has developed food for chickens and other poultry (ducks, geese, pheasants, ostriches), feed for pigs and cattle, rabbits, feed for trout and sturgeon, carp and catfish, salmon. One of their remarkable offerings is Aromaticat, a premium class of cat litter.
Aromaticat has been specially designed for very particular pet owners. While other kitty litter products come with the more garden variety scents, the brand differentiates itself by featuring more exclusive and extraordinary scents such as the delightful, sweet-smelling bouquet of an orchard, the refreshing balm of a provencal landscape, and the earthy and exotic scents of a rainforest. Aromaticat comes in three variants, in 3L bags. The kitty liter boasts of a long service life, is environmentally safe and harmless if ingested, and the crystals format does not stick to fur and won't damage the delicate skin of kitty's feet.
PET CARE PRODUCT BAG DESIGN REVIEW
Creative studio Dochery artfully deviates as much as possible from the "house kitty" and instead communicates with the bag design that each domestic cat carries a wild spirit and would be better suited doing his or her business in a beach, in a garden, near a field of lavender. The use of colorful illustrations and absence of realistic photos act to veer away from the reality of the subject of a cat's toilet, working to build a lovely and fanciful image that supports the product concept very well. Rich color palettes convey that the products are strong enough to neutralize odors while creating a more pleasant experience for both pets and owners.
CUSTOM BAG DESIGN TIPS
Differentiating yourself from competition requires a solid concept that works with your product's brand benefits. As much as possible, inject personality into your brand and align your packaging with your brand image. Custom pet care product bags are not only containers and a means of identification but are also (and more so) a vehicle to make your products remarkable. Review your pet care product bag design because fun concepts are not for everyone—make sure to align your packaging and label artwork with your brand identity to make sure these are consistent and represent your brand personality and values well.
Photo credits: Logo and all images by Aromaticat and Dochery
---
THE SWEDISH QUALITY PET FOOD

Bozita is one of Sweden's largest dog and cat food brands, and is the umbrella brand of the brand Nordic by Nature™. The brand is powered by Nordic nature itself, which provides the company with a year-round supply of natural delicacies ranging from the far north to the deepest south that they have utilized and wielded to create a perfect combination of flavors. Nordic by Nature™ proudly puts forth its offerings that only contain the finest ingredients to create a perfect combination of flavors for dogs and cats. Their products are healthful, clean, and without any unnecessary additives. They feature unique taste sensations from north to south—Gotlandian Lamb Roast, Bohuslandian Fish Pot, and Laplandian Elk Stew.
Nordic by Nature™ is manufactured in the company's beautiful farmland in Vårgårda, western Sweden. Here, as elsewhere in Sweden, farmers use less chemicals than elsewhere in the world and the Swedish animal husbandry has for decades been characterized by far-reaching protection and security. This means that their ingredients are of the highest quality, without hormones, antibiotics, and synthetic additives. Having done so for over a hundred years, their strong mission is to produce high quality food for cats and dogs—and they intend to continue for centuries to come.
PET CARE BAG DESIGN REVIEW
Designed by Momentum Sverige AB, we love the sleek, minimalistic design on these. Not only does this pet care product bag design stand out as beautiful, but it also conveys vitality, is stylish and unique. The use of predominantly black makes the beautiful scenery look more striking and vivid. Most of all, the packaging represents the brand very well, as this gives a strong support system in highlighting the high quality ingredients and freshness and a real sense of Nordic nature.
CUSTOM BAG DESIGN TIPS
In this example, Nordic by Nature™ illustrates that clean and simple works if branding is genuine and well conceptualized. When creating your graphic elements, take into account what your brand stands for. Inject interesting art elements that depict anything relevant related to your brand, from the tangible (representation of your product and its ingredients) to intangible (freshness, vitality, love, safety, and so on). For readability's sake, choose light colors for text on dark backgrounds and vice versa to ensure that your custom pet care product bag design has good contrast and is easy on the eyes.
Photo credits: Logo and all images by Nordic by Nature™
---
Your packaging carries the heart and soul of your brand, and we don't take this huge responsibility lightly. We're always excited to discuss branding and Prepress until we're absolutely happy with the end result. We hope you enjoyed our best pet care product label designs post—stay tuned for more custom bag design inspiration soon!
*Just a note that we believe that branding isn't everything: what makes your pet care product bags work in the long run is the dedication you put into your products and services, from defining your brand values, to your company culture, to speaking about things that you care about through your brand's voice.
NEED ADVICE FOR YOUR OWN
PET CARE PRODUCT BAG DESIGNS?
CLICK HERE FOR YOUR FREE CONSULTATION