Hot off the press are stunning cannabis label designs of extraordinary products that heal and delight throughout the world. Join us in applauding our featured brands below—If you're looking for big inspiration, these uplifting cannabis labels will definitely get you in high spirits!
If you're still at the stage where finding inspiration for your own cannabis label designs isn't coming by too easily, you're not alone. Don't beat yourself up; many designers and business owners have gone from Study A to Study Z before achieving that perfect cannabis label design.
[Tweet "Get high on inspiration with these excellent cannabis #customlabel designs!"]
In the meantime, take a look at our best cannabis label designs list, for remarkable labels that are both relevant and eye-catching!

---
Inkable Label Co.'s
Best Cannabis
Label Designs List
---

Founded by Dahlia Mertens in 2010, Mary Jane's Medicinals produces all natural and organic topical products in Telluride, Colorado. A massage therapist herself, Dahlia was introduced to cannabis-infused massage oil in the beautiful mountains of Northern California and was inspired afterward to return to her home state of Colorado and start a line of cannabis-infused topical body products.
Needless to say, she blown away by the outstanding feedback she was receiving from clients once she started using the oil. This was the confirmation that her extraordinary products were helping to relieve and even heal. This was also a powerful testament to her strong belief that cannabis is a most special plant, quite possibly the most medicinal plant on our planet. A precious gift meant to be enjoyed and shared, Mary Jane's Medicinals continues their mission of giving people a natural and effective way of treating and healing a very wide variety of ailments.
All products are carefully produced in small batches using the best all-natural ingredients with the active component, organic cannabis. Rich plant oils, flower essences, and healing herbs are wonderful aromatic composites that work symbiotically with the incredible medicinal qualities of cannabis to create the most therapeutic products designed to treat an assortment of ailments. The company prides itself in its natural, gentle, and effective offerings for people who are interested in a holistic approach to health and wellbeing.
CANNABIS LABEL DESIGN REVIEW
Liz Lomax is the creative mind behind the logo, branding, packaging, and print collaterals of Mary Jane's Medicinals. Her remarkable style is immediately apparent in the unique 3D rendering of her hand-sculpted illustration of Nurse Mary, the central figure that represents the brand. Like the products they represent, all elements are carefully and thoughtfully hand-drawn—the clouds, plants, and banner perfectly support and frame the central element that makes this cannabis label design markedly custom and unforgettable.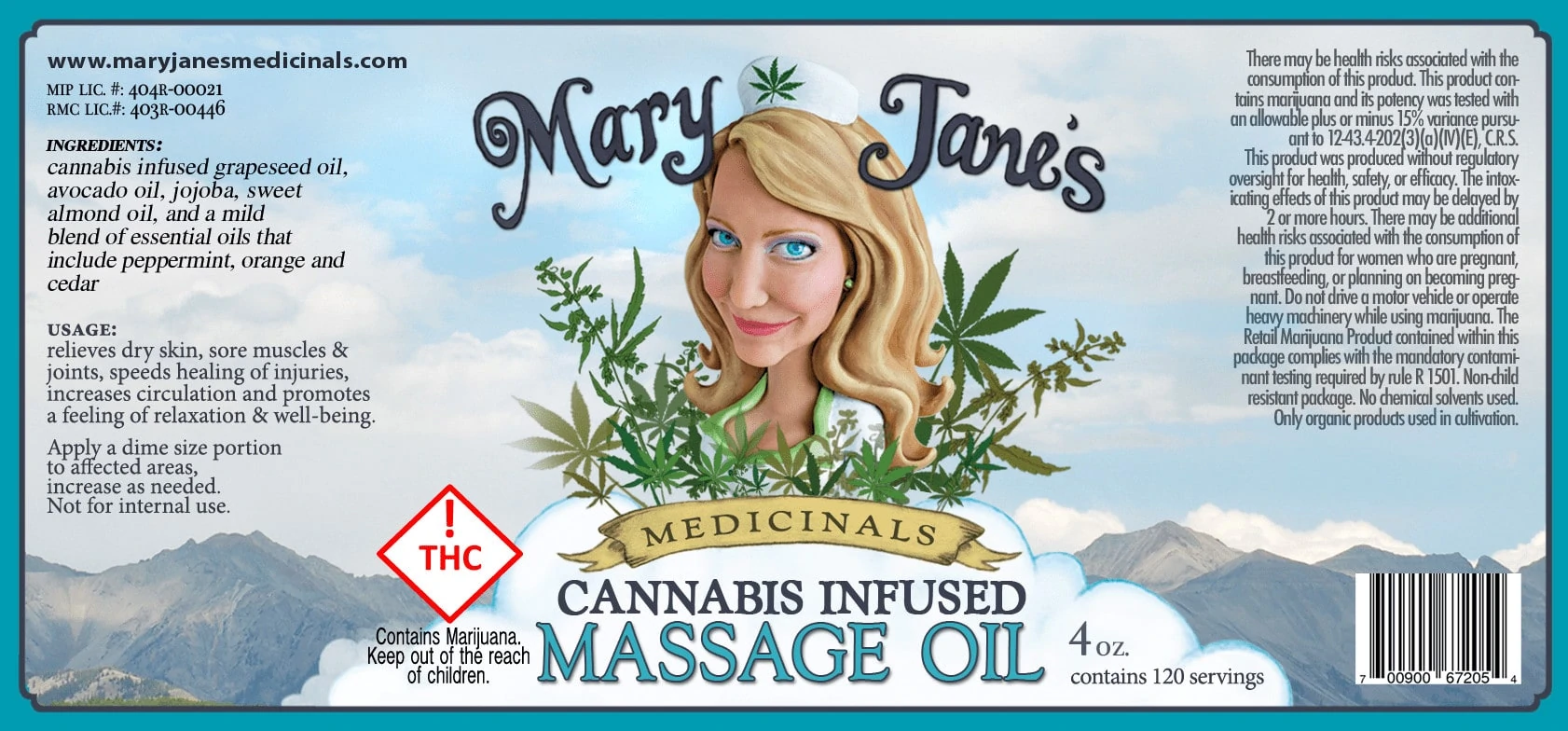 CUSTOM LABEL DESIGN TIPS
When working around a main artwork element for your custom cannabis labels, make sure to align this with your color palette and how this complements your packaging, as seen in this example with the black and blue cobalt bottles. Hiring a good graphic designer to help execute your vision is a great investment, especially if your concept is a bit more involved. It is with a keen eye, good taste, experience, and print design skills that you can execute complex and involved designs.
Photo credits: Logo and all images by Mary Jane's Medicinals
---
Innovation and passion working closely together can only result to superior products that successfully fill a gap in the market. This is precisely what a close-knit group of friends who had spent their entire careers working in the health and beauty industry wanted to achieve. Disappointed at the current shift of companies using cheaper, synthetic ingredients in the name of lowering costs, they decided to venture off on their own to establish a brand that would market nourishing personal care products using natural and high quality ingredients. Armed with years of experience and intimate knowledge of what consumers are looking for in their premium health and beauty products, the North American Hemp Co. brand was born.
The company works extremely hard to deliver a remarkable line of hair cleansing, hair styling, skin care, and body care products with formulas that are completely biodegradable, PETA certified as cruelty free and vegan, and use only food grade flavoring as aromatics. All North American Hemp Co. products contain certified organic Canadian hemp seed oil at the highest possible concentration and are designed to improve moisture, shine and leave skin and hair with no build-up or greasy residue. Omega fatty acids, amino acids and anti-oxidants lock in moisture to promote cell rejuvenation for youthful glowing skin. No longer are natural products supplementary—thanks to the company they are now essential tools in everyone's healthful and invigorating daily rituals.

CANNABIS LABEL DESIGN REVIEW
The design of the North American Hemp Co. logotype is clean and dynamic. With the reverse white-on-gold icon, the eye is instantly drawn to this first, and it works to set the hierarchy as each label is scanned from top to bottom. The wraparound label format is simple, making the discovery of information quick and easy. Color is used to signify different line extensions, which aids in proper identification of each product.
CUSTOM LABEL DESIGN TIPS
If you'd like gold foil but don't have the budget to do costly foil stamping, a cheaper alternative that works is to print on silver or gold foil labels and keep the areas that you want to appear shiny unprinted. This reverse print blocks out the foil substrate while giving the areas that are unprinted the signature tinsel effect.
Photo credits: Logo and all images by North American Hemp Co.
---
ORGANIC PAIN RELIEF WITH PRIDE
Having won various accolades, Lionz Share Topicals is making a significant mark in the industry. It prides itself (pun intended) as being the premier source of quality topical cannabis. Their products work under the precepts of modern research—the proficiency also lies in the method of absorption. It is only through the skin's endocannabinoid system (ECS) that the medicinal qualities of cannabis are fully given to.
Each batch is lab tested following strict standards to guarantee the exact cannabinoid content to customers. Wonderfully enriching, each product is blended with organic, food grade essential oils that serve as synergistic amplifiers to all their topical cannabinoid products. Essential oils contain terpenoids acting as adjuvants to complement and augment THC and other cannabinoids, delivering effects that are truly outstanding. Lionz Share Topicals' offerings underline their pain relieving, anti-inflammatory, and muscle relaxant benefits to customers who have been more than satisfied with the sterling results.
CANNABIS LABEL DESIGN REVIEW
Clean, modern, and dynamic simplicity is the prevalent feel that drives the overall look and tone of these custom cannabis labels. We've always been fans of top and body labels when it comes to tins; the complementary gold-black and white-blue/white-pink works extremely well to set this brand apart from the rest. The stark contrast of ink color and packaging, plus the choice of doing solid prints on clear label stock serves to give that "no label" look which we absolutely love.
CUSTOM LABEL DESIGN TIPS
Clear labels give you that printed right on the packaging look that translates to seamless and truly "custom" labels. A big plus with the transparent material is that depending on your concept's execution, these can be cheaper alternatives to die cut labels (cookie cutter shapes or custom shape labels), enabling a wide range of aesthetic presentations.
Photo credits: Logo and all images by Lionz Share Cannabis Topicals
---
CHRONIC SOLUTION FOR CHRONIC PAIN.
From Oregon comes a healing salve that aims to help relieve pain so patients are able to live and enjoy a better and happier life. This is the all important mission and passion of the company's owner, Skye Rapaport.
What started out as a personal R and D to find the best treatment to cure chronic back pain is now a fully operational business that is intent on sharing its healing products to as many people as possible. Founded in 2011, Bud Rub is the product of two years of creating, recreating, and finalizing the formulation of the exceptional cannabis-infused salve.
With organic shea butter, organic cocoa butter, and an all-natural beeswax as its base to help active ingredients be applied easily and penetrate deeply, Bud Rub safely and effectively blocks pain and relaxes muscles without any psychoactive side effects. Menthol and camphor work to stimulate nerve endings, relieve pain and swelling, and increase blood flow while relieving minor aches and pains. The best organic ingredients are used in order to create the healthiest topical salve available. Bud Rub is a proud testament to the healing and life-changing power of cannabis as a natural and holistic pain reliever.
CANNABIS LABEL DESIGN REVIEW
We love the stark simplicity of these sleek labels. The thin lines cutting across the label design frames the logo well, drawing the eye in toward the center. We think the green and cream support the black logo well and works to complement the silver tins nicely. The alternative black and green (with cream logo) sharply contrasts with the silver tins, and immediately speaks of the change in potency of the formulation. This lends to easier identification, even from a distance, on the website or on-shelf.
CUSTOM LABEL DESIGN TIPS
In this example, the Extra Strength variant's label has a predominantly black background. If your own custom cannabis label designs have a dark background, especially black, it is important to get your files checked by Prepress (print designers) to check for ink values. This aspect is called TIC, or Total Ink Coverage, which can cause problems if the ink saturation (ink levels on your file) is too high, which can lead to muddy colors and ink smudging. Different printers may have different recommendations, so be sure to get a hard proof for checking if you haven't done a print run of your artwork before.
Photo credits: Logo and all images by Bud Rub
---

From flavored tinctures, gourmet infused brownie mix, honey, to cannacaps and natural shaving soap, Apothecary Labs has definitely a lot of amazing products to offer. Their impressive repertoire of cannabis and hemp infused products contain only the purest ingredients that deliver holistic remedies that heal, nourish, invigorate, and satisfy.

This concept stems from a fond memory of one of the founders—her grandmother's apothecary in Vienna, people coming in looking for tailor-fit solutions and being healed by formulated tinctures and healing herbs. And so this natural healing model was made concrete by like-minded individuals that came together with the same passion for finding healthy alternatives to pharmaceuticals.
Harnessing the prevailing power of cannabis, all Apothecary products are characterized by dosages that are dependable, adjustable, and repeatable. Each offering is specifically formulated, market and lab tested, and backed by extensive research, for patients who would have a natural alternative with a manageable dosage and easy to follow schedule. Their unyielding dedication to their craft hinges on their ultimate goal to both heal as well as educate as many people as possible of the true value of the miraculous cannabis plant.
CANNABIS LABEL DESIGN REVIEW
We love the sharp-looking, old-timey labels and packaging designs! The center-justified front panel highlights the right information, in the correct reading hierarchy. Take a look at the Coffee Elixir label below and notice how the top arched text is maintained by using a diecut (cookie cutter shape). This cleverly draws the eye in toward the central point to focus on the brand and the type of product. The use of vibrant colors, vector icons, and faint background patterns (specifically in the cannabis infused tea line) come together to develop custom cannabis labels that are fun and full of character, and with that definitive vintage charm.
CUSTOM LABEL DESIGN TIPS
More experienced graphic designers can dish out complex color combinations and concepts. Less is more doesn't necessarily apply to all design concepts. However, it is always good to take a step back and see if all your artwork elements are working with, and not against, each other. When in doubt, appreciate that simple is better. Feel free to experiment; but for readability's sake, choose light colors for text on darker backgrounds and vice versa to ensure that your custom cannabis label designs have good contrast and are easy on the eyes.
Photo credits: Logo and all images by Apothecary Labs
---
Based in Boulder, Colorado, Ayla Botanicals is a natural skincare company that offers a whole nutritive product line that includes lotions, serums, massage and body oil, balms, salves, face oils, and bath oils. The company's exclusive formula is a blend of all-natural herbs and essential oils with highly concentrated extract of cannabidiol (CBD) oil, which is rich in anti-oxidants, omega 3 fatty acids, and anti-inflammatory agents perfect for skincare and massage.
Locally made and eco-friendly, each recipe is designed to revitalize, regenerate, and strengthen the skin. These impressive handcrafted products nourish natural beauty and promote the healing of aches, pains, and skin conditions.

The entirety of Ayla Botanical's topical CBD product line is founded on the results of exciting research and development in the awe-inspiring science of cannabis. Their commitment to excellence is championed also by their dedication in putting to work new cannabis analysis and assays and capitalizing on a burgeoning hemp trade to create an effective, eco-friendly line that features anti-oxidant and anti-inflammatory nutrients that heal and beautify the skin. As a passionate small business that advocates the use of this astounding plant, their most sincere hope is that their products heal, beautify, and offer relief to all who use them.
CANNABIS LABEL DESIGN REVIEW
While most designers would shy away from using more than two fonts and typeface settings to ensure easy readability, Ayla Botanicals' custom cannabis labels show that with a systematic approach and a straightforward layout, this can be done without looking cluttered. All label design layouts are consistent between products, with the consistently rounded label, central eye-catching logo, and framed by the directions info as a top arching textual element, and warning info at the bottom.
CUSTOM LABEL DESIGN TIPS
As demonstrated by this example, a matte label develops muted colors and a soft finish. This affords a delicate overall look. When finishing your labels, consider the correct finish (gloss, matte, satin) to complete the "demeanor" of your packaging. If you'd like to use more styles on your layout, keep it organized with sectioning each part of the label. Step back and take a look to see if what you instantly see is an easy to understand, and easily identifiable label.
Photo credits: Logo and all images by Ayla Botanicals
---
Healing Achy Bodies and the Skin, from Within
Babs Balms is more than a business—it is a mighty testament to enduring determination that transforms adversity into opportune inspiration. More often than not, patients are subjected to modern treatments that are a nightmarish cycle, where the extent of empowerment ends at the imperfect choice to either get the treatment or accept the situation. Jennifer Babcock Bernardo had enough of medical interventions that certainly didn't cure her psoriasis: cortisone injections into her scalp and all over her body that left her in a worse state than before she started. And so over the past eight years she tirelessly worked to develop a recipe to make jars of salve that truly helped with her condition, as well as other ailments besides psoriasis.
The company strongly believes in inner healing with goodness from the earth. Babs Balms' botanical cures are made with completely organic and curative ingredients: Organic THC Cannabis, Organic Hemp Seed Oil, Organic Arnica, Organic Avocado Oil, Organic Solomon Seal Root, Organic Argan Oil, Organic St. John's Wort, Pumpkin Seed Butter, Coconut Oil, Shea Butter, Beeswax, French Lavender, Camphor, Melaleuca, Jojoba Oil, Kukui Nut Oil, Aloe Vera, and Organic Japanese Peppermint. With a strong rallying cry to embrace the extraordinary power of botanicals, Babs Balms urges everyone to be more mindful of what we put into our bodies, and celebrate an enriching life.


CANNABIS LABEL DESIGN REVIEW
This is a good example of consistency and character. The gold foil substrate stands out in stark contrast to the packaging and the logo style works well with the cursive font used predominantly in the body text. Especially in the posed photos, the instant impression we get is that these are antique treasures and luxuries to indulge in. The tinsel effect adds to the unique personality that customers instantly recognize.
CUSTOM LABEL DESIGN TIPS
The more in tune your label designs are with your brand identity, the more people will associate your brand with uniqueness and authenticity. If your product differentiation leverages on traditions, use this to your advantage by creating labels that identify with who you are, instead of going for the usual modernistic approach that can become generic when set beside other similarly-themed label designs.
Photo credits: Logo and all images by Babs Balms
---
THE FUTURE OF CANNABIS

Since 2009, Dixie Elixirs & Edibles™ has been providing alternative medicated relief for patients in Colorado. Lauded as Colorado's premier THC-infused products company, Dixie Elixirs & Edibles™ is uncompromising in its mission of leading the industry through research, education, and advocacy, all the while solidifying its position as the trusted source for innovative, safe, effective and delicious cannabis products. Each product is handcrafted through a perfected CO2 extraction process that extracts pure THC. Coupled with triple lab testing, this means that customers can be 100% confident in the consistency and accuracy of each and every batch.
It is not hard to see why Dixie has established such a strong presence in the market. Their repertoire includes many delightful products in various formats—Dixie Dew Drops: delicious, sublingual glycerin-based tinctures designed for pain relief; Dixie Elixirs: exquisite beverages with no artificial coloring, containing less sugar than traditional soda, packaged in Dixie's exclusive child resistant bottle; Dixie Synergy Relief Balm: a healing balm for pain and inflammation formulated with both THC and CBD in a 1:1 ratio. The company thrives in continuous innovation and has always concentrated efforts into filling the gap and extending the power of cannabis for the holistic care of each and every one.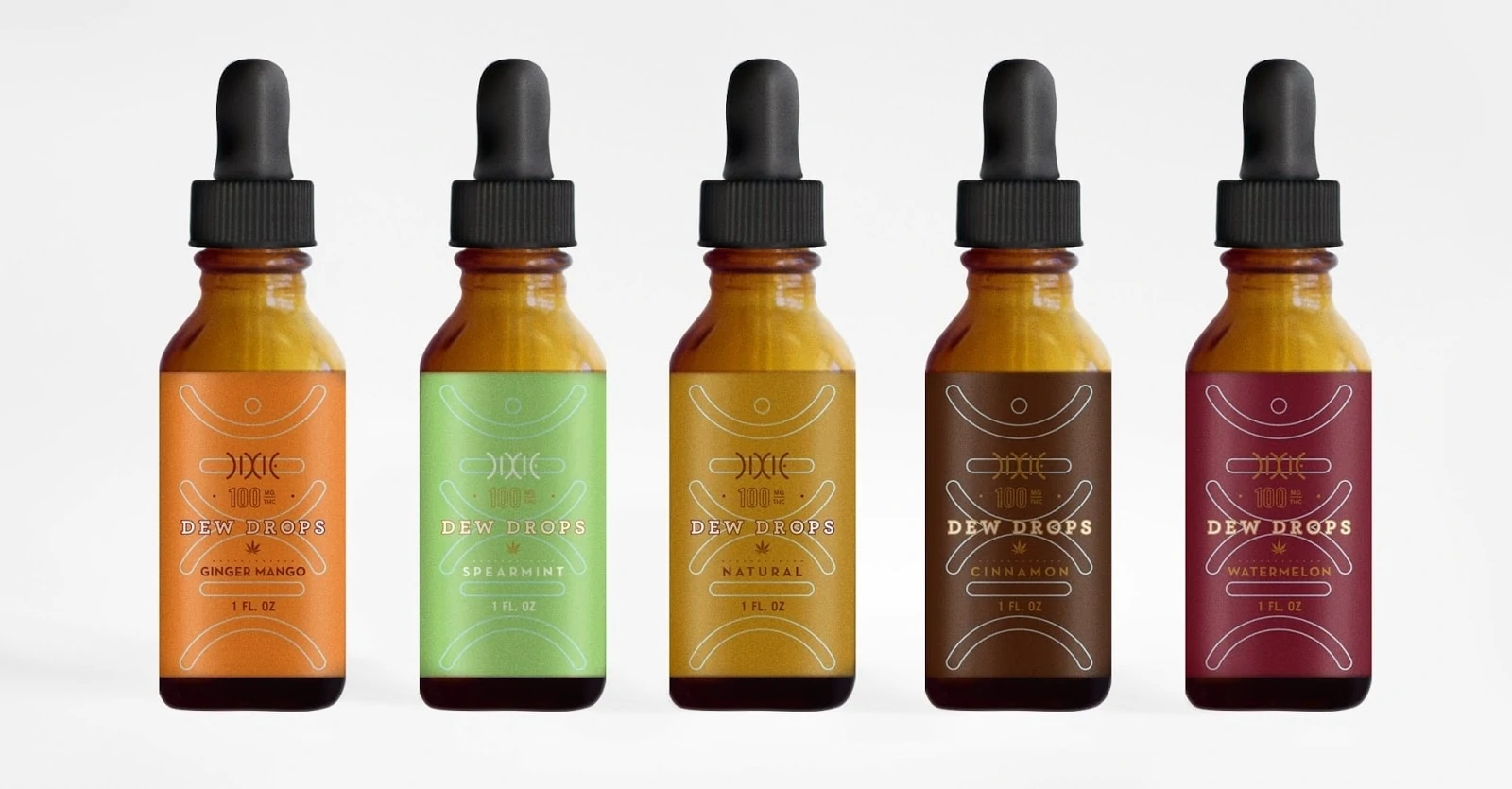 The company has also developed a hemp-based Cannabidiol (CBD) product line called Aceso which represents proprietary supplements that combine cannabinoids (a healing, nutritive, and naturally-occurring constituent of hemp) with energy-promoting terpenes for reliable total-body wellness solutions. Three signature collections Aceso Calm, Aceso Soothe, and Aceso Wellness aim to help people find relief more readily, relax more easily, and live more comfortably.
CANNABIS LABEL DESIGN REVIEW
With its extensive product line, Dixie's custom cannabis label designs triumph where it is so easy to fail. Using their logo as the single unifying element throughout all types of products, each artwork layout and concept is meant to support the singular product, and not no-more-than the brand. The brand nimbly navigates through design themes, prevailing packaging formats, artwork orientation, and set schemes. Each of the designs is unique to its product line—this gives prominence to the specific product, affording a unique character and ambience distinct to each type of offering.

CUSTOM LABEL DESIGN TIPS
When mapping concepts for your own custom cannabis label designs, the most important thing to do is to always stay true to who you are. An effective design should increase brand recall, so make sure your unique personality is transposed onto your label artwork. Don't be afraid to play around with different concepts and materials. Consider the content/format of your cannabis products and containers when deciding on label material. In this example, the labels are more elaborate on the elixirs and dew drops, presented as wraparound labels with vibrant prints to add color to an otherwise plain bottle.
Photo credits: Logo and all images by Dixie Elixirs & Edibles™
---
Labels carry the heart and soul of your brand, and we don't take this huge responsibility lightly. We're always excited to discuss branding and Prepress until we're absolutely happy with the end result. We hope you enjoyed our best cannabis label designs post–stay tuned for more label design inspiration soon!

*Just a note that we believe that branding isn't everything: what makes your custom cannabis label designs work in the long run is the dedication you put into your products and services, from defining your brand values, to your company culture, to speaking about things that you care about through your brand's voice.
NEED ADVICE WITH YOUR OWN CANNABIS LABEL DESIGNS?
CLICK HERE FOR YOUR FREE CONSULTATION