Let's take a look at how custom diecut labels can increase sales for your business. Drawing also from our customers' success stories, we've put together a short primer on the enormous value this type of custom label provides.
In case you're interested in shifting from regular shape labels to special shape (diecut) labels, you're in for a nice discussion, with research pointing to positive branding experiences that translate into sales.
WHAT ARE CUSTOM DIECUT LABELS?
Diecut labels are "cookie cutter" shape labels, customizable to whatever shape and size you want your label to be. In and of itself, it is already a huge differentiating element of your packaging, since there won't be another label like yours.
[Tweet "Diecut labels create a remarkable lift to your brand image and #smallbiz sales."]
Leveraging diecut technology helps you work outside the normal creative parameters and therefore opens a world of possibilities for your specific branding vision.
With custom diecut labels you are able to follow the outline of your logo, for example, for a custom label that simulates a badge or a sigil, especially if you are looking to get your logo positioned as a standout icon on your containers.
You can create a true fit, specifying the shape of your labels so that these follow the grooves of your custom container.
CUSTOM DIECUT LABELS TRANSFORM ORDINARY PACKAGING INTO UNIQUE BRANDING PIECES
Differentiation is a key factor in any successful business' branding and marketing efforts.
This has been proven in countless cases throughout time. Consider Coca Cola's iconic bottle shape which was largely instrumental in paving the way for the company's success.
They approached the competitive soda market by not subscribing to the straight-sided, generic cylinder-shaped bottles that were already being used by competition, such as Pepsi and Dr. Pepper.
The curvature of the Coca Cola bottles are so unique that you can feel it in the dark and know what you were holding. And according to Coca Cola historians,
Custom diecut labels play on the same aspect of packaging, creating a brand experience that is unlike any other, working as a canvas to help establish your brand as truly unique.
Moving away from the types and styles of labels that are already being used by competitors will certainly get you noticed. Your unique shape presentations, along with well-planned artwork and messaging, will create a thumbprint that makes you unforgettable to consumers.
POSITIVE PURCHASE DECISIONS LEAN TOWARD UNIQUE 'ATTRACTIVE PACKAGING'
How much does packaging affect what choice people make when shopping?
A comprehensive survey released by Dotcom Distribution points out that online retailers' packaging goes beyond enhancing the customer experience.
Products that are 'attractively packaged' can actually lead to a ripple of residual marketing effects, which increases online retailers' overall revenue in the long run. If you're an ecommerce retailer, your packaging and custom labels can turn out to be more valuable than ever.
---
FACT: 50% of online consumers said that they would likely return to a business for another purchase if they receive products in premium packaging.
---
Packaging and label design and form can just as important as the product inside—this is a big opportunity, as Neuromarketing tactics has concluded that:
YOUR BRAND HAS JUST 2 SECONDS TO COMMUNICATE USING 3 VISUAL ELEMENTS
DIECUT LABELS INSTANTLY DELIVER PREMIUM, 100% CUSTOM BRANDING
Coupled with savvy external packaging, diecut labels can seriously impact product profitability by influencing your prospective customer's perception of your product's quality.
A custom diecut label is extremely effective especially in retail, where packaging is often the only marketing tool and branding collateral your prospective customer comes in contact with.
---
FACT: Premium packaging increases loyalty. Customers will keep purchasing from the retailer based upon their association between quality packaging and quality products.
---
Custom shape labels give you a lot of room for your branding vision to accomplish your product presentation exactly the way you want.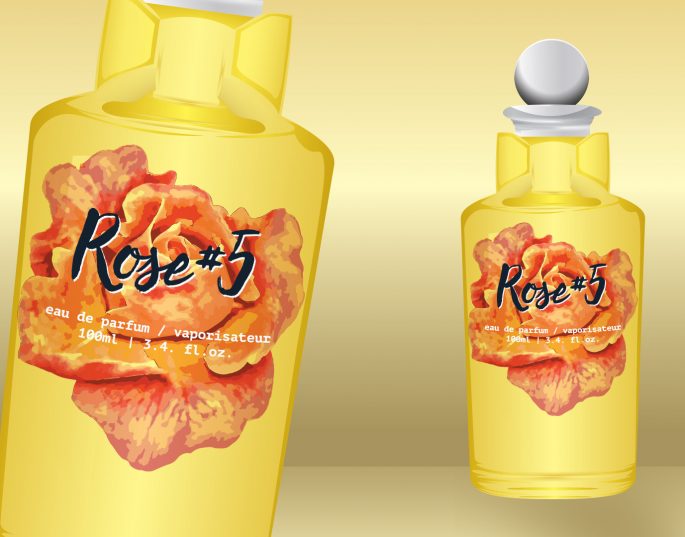 If you're looking for something remarkable to increase conversions and sales, custom diecut labels are your best ally. While it may be fine and good using regular shape labels, diecut label will set you apart on the shelves stuffed with similar products from different brands.
If you are selling online and using your own ecommerce platform where your products won't be side-by-side competition, diecut labels afford that premium look that increases both product value and brand value.
"Online retailers should not overlook the importance of premium packaging for their ecommerce products," said Maria Haggerty, president of Dotcom Distribution.

"Customers look for the 'WOW' factor when shopping online and when receiving a package, as they miss out on the in-store experience. Premium packaging for online purchases delivers a brand's in-store experience to an ecommerce customer."
Even if your external packaging is already and also used by your competition, the addition of your very own custom diecut label will definitely enhance your brand image and set you apart from the rest.
The cost of getting diecut labels is a good investment in ensuring you are truly benefiting from using "premium" packaging as an effective marketing tool, speeding the word about your brand, boosting interest, increasing engagement and word-of-mouth, and ultimately increasing conversions and repeat sales.
---
A caveat: We believe that branding isn't everything: what makes your custom label designs work in the long run is the dedication you put into your products and services, from defining your brand values, to your company culture, to speaking about things that you care about through your brand's voice.
---
We truly hope this was helpful. If it was, please share—we've got more insightful posts in store for you. Subscribe to our newsletter for more small business advice, printing tips, and exclusive specials delivered straight to your inbox.