Let's cut to the chase—you need to outline fonts. There are many fonts in the realm of graphic design. Because of so many options, there's a good possibility your logo or artwork makes use of a font or two that printers do not have.
Custom fonts created specifically for your brand may pose a challenge in printing if you have your design professionally produced. This applies to custom labels, custom bags, or other marketing and sales print media.
If we do not have the same fonts you chose to use in your design, we will likely not match them precisely, especially if your artwork needs revisions during the important Prepress check.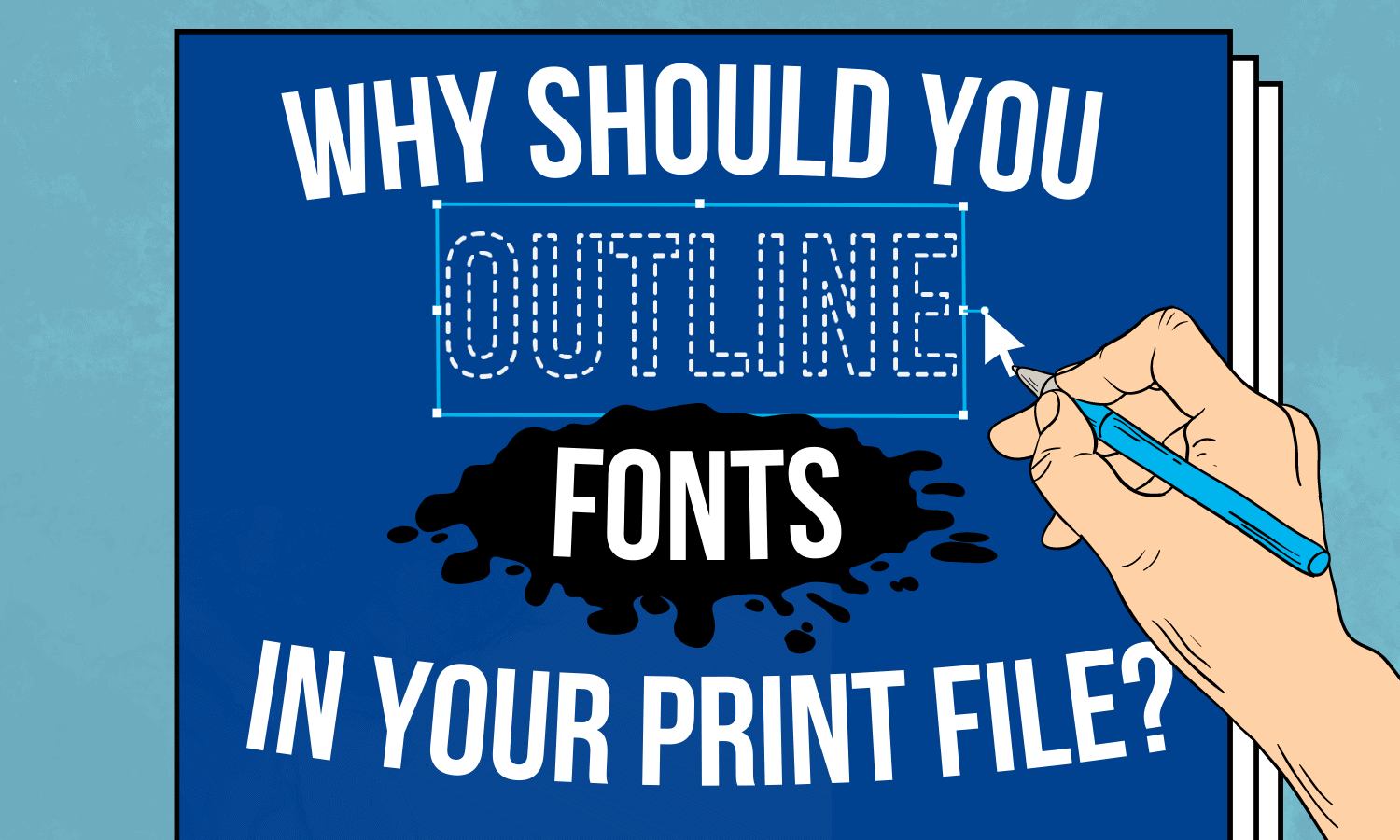 Font outlines help us make sure you get the same perfect results every time. Graphic design programs such as Adobe llustrator allow you to convert text into outlines.
KNOWLEDGE IS POWER: If you want to learn and try your hand at this, here's a complete, step-by-step guide on how to do it.
When you outline fonts, you turn the text into an object and trace the shape of each letter. This action means you can no longer change your text by just using the typing/type tool.
---
Benefits of Converting Text to Outlines
The main benefit of outlining text is that you won't have to provide fonts to everyone who needs to access your file for revisions and printing.
If you've been in a situation where you tried to print something, and the fonts turned out okay, good for you. However, this may not be the case if you need to use the same file for another print size.
Most of us experience difficulties when starting a graphic design project. It is aggravating when you expect to print a beautiful design with lovely fonts but get quite the opposite result.
When you convert text to outlines, you don't have to send the fonts with the file when you share it with others. You may also use a gradient to fill the type and create unique effects on individual characters.
Outlining your text before printing is necessary. It's a quick and easy procedure that takes less than a minute.
---
Things to Know Before Converting Your Text to Outlines
When creating outlines from text, keep the following in mind: You can't edit what your text says anymore. This means that for outlined text, you can't alter its content. For this reason, it's better to save a duplicate file before outlining if you might need to make some edits in the future.
It is not possible to convert bitmap fonts or outline-protected fonts to outlines.
We don't recommend outlining text that is smaller than 10 points in size. A lot of information is lost when you transform text into outlines. These include instructions incorporated into outline fonts to modify their shape to show or print ideally at various sizes. Before converting to outlines, change the point size of the font.
---
-Why Should I Outline Fonts: FAQs-
What does it mean when the font is outlined?
Outlining a font is similar to freezing it in shape so that its appearance will not be altered. When you send your artwork to print, the font's appearance remains the same even after being scaled up or down.
When should I outline fonts?
We recommend that you always outline your fonts before sending your design for print.
The phrase "outlining font" refers to the process of turning text into an object so that the font is precisely the same when we print your designed text. Outlining typefaces guarantee that the text on your printed work matches what you've created in Illustrator.
Is it necessary to outline text before printing it?
Some people will say creating font outlines isn't necessary, but we highly recommend it. Outline your text before submitting your file for printing. Having outlined text makes the proofing (Prepress) process smoother, and revisions will be easier and much faster to do.
This simple step saves you time and money because other printers might also charge a fee for extra work. Our Prepress Checks are free, and we can certainly outline your fonts for you if you are ordering prints with us.
What are the benefits of converting fonts to outlines?
Outlined text ensures there aren't any physical errors when they are printed. Having the outlines of the text is leaps and bounds better than just having the name of the font/s you used. Even if we don't have your specific font file on our computer, we can guarantee to print your artwork precisely how you want it to appear.
How do I outline fonts in illustrator?
Outlining fonts in Illustrator is a quick and straightforward procedure. Follow this simple guide and get it done in just a few minutes.
---
We hope this post was helpful in explaining why you should outline fonts and how to do this easily.
Let us know if you enjoy posts like these! We strive to update our resources based on your valuable feedback.