CUSTOM HOLOGRAPHIC LABELS ACT AS "SHOPPER STOPPERS" FOR INCREASED CONVERSIONS IN ANY RETAIL ENVIRONMENT
How are you reshaping your branding into an engaging tool that inspires excitement leading to purchase?
Many big brands have invested millions of dollars in Shopper Marketing. And rightfully so, as this helps businesses understand the behavior of their target market and define the different strategies and activities needed to win over this market.
Of course having a solid foundation with a fact based selling proposition is vital in the success of your selling strategy. But if your prospect doesn't even have your product in their radar, how do you get your foot in the door to get that sale?
Interact OnShelf Strategy Consultant Adam Spriggs is extremely well versed at customer behavior and has studied the role that custom labels and packaging play in the competitive retail arena. We all know how crucial it is for all elements of our marketing and promotions to come together to create an experience that converts shoppers into customers.
Standing out on the shelves of high-volume retailers amongst a sea of 30,000-plus products requires boldly different approaches than what most brands are taking. Break the rules, break boundaries, and break new ground. You'll never know your true sales potential if your package doesn't effectively work to nab the shopper's attention.

Packaging's number-one responsibility is to get noticed. All brands know this, yet most of what we see in stores is brands blending in, instead of standing out.
In your worthy mission of truly differentiating yourself from competition, it is best to leverage existing technologies that turn the ordinary into exceptional.
With the development of holographic label material, existing custom label artwork is transformed into pieces that are sure to catch attention and delight those who view its unique light-play.
This particular style of custom label is especially captivating and the human eye is naturally drawn to its sparkly and colorful aesthetic. These are what we call, "shopper stoppers".
[Tweet "Custom holographic labels are stunning tools to build your brand. #smallbiz"]
---
CUSTOM HOLOGRAPHIC LABELS ARE BRANDING SHOWSTOPPERS
Holographic films are thin, flexible plastic films made of Polyester/PET, Nylon, or Oriented Polypropylene/OPP micro-embossed with a holographic pattern. Embossing develops a grooved pattern, such as fine dots, in a beautiful spectral or rainbow gradient.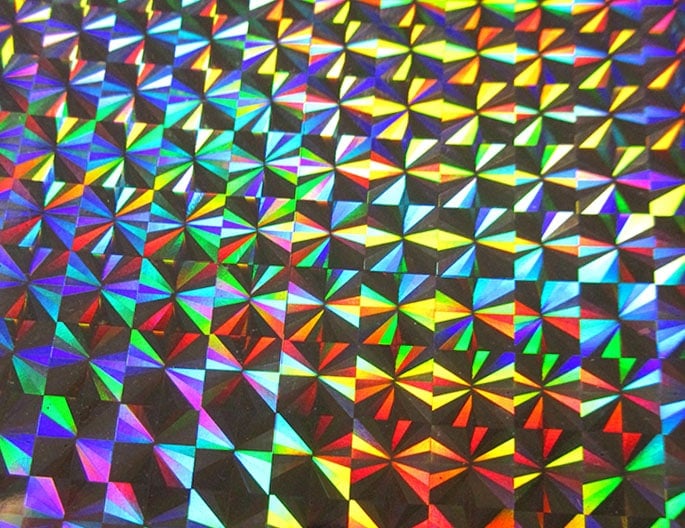 The finely embossed grooves diffract regular white light into this unique rainbow color—very much like how crystal prisms do it.
The films are metalized with aluminum on the embossed surface for protection, reflecting light through the embossed surface, for a brighter, more colorful pattern.
The colors seen on the holographic film label change with the angle from which it is viewed at.
---
PROFESSIONAL SIGNATURE LABELS CREATE STUNNING SHOWSTOPPERS
Leveraging holographic technology enables you to enhance normal creative label parameters and therefore complement any branding vision. This stimulates any shopper's buying experience with all the little big extras that build your brand and build sales in the long run.
---
BRINGING YOUR PRODUCT TO LIFE WITH HOLOGRAPHIC ACCENTS
Using novel label material is a proven strategy that nudges a shopper to pick up your product for consideration.
Holographic film material is ever changing in color, jumping in front of potential customers, especially crucial at the point when a customer is in his or her discovery stage, scanning products to try.
Photos don't really do this stunning product any real justice. You have to see it in person to appreciate its beautiful light-play properties. Here's a sample in action:
Stunning rainbow color gradients that dance across the custom label when viewed at different angles increase brand and product value. The holographic color gradient is an instant eye-catching addition and upgrades any custom label to deliver a more luxe and fanciful appeal.
---
FACT: Premium custom labels increase customer loyalty. Customers will keep purchasing from the retailer based upon their association between quality packaging and quality products.
---
At a time where aesthetics is as important as the product itself, cost-effective yet elegant packaging materials are prodigious tools to help you shape your brand effectively.
This allows you to cut through all the clutter, to stand out and break the visual barrier for a lasting impression, driving sales in the precious last seconds of consideration.
Try upgrading your labels to holographic to enhance your brand image and increase the strength of your shelf appeal, for shopper stoppers that work as hard as you do. This tool is an indispensable marketing ally that will give your brand recognition in creating an impression for increased excitement, engagement, and sales.
---
We truly hope this was helpful. If it was, please share–we've got more insightful posts in store for you. Subscribe to our newsletter for more small business advice, printing tips, and exclusive specials delivered straight to your inbox.