CUSTOM PLASTIC FILM LABELS 101
Need custom labels that's waterproof, tearproof, and oil resistant? Custom plastic film labels come in a beautiful pearlescent white finish, with high opacity and flexibility. The material isn't rigid like other label materials, which makes it ideal for rigid as well as squeezable containers.
Due to its versatility, plastic film labels are often used as "prime labels", or primary packaging for products. They are economical, and hold up well to changes in temperature, moisture, and frequent handling. Let's see how plastic film labels compare.
INKABLE TIP: 
If you are in the food and beverage business
Plastic film labels are a worthy upgrade from the standard laminated paper labels. With laminated paper labels, you get that waterproof quality because of the added coating. However since the adhesive side (facing the container's surface) isn't treated with any film that provides protection against water, you still run the risk of damaged labels if they haven't been applied properly, or as wear and tear sets in.
On the other hand, plastic film is label material is inherently flexible and waterproof. Its flexibility makes it perfect for squeezable containers, as with shampoo labels or lotion labels. As it is specified for indirect food contact, this simple shift in material also ensures a longer life span for your food labels and beverage labels.
Since you're using these for product packaging purposes, branding and product identification is where you shouldn't be cutting corners. Choosing plastic film over paper as your base material guarantees your prints won't smudge over time, even with repeated contact with oil and water.
 And if you'd like to further enhance the look of your labels, while adding another layer of protection, opt for coating, or laminate.
WHAT IS COATING?
Coatings or Laminates consist mainly of pigments (chalk, clay, or talcum). Without any processing, these are powdery substances that would be blown off the paper surface like dust. To keep them in place, binding agents (such as starch) are used so that they stick to each other, and to the plastic.
Process materials add specific properties to the coating. One commonly used process material is optical whitener. It converts invisible, ultraviolet light into visible bluish white light, giving an impression of true whiteness.
Coating enhances plastic's visual and tactile characteristics and also improves its printing behavior, allowing the use of very fine screens, yielding more color in thinner ink layers and producing more contrast in printed images.
Coating makes the plastic film slightly stiffer – it even adds weight and thickness to your plastic film labels.
Coating makes your labels a bit more durable because it protects the base (and of course the print on the plastic film) against ink scuffing, moisture, wear and tear.
SHOULD I USE MATTE OR GLOSS COATING FOR MY PLASTIC FILM LABELS?
While with paper labels, coating would be a functional aspect (allowing writing after printing, or making paper moisture-resistant). With plastic film labels, you could simply step back and consider if the finish will suit the intended look of your custom labels without worrying about utility.
There are two types of coatings, Gloss and Matte. Confused which to choose?
---
MATTE COATING / MATTE LAMINATE
If you would like only subtle shine or low shine, maybe something similar to the finish of uncoated paper, you would then go for the matte coating, or matte laminate. Matte laminate is also great with regard to design if you are doing Spot UV (selective high-shine areas) as this will create an interesting visual premium.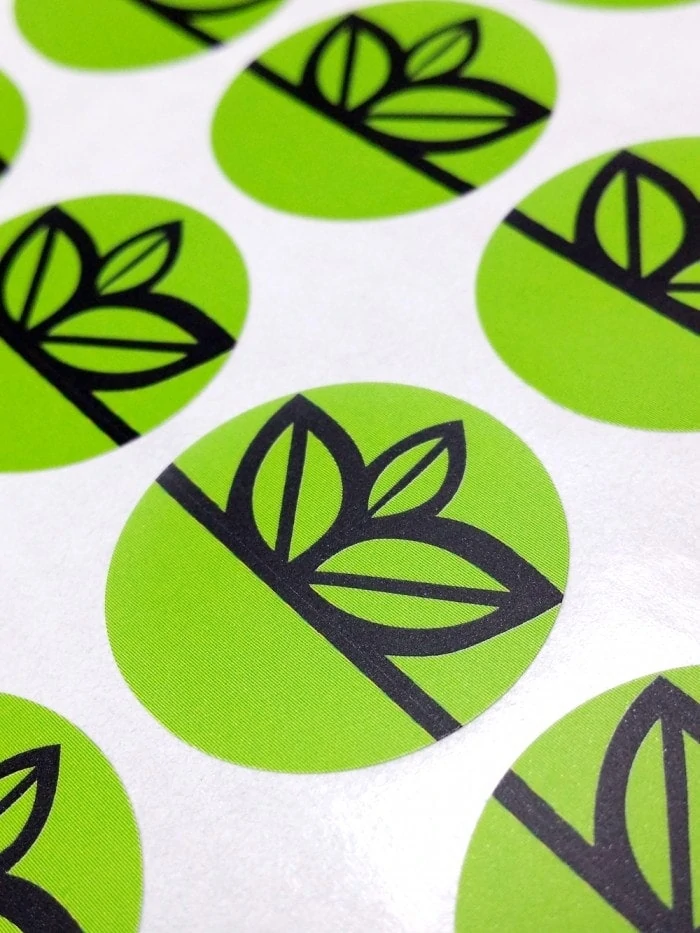 NOTE: You can only do Spot UV with matte laminate/matte coating. This is because matte coating and Spot UV are non-shine and high-shine, respectively, and this creates a nice contrast on the printed plastic labels.
The spot varnish highlights certain parts of your label design (of course, you can choose where this would go on your labels) and can refresh an old design, making it more dynamic and stylish.
GLOSS COATING / GLOSS LAMINATE
Printing labels with photos, promotional messaging, or needing a vibrant multicolored logo label? Perhaps gloss would be better—its smooth and highly reflective property will definitely make colors more vibrant, on top of the already pearlescent plastic film labels.
Gloss features full-color prints nicely, and product labels will look more professional and commercial with a fine coat of this kind of laminate. Think high contrast, bright white, professional labels that stand out on your packaging.
---
HOW TO CARE FOR YOUR
PLASTIC FILM LABELS WHEN NOT IN USE
Remember to store your plastic film labels in a dry place, not exposed to sunlight, as these labels will fade more quickly if not stored in the recommended conditions.
Whether you choose uncoated or coated plastic film labels for your labeling needs, make sure you consider the above characteristics. Once you are ready to move forward, and you find yourself in the designing stage, you also need to be aware of print considerations so that you get exactly what you need for your product labels.
Remember to list down the requirements of your print project, prepare your design correctly and be sure to have your designer perform a Prepress Check so that you receive perfect custom plastic film labels, every time. Remember also to thoroughly clean the surface of your containers with alcohol and letting this dry before you apply your labels to ensure excellent tack.
---