A big inky splat to you! How are you doing today? If you're looking for big inspiration, these beautiful labels will definitely get your light bulbs firing!
If you're still at the stage where finding inspiration for your own label designs isn't coming by too easily, you're not alone. Don't beat yourself up; many designers and small business owners have gone from Study A to Study Z before achieving that perfect label design.
In the meantime, get inspired and take a look at our best cosmetics and fragrances label design list, for remarkable labels that are both relevant and eye-catching… We're thrilled to share them with you!
---
Inkable Label Co.'s Best Cosmetics and Fragrances Label Design List
---
Brooklyn's First and Finest Grooming Line.
From mustache waxes and pomade, to soothing shaving oil (their version of shaving cream) and novel grooming solutions like Beard Oil and a notable Tattoo Balm, Brooklyn Grooming has expanded to make available more organic and sustainable products for men, answering the need for more natural and vegan choices in the market.
We love the sharp-looking, old-timey labels and packaging designs! The iconic detailed octopus and vintage nautical sketches were done by Alfredo Ortiz, one of the owners of Brooklyn Grooming. We think the tin cans and apothecary bottles complement the labels nicely.
The circular logo is maintained on most of the labels by using a diecut. This cleverly draws the eye in toward the central point to focus on the brand and the type of product.
PRO DESIGN TIPS:
Nothing trumps the dedication and care that you put into your business. Alfredo, wearing both hats of co-owner as well as graphic designer, enjoys full control over how brand identity is translated into both product development and product presentation.
If you aren't equipped to do it on your own, work with a designer who can execute your vision. A great way to convey this if you can't sketch what you want is to compile design pegs (images of other packaging and/or labels) and place important notes regarding how your own design should look like.
For thematic branding, consider the canvas (material, packaging base) of your cosmetics and fragrances label design and how this will enhance your labels.
---
The Taste of a Scent
Danish chef and author Kille Enna has composed handcrafted and organic scents and "flavor moments" for water. This is particularly interesting, as scents are indeed tasted rather than merely smelt. The glass flacon is meant to be your fine companion on the road, with the simple addition of water to complete the enjoyment of the fragrance.
Designed by Homework, a creative studio also based in Denmark specializing in brand identity in fashion, beauty, art, design, and luxury, the organic aromas are presented not as tonics or essential oils; rather, the products are in elegant, blind-embossed boxes that hold the glass flacons. Labels are simple and chic, and clearly state the enticing contents of each bottle.
PRO DESIGN TIPS:
Don't be afraid to play around with concepts and make this reflect onto your packaging. This example presents a product to be drunk at the end stage, but the most vital factor in the enjoyment of this is the olfactory benefit of each sip. By this unique brand benefit of transferring the perfume out of its familiar universe, into the culinary world of flavors, Kille Enna's perfume bottle packaging and labels work immensely well.
If you'd like to venture into novel packaging, consider what your product currently offers. If you feel this can't support your concept, step back and take a look at your brand benefits once more and ideate with other people.
A plus: The more unique your packaging and labels are, the more singular your product becomes by virtue of presentation. A word of caution though, being different isn't always good—you need to tell an authentic brand story for this to work.
---
100% Natural, Sensorial Beauty + Skincare
Herbivore Botanicals uses the power of nature to deliver results to its customers. All their products utilize organic elements with specific therapeutic effects, and the active ingredients are concocted into original formulas, without any fillers. Here, rejuvenation is meditated by oils and balms, for that much-needed downtime in everyone's chaotic schedules.
Pastel colors, clean packaging, fresh ingredients—all of these support Herbivore Botanicals' brand identity. The labels are graceful, with sufficient kerning between letters to make every product name (which also cites the active ingredient/s) clearly visible, even from afar. Simple geometric shapes (circle, diamond, rectangle, square) adorn each product packaging, devoid of any additional affectations.
PRO DESIGN TIPS:
As demonstrated by this example, white labels can definitely convey freshness. Many of our customers initially start with little white space, but depending on your product, sometimes less is more. While your labels might seem too spartan on screen, think about packaging (clear bottles or opaque?) and the actual products (yellow liquid? pink powder?) and discuss the final look with your creative team.
Clear packaging with simple labels will make your product (and, of course, its ingredients) "shine" through.
A plus with simple labels: Styling goes a long way. You can "pose" your products in a very involved setting and add embellishments without making each product shot too complicated and confusing.
---
Purest products in the world.
100% Pure creates products that are healthful for the body and also the environment. They believe in standing firm in their brand name—their offices are run by 100% solar energy and their biodegradable formulas are carefully packaged in recycled post consumer plastic, glass, soda cans, paper and printed with biodegradable non-toxic vegetable ink.
Promising the most pure line of nourishing personal care products, 100% Pure reflects this vitality in the simple and fresh designs. Keeping the labels white and not transparent, as a canvas to hold and feature each pure ingredient, it were as if you were holding not the formula, but each of the essential, beneficial ingredients that your body will be treated to.
PRO DESIGN TIPS:
Highlight the features that you are proud of, and don't be afraid to use the whole wraparound space for this.
Traditional artwork designs usually utilize the front for the logo and primary information (flavor/variant, product category, amount of product, other certifications) and the back for supporting data (ingredients list, [if edible] nutrition facts, short description of product). This isn't a set rule, and if you feel that you can tweak the design, feel free to do so.
---
Simplicity is the essence of awesome.
S.W. Basics' personality is evident in its branding, with all of their products geared toward taking skincare to its most honest, no-frills level. Simple and straightforward, every uncomplicated offering is created using five ingredients of less. The result is a collection of potent and effective formulas that treat even the most sensitive of skin types.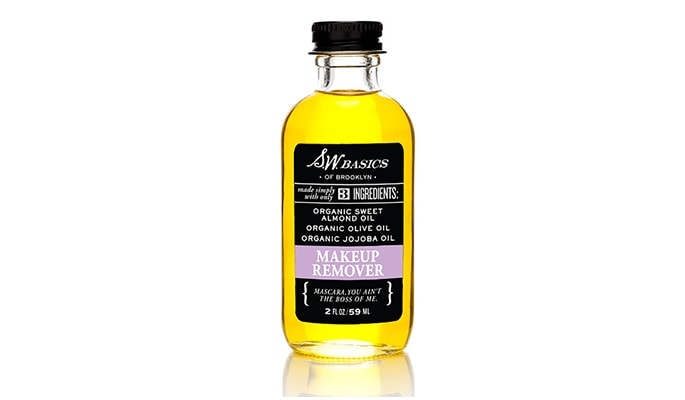 Founded by Adina Grigore, the "less is more" philosophy is furnished to a rocking array of natural scents and colors, attired in capable containers and cheery art bags. Formerly Sprout Wellness / Sprout Skincare, their brand story doesn't stop at developing tasty products—this also extends to various advocacies that they promote on their site.
Strong core messages resonate with empowerment and staying true to who you are and what you believe in. This encourages a holistic and genuine affinity with their customers.
PRO DESIGN TIPS:
Two common approaches to label design would be to either reflect or offset: reflect simplicity in austere designs, or garnish this simplicity with rich visuals. While styling will hinge on your brand identity, it is your call whether to do ornamented designs or take it to the bare-bones. S.W. Basics' choice of no-nonsense white-on-dark layout makes the colored product ID bar pop, for easy identification on the sleek matte labels.
Especially with products that will be more frequently handled (or will be subject to friction, as in lip balms in pouches and bags), remember to have laminate applied for protection against wear-and-tear.
---
Labels carry the heart and soul of your brand, and we don't take this huge responsibility lightly. We're always excited to discuss branding, Prepress, and then sanding down to all the fine points until we're absolutely happy with the end result. We hope you enjoyed this post, and stay tuned for more awesome label designs!
*Just a note that we believe that branding isn't everything: what makes your labels work in the long run is the dedication you put into your products and services, from defining your brand values, to your company culture, to speaking about things that you care about through your brand's voice.