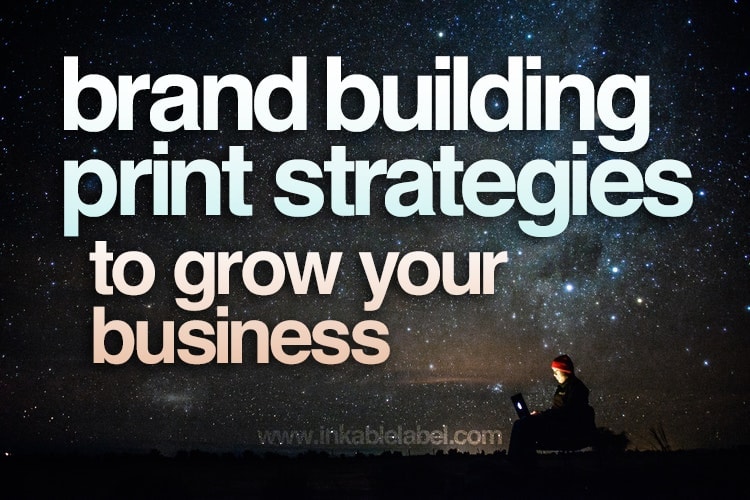 Print strategies: How do they affect your business and how important are they?
To be independent, successful, and thrive in a competitive market means you need to secure brand loyalty.
Encourage growth, drive customer loyalty, and develop your business into a brand that is relevant, memorable, and competitive by starting with our resource below.
---
BRAND BUILDING:
VALUE, PROCESS, CHALLENGES
If your goal is to grow your business this year, you should realize that you can't move forward as quickly without executing print strategies to help build your brand.
Especially if you're just starting out, you need to be fully aware of other competing businesses already in existence. If you're a fledgling in such a fast-paced arena, this creates a tougher challenge for you to penetrate the market, taking into consideration all the bigger brands that have already captured their share of devoted customers.
FACT: Nielson's Global New Product Innovation Survey confirms that 59% of consumers prefer to buy new products from brands already familiar to them.
Now, brand building doesn't happen overnight. All of these well-known and loved brands also started as small businesses and only achieved success by building their brands and communicating their value and brand image properly and consistently.
To grow your business this year, make a conscious effort to prioritize brand building plans and execute them with print strategies—this will help you establish relevant and long-lasting relationships with your customers.
[Tweet "Quick guide: Revisit print strategies for a stronger brand and business this year."]
---
PRINT MARKETING AS A STRONG, RELIABLE, AND COST-EFFECTIVE PLATFORM FOR BRAND BUILDING
The simplest way is to employ print strategies to drive your marketing and promotions. Sales will naturally follow if you are able to execute your plans effectively.
Print marketing is inextricable in your efforts in that your marketing collaterals should be tangible and attached to your product. People will always trust what they have in their hands rather than what they see on screen.
While digital marketing and social media strategies are indeed explosive tools in your arsenal, branded printed packaging and necessary "leave-behinds" will solidify your brand image and offerings to your market. Extend these even more by circling back to digital and add QR codes to continue the conversation.
---
3 BRAND BUILDING
PRINT STRATEGIES
TO GROW YOUR BUSINESS
THIS YEAR
---
1) Choose "unique" over "better"
It's always tempting to copy a formula that has already been proven to work. What to do?
In the case of cooking that perfect pasta dish, copying a tried-and-tested recipe is the smartest thing to do. In the case of brand building however, don't waste your efforts and resources by likening your brand to something that's already out there and simply making it "better".
Regardless if it's unintentional or not, having a brand that is too similar to another won't do you any favors in the long run. You can only survive and thrive by being distinctive and standing out, and creating your own reputation.
In our experience, even upgrading from regular shape labels to custom diecut labels is a move that creates a remarkable lift in brand image by literally shaping a brand's aesthetics (which is the most simple aspect of branding).
Custom diecut labels play on the same aspect of packaging, creating a brand experience that is unlike any other, working as a canvas to help establish your brand as truly unique.
---
2) Flesh out your own branded experience
A unique branded experience makes each encounter with your brand memorable, and this increases product value perception.
Driving customer loyalty is an endpoint that starts with recognizing the "specialness" of the customer and tying that in with the value that they should receive with your product or service.
Overpromising and false advertising are constantly things that businesses should avoid; however showcasing enough style and personalization is a worthy endeavor that adds tremendous value.
By adding simple and inexpensive touches such as branded tissue paper, your packaging is transformed into an even more powerful and direct touchpoint that can create a ripple effect that translates into increased loyalty and more sales.
Highlighting custom packaging and the brand rituals that come with this will further differentiate your brand from anyone else.
---
3) Consistency and flexibility should be equally important
"How do I remain consistent while being flexible," you ask?
It may seem like completely different concepts, but consistency and flexibility are your strongholds against irrelevance and short-lived success.
The key is taking a look at your brand right now and revisiting your offerings and brand value. This is applicable to both new and older brands. Relevance is key in ensuring you are a viable business, and a brand that is here to stay. Aesthetics matter not because it should attract customers, but because it resonates with them.
A great example is when Old Spice teamed up with Wieden+Kennedy to remain a strong contender in their market by repositioning their brand to appeal to the newer target market.
Building your brand means setting clear standards and being consistent enough to be uniquely identifiable in your branded print collaterals, but being flexible enough to change tactics and tweak details.
These small adjustments will refresh and reenergize your brand, building a renewed interest and increasing desirability and value needed to set you apart from competition.
---
We truly hope this was helpful. If it was, please share–we've got more insightful posts in store for you. Subscribe to our newsletter for more small business advice, printing tips, and exclusive specials delivered straight to your inbox.