Hot off the press are vibrant coffee label designs that are professional, stunning, and full of personality.
If you're still at the stage where finding inspiration for your own coffee label designs isn't coming by too easily, you're not alone. Don't beat yourself up; many designers and small business owners have gone from Study A to Study Z before achieving that perfect coffee label design.
[Tweet "These awesome coffee label designs will definitely get your light bulbs firing!"]
In the meantime, get inspired and take a look at our best coffee label designs list, for remarkable custom labels that are both relevant and eye-catching!
---
Inkable Label Co.'s
Best Coffee
Label Designs List
---
SMALL BATCH ROASTED IN COLORADO
Tal Fishman, the creator of the Whiskey Barrel Coffee brand, is not a coffee entrepreneur. Rather, he is a passionate coffee lover who set out to solidify a dream fueled by the combined passions for coffee and bourbon whiskey. Each cultivated passion gave birth to a distinct and unique experience that finds each element in synergy instead of outshining the other—not a "whiskey-flavored" coffee, but something that starts as coffee and finishes as whiskey.
The result of two and a half years of dedicated testing and refining, Whiskey Barrel Coffee is a stronghold of a holistic appreciation of not just coffee as a product, but also coffee as a journey and a destination best shared with friends and family. Favorites such as Angel's Share and Mr. Smith are always sold out and their main offerings, Dark Roast Whiskey Barrel Coffee and Light Roast Whiskey Barrel Coffee continually receive rave reviews. In preference of a dedicated coffee ritual, Tal's goal was to make each Whiskey Barrel Coffee experience a pastoral moment, returning coffee to the table as a conversation piece as opposed to its humdrum place as merely an on-the-go picker-upper.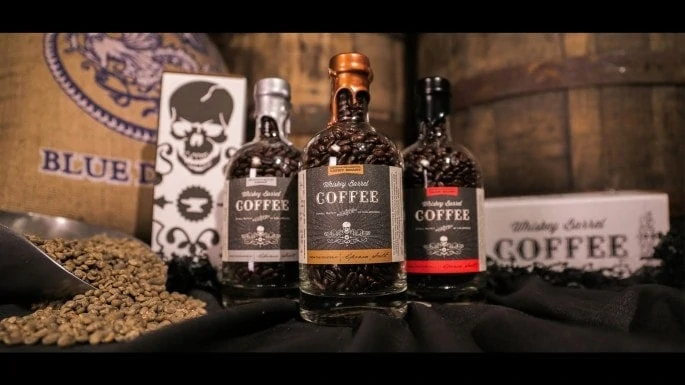 The company prides itself in its patient and adroit hands-on process and believes that the true identity of an excellent cup of coffee comes not only from a deep understanding of coffee, but more importantly from the attention to detail throughout the entire process. They create small batch, handcrafted blends using the venerable art of green coffee melding before choice beans are moved to their vintage roaster. Their long-searched-for coffee (which they named Vitoria Estate) is unique in that it stands up to the fine bourbon whiskey flavors without losing its identity. With this as the base, coffee blends specifically for barrel-aging and roasting delivers a perfect bottle of Whiskey Barrel Coffee product.
DESIGN:
We hold their unique packaging in high esteem, because we think it veraciously reflects the identity and values of the brand. Successfully embodying the commitment to being unique and uncompromising in getting it right, the bottle is their strong statement that this is precious coffee/a coffee experience is like no other. Instead of the coffee bags, bottles encase the beans and are highlighted nicely, like prized gifts. We love that they are hand-filled, hand-labeled, and hand-dipped in wax to seal in the flavor—a genuine labor of love. The labels are classy with a definite vintage feel. The label artwork layout utilizes the space well, with the central panel clearly demarcated by the white-on-dark theme, highlighting the colored bar for easy identification. The side panels are oriented differently, which works for reading hierarchy for supplemental information.
LABEL DESIGN TIP:
Remember, you don't need to make your custom labels fit the entire available area on your packaging. There is no standard label size or label placement. What's more important in terms of functionality (versus aesthetics) is that your custom labels accommodate readable text and graphics comfortably—sometimes less is more—and don't cover the entire bottle if you're keen on highlighting contents.
Design around your concept and don't let container size dictate label size. If the contents are especially eye-catching (works well with consumables to show freshness), get enough of the clear packaging showing and the proud contents of your bottle will be the highlight of the event.
Photo credits: Logo and all images by Whiskey Barrel Coffee
---
INLAND ESTATE GROWN
Hawaii's largest coffee grower (also the largest grower in the United States) Kauai Coffee Company has over four million coffee trees, grown on 3,100 acres of rich volcanic earth. The warm Pacific sun, abundant mountain rain, and cool trade winds of Kauai all work together to create perfect conditions for cultivating phenomenal coffee. This impressive venture was born in the early 1800s, first employing the name and trade McBryde Sugar Company, one of the first sugar growers in Hawaii. Great big developments and milestones came and went, proficiencies and industries grew, and the McBryde Sugar Company soon was transformed into Kauai Coffee Company in 1987. This move will later be recorded as a sterling representation of Hawaii's largest diversified agricultural project in the past 50 years.
Now part of Massimo Zanetti Beverage, USA, Inc., one of the nation's largest coffee roasters, Kauai Coffee Company is known to be a true Hawaiian coffee estate. Over the past 15 years, they have conscientiously and meticulously grown, roasted, and packaged their coffee, making sure that every step from farm-to-shelf uses environmentally sound practices. To ensure excellence and the highest quality, Kauai Coffee has invested in all particularities of coffee production and processing—this is distinguished in their precedence as sole producer of over half of all the coffee grown in the United States.
Authentic, progressive, and tireless in their work, the company is also the largest drip irrigation coffee estate in the world, with 2,500 miles of drip tubing. This direct, dynamic system precisely addresses the issue of unwittingly spraying or dusting fertilizer on the farm. The result? Consumers are guaranteed superb coffee crops that are disease and insect-free, and a hyper-efficient coffee plantation that is GMO free. All these sizeable strengths come through to ultimately deliver a cup of coffee worthy of the Kauai Coffee name.
DESIGN:
Similar formats, different materials. This is a great example of consistency and character. We love the instant impression of the brand's strong Hawaiian roots given by the indicatory art elements that trumpet the brand's origins. Chosen fonts, colors on artwork versions, character illustrations, and photos all come together to highlight the significance of what Kauai Coffee Company stands for. The vibrancy of each particular style per Hawaiian coffee variant adds to the unique personality that customers will instantly recognize.
LABEL DESIGN TIP:
The more in tune your label designs are with your brand identity, the more people will associate your brand with uniqueness and authenticity. If your product differentiation leverages on tradition and culture, use this to your advantage by creating labels that identify with who you are, instead of going for the usual modernistic approach that can become generic when set beside other similarly-themed label designs.
Photo credits: Logo and all images by Kauai Coffee
---
Hand-Made Session Coffee Since 1993 • Roasted fresh daily in Milwaukee's Riverwest neighborhood.
Colectivo Coffee is an independently owned Milwaukee-based coffee roaster, operating 16 cafes in southern Wisconsin and providing wholesale coffee sales, service, and equipment to customers around the country. Founded in 1993, originally as Alterra Coffee Roasters, the company got its start on the fifth floor of a warehouse in Milwaukee's Walker's Point neighborhood. Owners Lincoln Fowler, Ward Fowler, and Paul Miller renamed the company as Colectivo after 20 years, inspired by buses employees ride when they visit partnering coffee farms in Central America. Colectivo Coffee offers a wide range of more than 20 core coffees that are flavor inspirations to the huge fan base of the brand. Known for its award-winning "Session Coffees", Colectivo's trademark roasting style reveals the unique flavors of each origin while maintaining balance and sweetness. All blending is done after roasting, and the beans are packaged and shipped fresh from their roaster in the Riverwest neighborhood in Wisconsin.
Colectivo Coffee advances the sentiment that coffee as a serviceable experience should be a delight—from the moment that cup of coffee is served to you until every sumptuous bit has been consumed, whether hot or cold. Their ceaseless conviction is evident through their staunch dedication to making a great cup of coffee and consistently creating a remarkable experience for their customers, specifically via sourcing coffee from origin, handcrafting (hand-roasting) coffee, and making sure it is delivered fresh since the very first batch.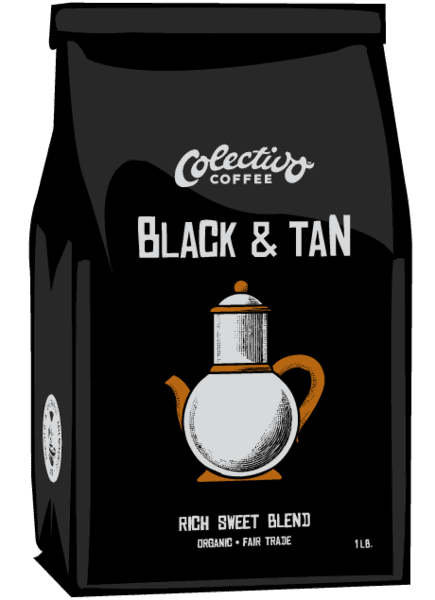 The goal remains the same since inception, and Colectivo Coffee makes competitive camp because it is faithful in its persevering system of embracing a culture of continual improvement and innovation to invariably bolster their efforts. Also known to be a strong anchor at the vanguard of the U.S. coffee movement, the company completely incorporates itself into the craft/process by cultivating exclusive farmer and cooperative partnerships to ensure full involvement in the creation of a great coffee experience. The resulting products cater to every palate, from their special and extremely limited "Featured Farm Series" to their expertly primed Single Origin and legacy blends.
DESIGN:
Color, style, and personality tied in with an authentic identity always resonates loudly with any consumer looking for a product that will be unerring in its delivery of value. In this example, Colectivo Coffee stands out as an amiable brand that is always ready to please and delight; the vibrant designs and consistent style use iconic imagery that is instantly recognizable and represents parts of everyday life. We love the cohesive logo, the familiarity and candor of each of the singular illustrations per coffee blend and think each label artwork is fresh and represents the brand well.
LABEL DESIGN TIP:
If you are actively promoting an important advocacy that is directly linked to the sales of your product, intensify this by adding blurbs, icons, and even short text to your labels. Just make sure to position this properly so that the main text retains its hierarchy. Alternatively, as seen in this example, you can also print out small add-on labels to add to an existing main label so that you can continue with production without doing a new run of prime labels.
Photo credits: Logo and all images by Colectivo Coffee
---
DRINK MORE COFFEE
Joshua Heien and Coulter Sunderman make up H+S Coffee Roasters, a coffee nano-roastery located in the heart of downtown Laramie, not far from where they both grew up. Their coffee repertoire is broken down into single origin and blended offerings, so that they are able to offer a profusion of flavors for all coffee lovers. Single origin coffees have no particular roast profile attached to them and are roasted in preference to actualizing the best of their inherent flavor profiles; alternatively, their blended coffees are concocted in that a desired flavor or consistent roast profile is achieved. The offshoots are decidedly rich and full-flavored, perfected coffee selections that are either straightforwardly bold and dark, or complex, coalesced flavors that cater to a different and discerning palate.
H+S Coffee Roasters prides itself in quality coffees that are ethically sourced, products that are fruits of an efficient roastery that actively chooses to minimize its carbon footprint through utilizing the best available technologies. This is truly commendable as their roaster boasts of a small footprint in relation to roasting capacity, and a consequent 99.6% capture rate of their emissions, making it a smokeless operation and one of the very few roasteries in the country using this special technology. Apart from this admirable facet of their business, H+S Coffee Roasters keenly contributes and works in synergy with importers and farmers. Their involvement in programs such as the Community Coffee project in Costa Rica helps build schools, roads, infrastructures, as well as improved farming implements and more developed technologies.
Their coffee's guiding tenets are passion and artistry, and in addition to rigorous scientific analysis, each finished product successfully confers the coffee bean's fascinating and exceptional journey, from soil to brewed cup. This two-fold approach makes H+S Coffee Roasters unique among specialty coffee roasters everywhere. Customers know that every batch meets quality standards, and each sip a truly amazing coffee experience.
DESIGN:
We love the labels on these. The pastel color palette works well with the kraft bags and we think that the brand identity is well supported by the simple layout of each coffee variant. Proper kerning makes the labels a breeze to read and identify, clearly visible even from a distance. What would be an otherwise plain artwork design is cleverly made graceful by the decision to apply a simple repeating pattern as the background layer, on space that isn't filled in with text. This makes it ornamental instead of taking away from the readability of the text. And so even easier identification is made with the color schemes on the patterns and this attaches an instant color branding to each of the coffee flavors.
LABEL DESIGN TIP:
When going for a custom label layout that is no-nonsense and spartan, strive to make text pop by framing and sectioning, so that customers have an easy time with identification and reference. As shown in this example, you can hit both design and utility by using color to unify varieties of your products. Remember that maximizing the real estate of your labels doesn't mean that you should use up ALL the space—this certainly requires a good eye to see if your background pattern distracts rather than enhances.
Photo credits: Logo and all images by H+S Coffee Roasters, with the exception of solo studio shot of Sweetwater Blend by kccoffeegeek.com
---
NEVER SETTLE FOR GOOD ENOUGH
Northwest Arkansas' Onyx Coffee Lab prides itself in everything coffee. Its hand crafted, small batch offerings are so noteworthy that it was named one of the winners Good Food Awards, the state's first. Not unlike other passionate coffee roasters, connoisseurs, and coffee enthusiasts, Onyx Coffee Lab delights in new discoveries, novel techniques, and exploring all there is to appreciate in the involved experiences when enjoying coffee flavor profiles. From seed to cup, the company has been diligent in having a lock on all the details. Their high standards are compelled by direct relationships with farms and exacted by tirelessly sample roasting other imported green beans. While staying true to the craft, their commitment to organic practices and ethical trading allow them to have a direct impact not only on coffee growers, but also and more importantly on the environment. They never bulk roast—Onyx Coffee Lab hand crafts their coffees via roasting batches only under twenty pounds. The conclusion to the process is the fastidious cupping to ensure the desired look, smell, and taste of all beans. The significance of this: theirs is an elaborate process, and cannot be replicated on any large-scale production setup.
Owners Jon and Andrea Allen have been successful in realizing the long-term mission of any small business—Springdale is absolutely in love with their coffees, and their fans grow in number from everywhere as they continue to make a name for themselves. Definitely one of coffee's more progressive roasters from the non-metropolitan south, Onyx Coffee Lab wants you to taste the bean, not the roast. Science and art are pillars of this business; and the correct roasting of beans yield specific, inherent flavors that can't simply be knocked together and called a new coffee variant. Onyx Coffee Lab's precise cup pampers the senses with pure coffee taste notes unsullied by inferior treatment.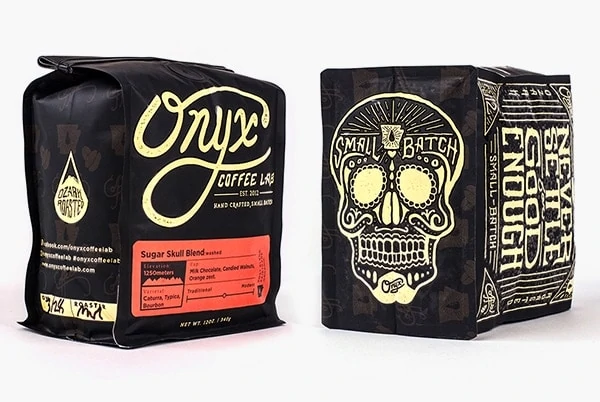 Their coffees are inventive and playful, and they offer a seasonal list of coffee concoctions called "Barista Specials", which are crowd favorites. Apart from being lots of fun, this project allows people to grasp the possibilities that exist in coffee. This not only deepens the appreciation for the product, but also and more importantly, this elevates coffee beyond its position as merely a "simple" beverage. At Onyx Coffee Lab, concoctions taste as good as it looks. Aesthetics are given as much relevance as taste, and this translates into coffee contributions that are wonderfully complex and unlike any other.
DESIGN:
We love the decadence of the branding—the dark and remarkable starkness of the striking artwork that adorns both products and setting. While seemingly incompatible, BLKBOXLabs, the virtuoso design agency that created the identity for Onyx, pulls of an amalgamation of Mardi Gras and Wild West, a new obscure syndicate that all at once animates this brand to catch and keep our attention. Visually-stimulating, the bag and label artwork is extremely consistent and coefficient with the interior design of the Onyx cafés. The small label lays out information in a very graphic way as well. Icons and scales to accompany coffee variant detail along with the layout design give each label a semi-infographic look and feel, for a cohesive synopsis of the contents of each bag.
LABEL DESIGN TIP:
When creating label designs, always think clean and dynamic. No matter how embellished the final artwork is, make sure that each label helps brand your product properly. As seen in this example, sectioning information with icons and subheads like a cool series of smaller infographics will illustrate all descriptions that are commonly seen as simple text, making the discovery of information more interesting. Because this can quickly go from simple to cluttered, mockup sketches on paper rather than on screen can help you determine where it gets too busy. This especially saves time if you aren't too adept at handling graphics programs. You can always hire someone to finalize everything when you're set and ready.
Photo credits: Logo and all images by Onyx Coffee Lab, The Dieline, and BLKBOXLabs
---
Coffee Roasters
Fine espresso is one of the celebrated specialties of Bow Truss, a Chicago coffee roasting company that has seen tremendous growth over the past few years. Relatively new in the business, Bow Truss is a robust contender in the specialty coffee industry, with its expansion successes owing to passion, hard work, and the tremendous support of clientele who can't get enough of their offerings. They've impressed and delighted so many people with their coffees that fans from all over promptly reinforced the brand's move to construct additional cafes (after Lakeview: River North, Pilsen, Logan Square, Michigan & Jackson, Chicago Loop, Roscoe Village, Beverly Hills) to accommodate the growing demand. The ubiquity and strong presence of Bow Truss in different neighborhoods are testaments to CEO Phil Tadros' uncompromising vision.
Tadros is a crackerjack at making things happen. Before venturing into the coffee business, he first launched Doejo, an award-winning digital agency (also based in Chicago's Lakeview neighborhood). This company mobilized innovation, activated designs, ideated vanguard products, services, and brand experiences. Still, his love for coffee was always there, constant and steadfast despite his thriving business. After Doejo took off, Tadros was finally able to focus more of his energy and time on shaping and actualizing his coffee brand. Bow Truss coffees are now sold in several restaurants and Whole Foods locations. The quality of their specialty coffee offerings is the consummation of strict measures to guarantee that each roast makes the grade. To ensure they procure superior coffee beans, the company sources only from distinguished brokers, working on the establishment of significant direct trade relations with coffee farmers in ad rem countries such as Mexico and Ecuador. Research and development using the sourced beans and sundry experimentation delivers novel specialty coffees that customers unquestionably love. And the ceilings with wooden arches ("bow truss" ceilings) elevate the vintage vibe, creating the perfect venue that is more roastery than café.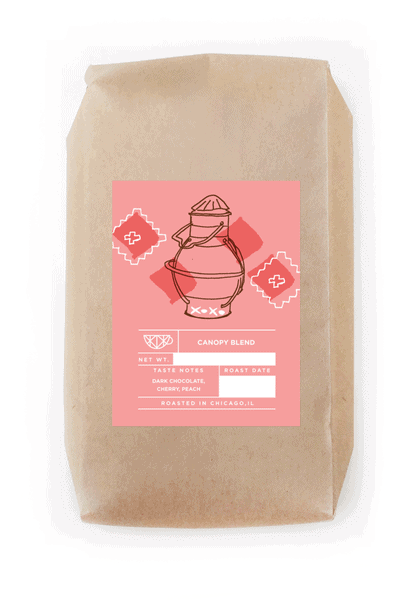 Bow Truss' offerings vary seasonally. Default format is whole bean coffee available in 12-ounce bags, only roasted to order. Exquisite single origins, naturals, and delicious direct trade coffees are mosaics of exciting travails into different worlds, different flavors. For example, Nicaragua Beneficio Santa Lucila Caturra boasts of a medley of Mandarin Orange, fudge, and almond—its vibrant chocolate flavor is pure decadence. Ethiopian Yirgacheffe intimates notes of cocoa and rose petals, a bouquet of fruits, and heavenly vanilla. Signature premium coffees popular to patrons are Bow Tie, Canopy, and Threadless blends for drip blends, Hoist and Foundation for espresso blends.
DESIGN:
Phil Tadros keeps everything close to the chest. His own design agency created the brand identity for Bow Truss. The concurrently clean and cultivated brand image translates into label designs that aren't "dressy" or elaborate, rather they are polished and sleek. With the exception of Cold Brew, all the other custom label artwork don't use a white background. The adoption of this style guarantees that the label catches your attention right away with a splash of bold color. Adding an overture of vitality is the spirited, colourful palette and added line illustrations. The result is a clean and energized set of gracefully-packaged coffees.
LABEL DESIGN TIP:
If you've got the liberties to create and tweak your own label designs, step back and check if your brand identity is translated into both product development and product presentation. Sometimes, all it takes is color to transform something that might not seem to be working. This reversal (light-on-dark prints) means that the whole label will be saturated with ink. As demonstrated by this example, a gloss laminate works to develop high contrast and a shiny finish. This makes for more intense and vibrant colors due to the high reflective property of the laminate. When finishing your coffee labels, consider the correct laminate (gloss, matte, satin) to complete the "demeanor" of your packaging.
Photo credits: Logo and all images by Bow Truss
---
TASTE OUR PASSION!
Taking inspiration from the great American dance troupe to perfectly illustrate their resolute and indefatigable global search for the best premium coffees and finest tea leaves, Joffrey's Coffee and Tea Company is a giant in the industry. The company is renowned as a gourmet, artisan heritage coffee roaster brand whose incessant searching and creation of extraordinary flavors and experiences has not let up since it opened its doors in 1984. This stems from a passion for truly exceptional coffee and tea, of sharing provocative and delightful discoveries with eager coffeephiles, and developing something special that reaches beyond the toneless and pedestrian cup of a hastily simmered brew. Joffrey's Coffee and Tea Company exists to create art with gourmet offerings that invite customers to explore the sensual depths of each cup.
Their coffee repertoire is sumptuous as it is copious (and impressive!) and the staff hand-roasts each and every one of the 124+ assorted premium coffee varieties they provide. Based in Florida, the company has local, national, international, and online distribution channels and a community of people with a taste for passion and the best gourmet coffees and fine teas from around the world. Its products are mainstays at resorts and hotels, supermarkets, fine restaurants, and, of course, coffee shops. 100% specialty grade Arabica beans found on five of the seven continents are the foundations of this coffee-sphere—their Tampa plant is a cozy HQ for roasting, flavoring, grinding, packaging, and distributing beloved products to restaurants, grocers, and office coffee distributors. Let it be said once more that Joffrey's Coffee and Tea Company is tireless in its pursuit of coffee-ness. And it's holistic, no less.
Charlie Davis for Jazzy Java
Apart from bringing you the world in a cup, the company safeguards fair treatment of coffee farmers by purchasing Fair Trade Certified coffee, high quality beans that meets strict standards. Organic Colombian coffee is grown on a plantation approved by the Smithsonian Migratory Bird Center as Bird Friendly®. These, and many other aspects of the business create a personable brand steeped in the history and tradition of both coffee and tea processes. Specialty coffees include organic, varietals and blends, origin, dark roasts, and flavored coffees. These are true gems that see Joffrey's as the preferred provider of espresso coffee for Walt Disney World, a feat accomplished by winning blind taste tests for six years straight. Joffrey's was also selected to have their gourmet coffees and fine teas served at the Super Bowl XXXV, testimony to its widespread appeal. Crisper's restaurants chose to exclusively serve Joffrey's offerings to its guests, also solidifying the coffee roaster's position in the market. More can be said about this awesome brand, but they would rather have you take a sip because that will tell you more than they can ever say… Taste our passion!
DESIGN:
The most relevant gauge to tell if a label works or not is by the way you instinctively react to the aesthetic, whether it is meant merely to inform with its messaging, or to further delight with a visual premium. These labels made us happy, seriously. Apart from the obviously collaborative nature (different styles) of the design repertoire, the colorful and whimsical, very lighthearted and emotive approach was the common element that makes these unforgettable. This works on so many levels, aligning with Joffrey's brand personality and values on art, craft, and inspired creativity, through great coffee.
LABEL DESIGN TIP:
If you've got professional help (or are actually designing the labels yourself), you needn't sacrifice individuality or style for fearing that your product labels wont look like they belong under the same brand. As seen in this example, even with various artists, the final label designs look consistent and certainly "related" to one another. This is why it is important to have label artwork that is consistent across your portfolio
For cohesion, always remember that using colors can significantly help in standardizing the presentation of your products without needing to sacrifice individuality and the singularness of each product variant as grouped under, but separate, from your main brand. Shoppers recognise color easier than text, even from afar, so if you must choose between changing the font or changing a color bar to designate flavor or fragrance, choose color.
Photo credits: Logo and all images by Joffrey's Coffee and Tea Company
---
YOUR LOCAL SMALL BATCH ROASTER

As in all things, there are criteria that determine how good something is. For coffee, qualifying factors such as aroma, acidity, body, and flavor will tell you if the coffee stays true to its origins and its flavor profile patiently and carefully developed so it yields to be the best coffee it can be. Seattle, WA's Middle Fork Coffee Roasters' challenging design of a primarily "full city" style of roast is a difficult style to perfect, but the results are outstanding—this is a technique that certainly makes for delicious consequences. Such a style produces only the richest and fullest, most piquant aromas to accompany an exquisite and distinct flavor. Known as a "full city crack", this style designates the glorious ascent of oils inside the bean as it moves up to the surface, inexorably producing a signature spicy and full-bodied taste. Owner Matt Parrish, having managed a successful coffee shop for several years before building his own company, was able to perfect this art and develop this secret technique, to be able to bring any roast profile, light or dark, to a full city crack. This is an impressive feat, as the style employed is most difficult and typical roasters can easily burn the beans if not versed in the nuances of this technique.

Founded in 2009, the brand takes its name after the Middle Fork Snoqualmie River outside of Seattle, and takes inspiration from its picturesque beauty for its ruggedly delicious roasts. It sits in the heart of the world's coffee culture and is proud of its offerings—from the citrus and caramel-sweet Middle Fork Unleaded Decaf Coffee, the syrupy body of the Tough as Nails combo of Colombian and Guatemalan dark roasts, to the nutty and creamy Sumatra Single Origin coffee, every bag is guaranteed fresh and pleasing to the discriminating palate. Customers will find their match in the exotic, bold, subtle, or soothing blends that compliments a specific preference. The company holds an artisan coffee roasting facility that churns out the perfect drink, the perfect gift, the perfect roast to tell the perfect story for anyone who has a deep love for coffee.

Middle Fork Roasters' pledge is simple: to sell the best coffee they know how to make. This is evident not only in the quality beans and exceptional roasting style they employ, but also in their appreciation of all the working parts that make sure each cup is perfect. They're big fans of their fans, and are devoted to building strong and lasting partnerships with everyone they work with. They stress that each bag represents a commitment to fair trade employment and strong communities via local and independent producers. And to you, the customer, Middle Fork Roasters promises that each bag opens up to an exciting and delicious coffee journey, to savor or share.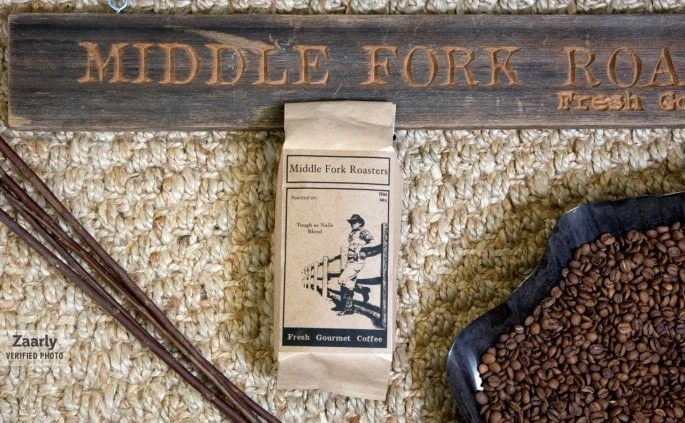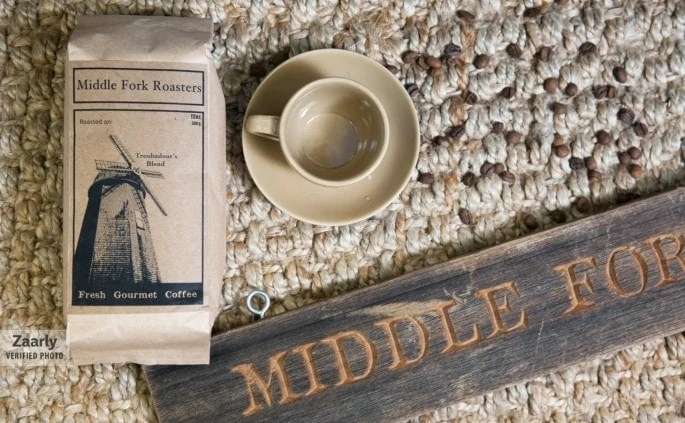 DESIGN:
There is something classic and timeless about these labels. While "contemporary" wouldn't be the first thing that people would perhaps pin on the style, we absolutely love the simplicity of the monochrome illustrations and how the overall look is so unique from the prevalent coffee packaging. These custom labels give a deep emphasis on composition, as if these weren't product packaging and instead are art prints that found their way onto a coffee bag. The etching-style illustrations complement the brand image of Middle Fork Roasters extremely well, and certainly give a gracious overture for the fine coffee experience that is yet to come.
LABEL DESIGN TIP:
Using kraft label material is smart way to make custom labels "disappear" onto the surface of brown paper packaging. Just keep in mind that not all kraft paper are of the same undertones. Yes, kraft is brown, but they are of slightly different tones depending on the paper manufacturer. If you're going for that seamless transition, get samples first.
An important label design tip for kraft is to also stay away from light to medium browns and reds if you are using these colors for important text because they won't print as clearly on brown kraft labels. The brown background won't do you any favours when it comes to highlighting said design elements. Cooler colors (e.g. black, dark blue, dark green) will contrast with the warm undertones of kraft labels, making prints stand out more, if this is the effect you are going for.
Photo credits: Logo and all images by Middle Fork Roasters
---
Labels carry the heart and soul of your brand, and we don't take this huge responsibility lightly. We're always excited to discuss branding and Prepress until we're absolutely happy with the end result. We hope you enjoyed our best coffee label designs post–stay tuned for more label design inspiration soon!
*Just a note that we believe that branding isn't everything: what makes your coffee labels work in the long run is the dedication you put into your products and services, from defining your brand values, to your company culture, to speaking about things that you care about through your brand's voice.
NEED ADVICE WITH YOUR OWN COFFEE LABEL DESIGNS?