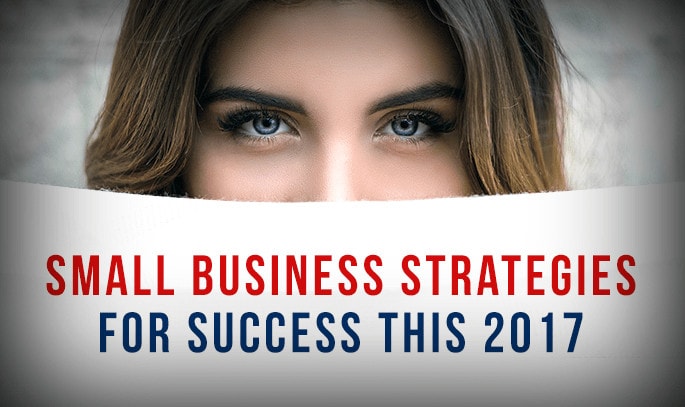 Ready to hustle after a restful and invigorating break? As you've already learned, profit is equal to smart and not necessarily hard work. Time to take a look at our Top 3 Small Business Strategies for Success This 2017 and flex some serious small business muscle to grow your business.
To succeed in a competitive market where small businesses are all vying for top-of-mind share, it's time to reflect and build from last year's learnings. We're sure you're ready to explore and try new things to build your brand, for a more competitive and robust 2017.
---
A REMINDER: Before delving into this, you should have accomplished your SWOT Analysis, as always, to correctly gauge where it is most cost-efficient and aligned with your goals and where you are right now in your small business. Properly managing the direction you're going to take is key in ensuring that you are successful and your tactics or strategies are sustainable.
---
[Tweet "Make 2017 your best year to date with these top 3 small business strategies for success."]
Arm yourself with your resolutions, lists, and empowering mantras, and roll up your sleeves up and dive back in for a productive 2017 where business is booming, customers are extremely satisfied, and opportunities are recognised and leveraged. Take a look at these actionable strategies and make your own successful pipeline for driving both your brand and your business for your best year yet.
---
TOP 3 SMALL BUSINESS STRATEGIES
FOR SUCCESS THIS 2017
---
ADD RELEVANT PRODUCTS AND SERVICES.
Being in tune with your customers' wants and needs means taking a step back to scrutinise your current offerings and adding more products and services that will best satisfy your market. If you've been successfully selling the same product or service and want to increase your profit margins, this is an excellent strategic avenue to take. Also vital is the consideration of the signs of the times, so to speak. Look at your current line up and innovate—small businesses that don't follow trends or consistently review what their customers are looking for in details will get overtaken by newer, more dynamic competition who is able to keep up.
CASE IN POINT:
Even with your solid standing as a leader in your industry, keep an eye out for signs and symptoms that your product or service isn't working as well as it used to or needs supplemental products or services to make the experience more holistic. It used to be that a front mobile phone camera was all that was needed in taking "selfies"; now the birth of the simple selfie stick product is a perfect example of problem-solution innovation that is fun and works well.
If you're seeing dips in customer satisfaction or early adopters quickly losing interest, try to employ this strategy. If you find that this is the case with your own products or services, as with newer technology and changing customer behavior: You can either supplement as with the example above, or cut out your older, outdated products or services and add those new ones that will be more in sync with your market.
---
RESHAPE YOUR ROSTER.
Less risky than other strategies, choose to play up your strengths and maximise your current resources by "renovating" your portfolio. This is highly effective if your new portfolio complements your current roster of services or product inventory. Look to this strategy to spread the risk as this involves changing up existing services or products to gain more traction and earn more profit from a new group of consumers.
CASE IN POINT:
Take a look at your market research, you might already have the data and insights that you need to confirm that your product or service can simply be sold as different iterations. This is powerful in that it can open new markets for you. BMW's has made a name for itself worldwide not by merely pitching to the upper luxury market. By recognising their strengths and releasing different car models in various price ranges (and adding/removing different features to meet each price point) each segmentation has perfectly catered to a different market's psychographic and helped make the brand accessible to as many people as possible.
If you're set on using this strategy, find out where the big market share opportunity is and calibrate your current product or service to cater to that market. Why only sell a full spa experience replete with lavish essential oil add-ons at a premium when you can also introduce a significantly less expensive one-hour reflexology session for those who have less time to spare or who would otherwise turn down your offer due to it being over their budget?
---
TRY MARKET DEVELOPMENT.
Also known as "market expansion", this growth strategy is excellent if you're a root-bound businesses and you need more space to grow. Once you've hit your market saturation point (meaning you have already maximised your reach and number of customers who buy your services or products) this can only mean that you also cannot exponentially grow your profits by selling to the same market.
What are your options then?
– You can either sell your current products or services to a new market, and this can come in the form of a new store in a different location, or distributing to a new market via an e-commerce platform;
– or sell your products or services to a different market by presenting your products or services differently, i.e. finding new applications for your current offerings.
CASE IN POINT:
Did you know that when Diet Coke was launched in the 80's, it was discovered that men shied away from the drink because it seemed too "feminine" because more women were drinking it? The Coca Cola Company saw an opportunity to develop their market despite and because of this segmentation. Coke Zero, with its shiny black can and advertising campaigns that were the polar opposite of Diet Coke, has now successfully generated a more "masculine" appeal, growing its market with an existing product but with a different approach.
If this strategy appeals to you, take note that this carries considerable risk, especially if this will mean that you will need to open new physical stores, as this involves an large initial overhead and lots of resources spent before you see profit. Gauge your operational readiness and be smart about how to develop your market. But absolutely, developing markets has a big multiplier effect on profit.
---
A caveat: Not all strategies will work for you—businesses and markets in different industries are unique, and it is up to you to correctly apply these based on your motivation, level of commitment, level of risk you are comfortable with, and how ready your small business really is to take on a larger market share. Coping is not enough; only change strategies when you are quite certain that you can take on greater responsibilities and will thrive in this new arena.
---
We truly hope this was helpful. If it was, please share–we've got more insightful posts in store for you. Hit subscribe for more small business advice, printing tips and free print consultations, and big discounts and exclusive specials delivered straight to your inbox.
Cheers to you, and to the new year ahead of us. Let's make this the best year ever!