CREATING YOUR OWN CUSTOM PET CARE PRODUCT BAGS: A STEP-BY-STEP GUIDE FOR PROFESSIONAL BRANDING
Packaging pet care products is an exciting endeavor that needs to be approached correctly and diligently. This is a huge responsibility that should benefit your customers and their beloved pets, and ultimately, your pet care product brand. Your brand story, product benefits, and business values should be told well and your custom pet care product bags are your best and most hardworking tool for this.
Distinguish yourself as a professional pet care product brand that cares deeply for pets, their owners and has the knowledge to back it up. By successfully creating a pet care product bag that captures the essence of your brand secures you the mind and heart share of your target customers.
Not only is this a branding effort where you can have fun and make your unique mark in the pet care industry and in your community—correct labeling practices must conclude in an enriching and educational experience for your customer. This is important because most of your customers view themselves not as owners but as parents to their precious pets. Inspire trust so that they can work with you to fulfill their responsibility to purchase safe, delicious, and nutritious products made to the highest standards of quality.
Do you have all the relevant information on your pet care product bags? Too much information and you might confuse or overwhelm the prospective customer. Too little and you might be leaving out details that are essential to the pet owner.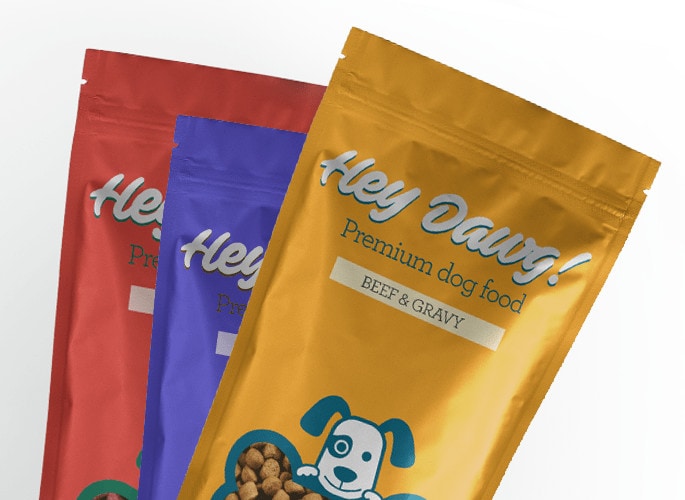 Pet care product labeling is regulated at two tiers to help make relevant information easily accessible on the packaging level.
While some states enforce their own regulations, many of these rules are based on the Association of American Feed Control Officials (AAFCO). In this guide, we'll combine those rules with our current FDA regulations, to help you get a lock on the necessary information on your custom bags. For more information about labeling requirements, see the FDA's Pet Food Labels – General section.
[Tweet "Save this free guide for your best professional custom pet care product bags!"]
The current FDA regulations require proper identification of the product, net quantity statement, name and place of business of the manufacturer or distributor, and proper listing of all the ingredients in the product in order from most to least, based on weight.
WHERE SHOULD I START?
Let's begin by going into detail about what content must be seen and where on your custom pet care product bags. From there, we will move on to tips and considerations on choosing the right type of bag for your unique requirements.
---
---
BAG PANELS
Your custom pet care bags must have at least two distinct areas, and these are the Principal Display Panel or Primary Display Panel (PDP) and the Information Panel (IP). Both will of course correspond with label "artwork", the term we use for files that go to print.
PRIMARY DISPLAY PANEL (PDP)
A.K.A. your front panel which is meant to catch the attention of your customer
This is the first thing customers see if you're selling these in retail. These would be the artwork that will be front-oriented to be displayed on store shelves.
WHAT TO INCLUDE HERE:
What your product is (known as the Statement of Identity), how much of the product is in the packaging (your Net Quantity Statement), and the name of the species for which the pet care product is intended.
INFORMATION PANEL (IP)
A.K.A. the supplemental panel, which holds supporting information or elaboration on ingredients, people, and processes
For the IP, you'd want to place that to the right, left, rear, top, or bottom of the PDP, but primarily this would be on the immediate right. Place it elsewhere (left, rear, top, or bottom) if your packaging style makes it hard to place the IP on the right of your PDP. It's important that you EXCLUDE any graphics or unnecessary art elements here. We want to be as clear and straightforward as we can with the presentation of information.
FOUR THINGS TO INCLUDE HERE:
1) Name + Address of manufacturer (who created the product), the packer (who placed the product in its bag), or distributor (who moves the product into stores or local shops where customers can purchase the product)
If you're the manufacturer and you are listed in the current directory or phone book, you can simply put city or town, state, ZIP (or mailing code if you're outside the USA). If you aren't listed, it's required that you include your street address. However, if your assembly line also includes an outsourced packer and distributor, make sure to include their relation to your product ("manufactured for", or "packed by", or "distributed by").
2) Your pet care products may be comprised of two or more ingredients—this is the requirement to include an ingredient list.
Unless packaging one ingredient like Bentonite for kitty litter, if your pet care product has two or more ingredients, you should list them from greatest to least by weight. These must be found on the same panel as your product's name and your firm's address. This can be placed before or after the nutrition facts or guaranteed analysis, depending on your preferred layout.
3) Nutritional Adequacy Statement needs to be specified and placed together with the ingredients list + name and address on your PDP or IP.
If you've got a ton of text on your IP, your Nutritional Adequacy Statement can go on the immediate right panel, or on any highly visible panel on your custom pet care product bag. If your products are conspicuously identified on the principal display panel as a snack, treat, or supplement, then you won't need to add this.
Make sure that all relevant info on your custom pet care product bag is easy to read. Legible fonts will be more consumer-friendly. Chances are, if your text is hard to read and some information is concealed because of this, they won't be buying your product. Good copy and branding should be supported by readable text styles and sizes. A good benchmark would be to make sure your smallest text is at least 1/16 inch in height. If you're selling outside of the USA, accurately translated text in the native language/s of where you are elsewhere selling is and investment you shouldn't cut corners on.
Your custom bags must be printed on materials that do not contaminate your product. Our bag materials and soy-based inks are safe for food use. Make sure to seal your products properly to make sure everything is kept sanitary and shielded from outside contaminants.
Now that we've settled everything that needs to go on your PDP and IP, let's move on to where and how this should all be placed on your custom pet care product bags.
---
WHERE?
DEFINE THE PLACEMENT OF YOUR BAG PANELS
When looking at your bag, steer clear of flaps, closures, shoulders, and necks—these are areas where text can get cut off.
1) Depending on your custom pet care product bag artwork, you can place all the required Information Panel (IP) content on your Primary Display Panel (PDP).
2) You can split the IP content into two Information Panels if you can't make it fit into just one panel. If you're doing this, make sure that the information in each section is kept together and not split up between the two panels.
---
HOW?
TYPE (TEXT) FORMATTING RULES FOR INFORMATION PANEL (IP) CONTENT
1) Regardless of your chosen font, your text must be at least 1/16 inch (1.6mm) tall. This is based on the lowercase letter o (or uppercase O if using all uppercase letters).
2) Keep it proportionate. The height of letters can't be more than 3 times their width.
3) All required information should be easy to read. High contrast (such as black text on white background) is key.
4) When using a foreign language anywhere on your packaging, check that all required information is in both English as well as the foreign language that is applicable.
5) You can pull of your aesthetic concept, but it shouldn't be too far of from what your product is. Your label artwork shouldn't be misleading and shouldn't take away from the visibility of the required information.
---
---
PRODUCT NAME
A.K.A. "Statement of Identity" which can be either the "common name" or a "fanciful name" of your pet care product
When printing custom bags, this is obviously the first thing that you would have already been set on, even before your brand name. This is the name of what you are selling; and if you're using a fanciful name ("Bow Wowwee", which is a type of dog treat, for example) make sure this is accompanied by a descriptive phrase at least 1⁄2 the type size of the product name so that your customers can identify right away what the product is.
When selling a flavored pet care product, it's best to let customers know that it isn't a naturally occurring flavor. For example, say "peanut butter flavored treats". And, more importantly, if your flavoring isn't derived from a natural source, then your custom label should say so. In this case, "artificially flavored peanut butter treats".
If applicable, your product name should also describe the form to correctly identify what you are offering. Examples would be "bone biscuits with chopped sun dried tomatoes" or "paw muffins with shredded apple".
---
RESPONSIBLE FIRM
A.K.A. you, and everybody else involved in the production, packaging, and distribution of your pet care product
We tackled this a bit in the Information Panel (IP) section above. This ID on your custom pet care product bag is part of your production and supply chain. This can simply include your kitchen/manufacturer, a company that packages your products, or mainlines that are authorized to sell your pet care products.
Add the firm (manufacturer, packer, distributor) to help customers identify the responsible party/parties. This gives your customer confidence that they are purchasing a product from a legitimate source. It is also required by law should complaints arise.
Unless you are the actual manufacturer, other companies that will help you produce and sell your pet care product should be included and must have a qualifying phrase that lets the customer know what their relation is with your brand. For example, "manufactured by Jerky James" or "baked especially fresh everyday by Ruff n' Tuff Kitchen" would have "exclusively distributed by Pet Market" if you aren't selling anywhere else.
Any firm that you are using, even if they are a small business or an organization, should also have its city, state, and zip code declared on your custom pet care product bags. If the firm is not listed in the current telephone guide for that city, it's best that the street address is also listed.
---
NET QUANTITY
A.K.A. how much your pet care product weighs, minus the bag of course!
The net quantity is the declaration of the specific amount of product, stated in both US (inches/pounds/fluid ounces) and metric (grams/liters) units, and can come in many forms:
– Net weight (drained weight, if applicable)
– Volume
– Count
The correct format would then be, for example: Net Wt. 8 oz. (226 g). You can also specify count, as in: 12 cat treats.
NOT SURE HOW TO SET THE SIZE OF YOUR TEXT FOR THIS?
Here's a quick formula:
area of the PDP (width x height if rectangular or square; or 40% of product height x circumference if cylindrical/canned pet food)
Keep in mind that the required type must follow the Type Specifications in the Information Panel (IP) content and be at least the smallest size permitted based on the Primary Display Panel PDP) area:
If your PDP area is:
≤ 5 in² (32.26cm²)
> 5 in² (32.26cm²) but ≤ 25 in² (161.29cm²)
> 25 in² (161.29cm²) but ≤ 100 in² (645.16cm²)
> 100 in² (645.16cm²) but ≤ 400 in² (2,580.6cm²)
> 400 in² (2,580.6cm²)
Then your minimum type size is:
1/16 in (1.6mm)
1/8 in (3.2mm)
3/16 in (4.8mm)
1/4 in (6.4mm)
1/2 in (12.7mm)
---
INGREDIENT STATEMENT
A.K.A. specify your pet care product formulations here
As discussed in the IP section above, if your pet care product has more than one ingredient, then each ingredient must be listed in order of weight on an "as formulated basis".
HOW TO LIST THIS ON YOUR BAGS
The ingredient that makes up the highest percentage of the total weight as it goes into the product is listed first. The ingredients used must be GRAS ("Generally Recognized As Safe), approved food additives, or otherwise sanctioned for use in animal feeds (for example, defined by AAFCO). Ingredients must be declared by the correct AAFCO-defined name, where one exists, or the "common or usual" name.
---
NUTRITIONAL ADEQUACY STATEMENT
A.K.A. specify whom this pet care product formulation is for
Our precious pets have different needs at different stages in their lives. If your pet care products are grouped in this particular scheme, it is important that you add this to indicate that your pet food is complete and balanced for a particular life stage, such as growth, reproduction, adult maintenance, or a combination of these.
Specify if your pet care product is intended for intermittent or supplemental feeding only.
If your pet care product is explicitly identified on your PDP as a snack, treat, or supplement, it is not necessary to add this statement.
---
FEEDING DIRECTIONS
A.K.A. specify when and how your pet care product must be consumed
This is needed if your pet care product is classified as a complete and balanced food. However, this is optional for pet treats, as long as they are not complete and balanced and labeled as snacks or treats.
HOW TO LIST THIS ON YOUR BAGS
Indicate frequency or schedules to follow. In the very least, state, for example:
"Feed (amount of pet care product) per (weight) of pet"
---
PRODUCT DATES / LOT CODES
A.K.A. make the product, check the product, tag the product
This dating info gives perishables especially a set standard for tracking and tagging. This is optional for most perishable pet care products and can either be specified as "open dating" or "lot coding".
"lot coding" helps you check and remove your pet care products from retailers in the event that a certain batch isn't up to par and must be recalled. This is in the short form of numerals, symbols, or alphanumerical codes, and this helps you contain an otherwise large set of information (production date, time of packaging, who delivered your products to where, and so on).
"open dating" is suggested for all pet care products that spoil easily and helps your customers' pets enjoy their offerings in the time frame when it is in its best condition. Noted as either in text (e.g. Sept 29) or numbers (09-29), this includes "pull date", "quality assurance or freshness date", "pack date" and "expiration date." You would indicate pull date, quality assurance date, or pack date to inform your retailers and consumers when the product was made or how long products should be offered for sale to ensure optimum quality. The expiration date tells your customer until when your product should spoil and when it can be consumed safely by their pets.
---
GUARANTEED ANALYSIS
A.K.A. the percentage of each of the healthful nutrients in the pet food for the conscious pet owner
Remember that the minimum percent of crude protein and crude fat, and the maximum percent of crude fiber and moisture are always required.
GET YOUR PRODUCT TESTED
Include guarantees for specific nutrients to support claims made in labeling (such as "High in vitamin A"). You can also include voluntary guarantees for other nutrients. The guarantees must be given in a particular order, in specified units and as a minimum or maximum, depending on the nutrient.
Check out AAFCO's Laboratory section for a list of laboratories that take in service samples. Be sure to contact the laboratory you choose before sending in samples.
---
---
CHOOSING BAG MATERIAL AND STYLE
So you've already grouped the content that needs to go on your custom pet care product bags and have presented it as correct and print-ready bag design, let's solidify your branding by choosing the right bag for you.
The first step is to decide on the type of bag that will match your pet care product requirements.
Think about the amount of product and special considerations when packaging your unique products.
---
NEED HELP SETTING UP YOUR OWN PET CARE PRODUCT BAGS?
CLICK HERE FOR YOUR FREE CONSULTATION
---
Custom pet care product bags need to follow the same level of quality assurance as food packaged for people, because our pets are our family members who deserve only the best. This is a strong sentiment by your customers.
Barrier bags are aluminum foil bags that keep your products at their peak quality until opened.
Lock up with durable bag construction: A sanitary innermost PE layer on an aluminum bag base, with choices of either external gloss or matte silver PET or external white/brown kraft
Increased shelf life with multiple barrier layers: Preservation of aroma and flavor for longer
Seal in all the goodness: Smell proof seals protect your product and keeps oxygen out
---
---
REMEMBER TO CHOOSE THE BEST CUSTOM BAG TO FIT YOUR UNIQUE PET CARE PRODUCT DESIGN CONCEPT
Laminates also dramatically transform the final look of your custom pet care product bags. Gloss delivers vibrant colors and commercial-looking prints, while Matte gives satin finish for a more high-end and elegant look with subdued printed colors. Embellishments such as embossing, Spot UV (Spot varnish), and foiling make custom coffee bags an even more remarkable and unforgettable branding ally.
If you're just starting out, make an outline of all the information that you'd like to include, where they should go in terms of hierarchy, and what theme or design concept will favor your pet care business or brand identity. Hire a designer if this is too much work for you–what's important is that you do this step-by-step and with careful thought, getting fresh sets of eyes to check your design to see if there's anything to add or remove.
---
---
SEAL THE DEAL WITH CUSTOM BAG DETAILS
The correct pressure and temperature dictates when and how you should seal your pet care products. In addition to this, you can customize your bags to add unique touches as well as add useful functionalities that will help your customer easily use your product.
HANG HOLES (ROUND OR BUTTERFLY) FOR SHELF DISPLAY
TEAR NOTCHES AS AN EASY OPEN FEATURE
TWIST TIES FOR UNIFORM CLOSURE
ZIPPER FOR QUICK RESEALING
---
Getting the perfect packaging for your precious pet care products requires planning, a good eye, and a true passion for creating good products to care for our furry friends.
It's always tons of fun conceptualizing custom pet care product bag designs! We wish you the best of luck with your exciting endeavour. Feel free to share your design concepts and how you've applied our guide once everything is afoot!
NEED HELP SETTING UP YOUR OWN PET CARE PRODUCT BAGS?