Built on 15 years of art, creativity, and hard work, East Beach Hair Co. (EBHC for short) is a sleek yet personable brand owner Stacey Williamson had established to bring incredible and much-coveted hair extensions to the public.
Previously working solo as a professional hairstylist, she specializes in theater, film, and special occasion styling. Her company's offerings mirror those specialized extensions used previously only in films and more involved artistic work. East Beach Hair Co. now makes it possible for anyone to enjoy longer and fuller hair fast while maintaining a soft and natural look.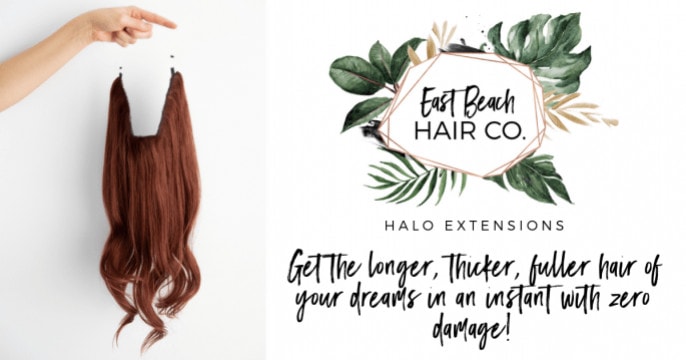 With colors like "Pasadena Purple," "Hollywood," "Raspberry Blush," "Butterscotch," and "But First, Coffee," the company gifts us with varied collections of great products that instantly deliver a dreamed-up aesthetic and changes up any look, to give anyone a 100% boost in confidence, for any and all occasions.
These exquisite offerings are carefully crafted with all facets or work in mind; East Beach Hair Co. works extra hard to source everything ethically and makes sure staff is always compensated fairly.
It is a pleasure and and honor to have such a special guest for our Spotlight today—EBH Co. is here to help you make your beauty shine even more, with hair accessories made with love and care.
---
What is the East Beach Hair Co. story?
Hi! I'm Stacey Williamson, founder and owner of East Beach Hair Co. As a California native and a specialist in hair transformations, I'm so excited to share these incredible extensions.
I am a professional hairstylist and have been using hair pieces and wigs for theater, film and special occasion styling for over 15 years. Halo extensions were always a quick fix for actors and clients that needed longer and fuller hair fast while maintaining a soft and natural look. Perfect for everyday wear or just a special occasion, our customers are blown away by the ease and convenience of these gorgeous extensions!
The human hair industry is a complicated one. I have worked tirelessly to ensure our hair is up to the highest standard, that it is sourced ethically and workers are compensated fairly. East Beach Hair uses only 100% remy human hair which makes it perfect for curling and heat styling. It can also be custom colored to match your hair!
Our customers continue to be impressed by the convenience, comfort, and flexibility in styling options. Not to mention there is ZERO damage with these extensions. None at all. This is huge in the hair extension world. Wear them when you want, leave them home when you don't. Easy peasy lemon squeezy!
---
What is a "halo", and why is it different from the other branded hair extensions in another company's repertoire?
Halo hair extensions, sometimes called wire or flip in extensions are wefts of human hair attached to a thin clear, stretchable cord connected by silicone lined mirco-rings, or beads, that acts as a headband to hold your halo in place. This band completely disappears into the hair!
A halo sits sandwiched between your natural hair giving length and volume from the interior of the hair so it remains undetectable. Halos are as comfortable as wearing a headband or hat with the same bonus as being able to take it off at the end of the day. Unlike permanent installed extensions you don't have to shower or sleep in your halo. You have the flexibility of choosing when you want to wear them, and when you don't!
East Beach halos are made from 100% human remy hair. Remy means the hair strands have the cuticle of the hair all facing the same direction. This makes for less tangles and a softer, more natural feel. Our hair is ethically sourced and obtained with the upmost care and respect.
Hair has not been collected from the ground (yuck, yeah this happens!) and comes directly cut from the donor in a braid or ponytail to the facility for treatment and production. Because they are made from human hair, they can be washed, dried, curled, straightened, braided, and colored by your stylist, just like your own hair!
What sets us apart from other temporary extensions is the quality of hair and the personalized experience customers get. We offer free consultations with a licensed, professional hairstylist to ensure customers are getting the best halo for them.
Because our halos are made to order they will last for years. These aren't pieces sitting in a warehouse, they are handmade when ordered ensuring the freshest hair extensions available.
---
What are your customer favorites right now?
Our top selling color is Go Rose Gold, a fun peekaboo color in a soft golden pink.
Our customers love our creative colors because there is no commitment or damage from permanent color! Not everyone can wear vivid colors at work or school and these halos are perfect for a pop of fun color on the weekend. It also means no color fading or expensive trips to the salon to keep your color bright and vibrant!
---
Can you share with us your process and why it makes each product special?
We love chatting to our customers and encourage communication from the very start. We want to get to know them and their hair, about their hair needs and concerns because for a lot of women, a halo hair piece is a solution to a hair problem. Some women struggle with hair density or can't grow it past a certain length.
These halos can do so much for a woman's self-esteem! As we get to know our customers we learn how to best serve them and connect them with their perfect halo. After the consultation, construction begins which takes about one and a half weeks. We think these halos are something super special because they are personally tailored and created for each individual customer.
---
As an artist, what's the best part of the styling process for you?
I LOVE fitting our local customers in their halos. For some women, they can put their halo on and be all set, but for most customers they need to be fit in their halo.
A halo fitting is when the piece is custom cut and blended into the customer's hair. I love seeing that transformation and watching the halo go from a starting material to a finished sculpted piece. We encourage customers to take their halos to their hairstylists for fitting or use the "stylist finder" on our website to connect with an EBHco. stylist near them.
---
What inspires you the most about your work right now?
I am most inspired by our amazing customers! They have so much fun with these pieces and I especially love seeing our halos make a difference in a woman's life who struggles with hair loss or thinning hair. To see the boost of confidence that comes from the added length and volume our halos provide is really something special.
---
What is East Beach Hair Co. proudest moment to date? And can you give us a sense as to why it's such a key milestone?
Our proudest moment to date has been launching our professional stylist program.
We want to reach and connect with as many women as we can who have a need for our product and by partnering with other professional stylists we can expand that reach. These halos can serve as a solution to hair problems and we are so excited to offer stylist training and discounts.
---
It's been a pleasure being part of your journey through printing your packaging materials.
Were you always keen on your current branding or was this something that evolved in stride with product development?
We loved working with Inkable Label Co. and creating packaging that represented our brand and company culture.
We were excited to create a fun, beachy, yet simple design to compliment our fun, beachy, yet simple to use hair extensions!
We found Inkable at the start of our packaging development and are so pleased with the results.
---
What are the three adjectives that best describe East Beach Hair Co., and why those three?
This is a fun product! The minute you pop in that extra hair, you just know you are going to have a better day. Whether it's for added length, increased volume, or a pop of vibrant color, these halos are easy to wear and are a fun way to express yourself!
Our Instagram account is full of creative and inspiring ways to wear your halo. We hope to educate beyond the basic ponytail and show women that there are beautiful and simple ways to style their hair to give them that "put together" feel and boost confidence.
Our halos are accessibly priced. We know not all women that are interested in hair extensions can afford thousands of dollars in the salon for permanent extensions, or have hair healthy enough for it. We want our customers to see the value of our halos; a smaller investment for a high quality product that will last them years to come.
---
Can you impart words of wisdom for people who are just starting out or would like to start on their own endeavors?
For any endeavor to have long lasting results, both passion and education are needed. It's not enough to love it without being an expert in your industry. And it's not enough to have the expertise without the passion. When you find you have both, you'll know you're really on to something great!
---
Where else can we find you?
Official Website: https://www.eastbeachhair.co/
Instagram: www.instagram.com/eastbeachhair
Pinterest: www.pinterest.com/eastbeachhair/
Facebook: www.facebook.com/eastbeachhair
East Beach Hair Co. is an online boutique-style halo hair extension company specializing in bespoke, custom pieces. With a team of professional stylists ready to help, you are sure to find your perfect halo. Halo extensions are the fastest, easiest, and least damaging to your natural hair of all the different hair extensions out there. You can instantly change your look without sleeping or showering in your extensions!
Halo hair extensions are a style of temporary hair extensions that sit on the crown of the head, like a halo, offering additional volume and hair length. East Beach Hair Co. halos are made with the finest Indian remy human hair which make them perfect for customizing. Each piece is handmade to order with the freshest cut hair and will last for years, making it the perfect hair investment.
---
We have been fortunate to have met awesome people through our work, and learning about them and their challenges and triumphs is always humbling and inspiring. As print advocates, we truly enjoy talking with artists and small businesses who inspire us everyday.