A big inky splat to you! Today we're looking at designing labels for tea products. If you're looking for big inspiration, these beautiful tea labels will definitely get your light bulbs firing!
If you're still at the stage where finding inspiration for your own label designs isn't coming by too easily, you're not alone. Don't beat yourself up; many designers and small business owners have gone from Study A to Study Z before achieving that perfect label design.
In the meantime, get inspired and take a look at our best tea label designs list, for remarkable labels that are both relevant and eye-catching… We're thrilled to share them with you!
Inkable Label Co.'s Best Tea Label Designs List
Handcrafted in Boulder, Colorado, since 2004
The Tea Spot delivers a premium and effortless tea experience through handcrafted teas and their innovative Steepware® designs. A philanthropic business at its very core, the brand was founded by Maria Uspenski, a cancer survivor drawn to the health benefits of leaf tea during her recovery. Their staunch belief in the power of tea in its freshest form is rendered beautifully in their packaging and label designs.
The design clearly states their advocacy in fostering health and wellness through whole leaf tea. The veritable ribbon on each label communicates support of cancer and community wellness programs, with ten percent of their sales are donated to this worthy cause.
Montreal-based agency Chez Valois resonates this powerful message by preserving brand equity through creating label designs that mix actual images of the tea leaves and adding an overture of vitality with the spirited, colourful palette and added line illustrations. The result is a clean and energized set of gracefully-packaged teas in custom tin cans.
TIPS:
When mapping concepts for your own label designs, always stay true to who you are. An effective design should increase brand recall, so make sure your unique personality is transposed on your label artwork. While avant-garde designs are certainly memorable, doing this for the sake of simply being different can backfire on you. Honest label designs with complete information and an aligned brand identity trumps ultra-creative designs any day.
Especially for perishables, try injecting an art element that highlights the freshness of your (consumable) product. Actual images help in acquainting your prospective customer with the ingredients of your product and emphasizes the quality of what's inside the packaging.
If you are actively promoting an important advocacy that is directly linked to the sales of your product, intensify this by adding blurbs, icons, and even short text to your labels. Just make sure to lay this our properly so that the main text retains its hierarchy.
ROASTERY AND CAFE
No. Six Depot's guiding mission of "Keep it simple, and make it true." is evident in their brand identity. Nestled in the beautiful Berkshires, this local café, gallery, and store is located in a historic train station on 6 Depot St.. They boast of only natural coffees, teas, and salts, grown responsibly by those who take pride in their work around the world.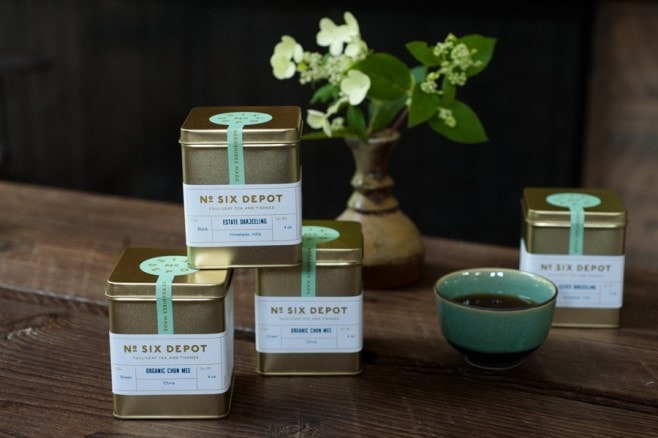 We are fans of the synergy of the vintage and art nouveau in their label designs—the simplicity of the materials used (simple jars, kraft bags, plain tin cans) are transformed into elegant pieces with the addition of gold foil and ink on the packaging and labels.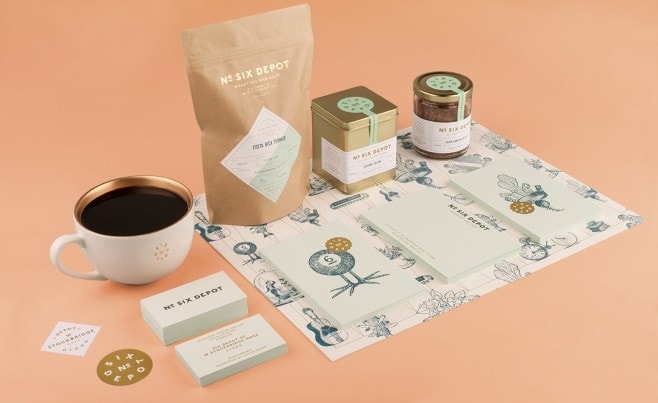 Designed eloquently by Perky Bros LLC, branding is inspired by a mix of rural and modern elements. We love the final touch of embossing the logo on each label and think this contributes a memorable tactile aspect.
TIPS:
A diecut or custom shape/cutout always adds a bespoke character to any label. However, as demonstrated in this example, standard label shapes don't necessarily translate into commonplace designs. And essentially, it all boils down to matching your labels with your brand identity.
Six Depot believes in the better quality of loose leaf tea. This is perfectly supported by their choice of tin containers—no waste, no staples, no cardboard containers. Your own packaging is the perfect canvas to also reflect your brand pillars; and this can be used to further your advocacies, i.e. environmental sustainability.
If you're on a mission to create exceptional labels, always consider additional finishing touches—this makes all the difference in transforming the final look and feel of your labels.
While a diecut label fitting into the grooves of your container definitely adds a premium impression, if your container is straightforward (with a flat surface all throughout) standard shapes such as circles and squares are also elegant in their simplicity, with the right artwork and execution.
For you. By you.
Wei and Lisa Bee founded Sweetwaters Coffee & Tea to serve as a community "melting pot" to celebrate classic café fare alongside globally-influenced coffees and teas. The result is a warm and friendly atmosphere of East meets Midwest. They offer loose leaf tea as well as ready-to-drink bottled flavored teas, and portable on-the-go "tea boxes" for large gatherings.
Assembling their entire identity platform was a natural, essential part of their progression in their franchise efforts. We think their branding matches their personality on all counts.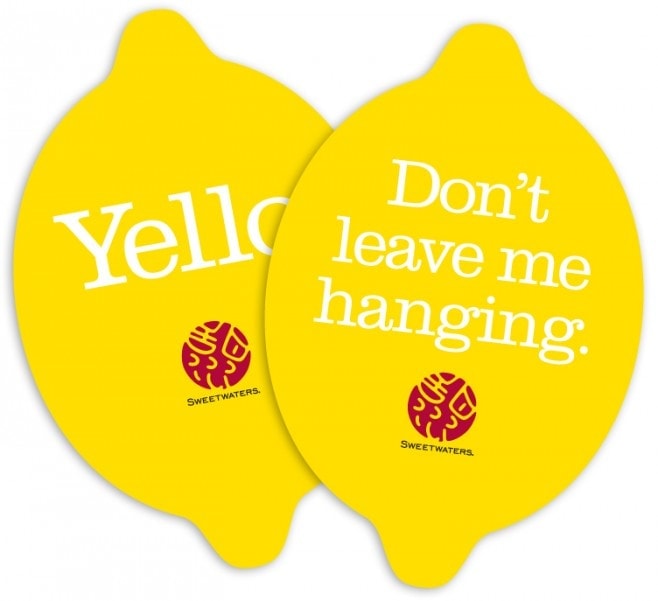 The new label designs are best defined by Pryor Design Co., the team that created Sweetwaters Café's new brand identity : "Clean, modern simplicity was the prevalent feel driving the overall look and tone of the new system. Capturing the essence of the East and blending it with the approachability of a Midwest café is evident throughout the brand via type, color, and space."
TIPS:
While the owners are Ann Arborites, the design keenly elaborates on the traditional roots of the brand, with Eastern art elements appropriating the distinct identity of the café. Incorporate your identity to your labels, and hire a designer if you aren't able to actualize this yourself.
Don't be afraid to play around with different concepts and materials. Consider the content and containers when deciding on label material. In this example, the design is more elaborate on the opaque containers, presented as wraparound labels with vibrant prints to add color to an otherwise plain tin. On their iced teas in clear bottles however, they keep the freshness of the color of the actual tea by employing clear labels to allow the product "shine" through.
Fine Teas
With a handsome and diverse array, Tealish has helped redefine the tea landscape in Canada, offering the finest teas and teaware all over the world. It is a wonderfully immersive tea experience with them—they are a "tea only café" serving tea lattes, fresh brewed iced teas, and tea smoothies.
From their passion for tea (and with sundry ingredients) emerges a collective of specialty teas (dessert, wellness, gourmet) that are aggregates of vibrant fruit, healing herbs, and rich spices. Their labels speak of their personality: their Wellness Teas call specific ingredients to help alleviate certain illnesses, and the quirky designs and names ("Hangover Helper", "Sleep Fairy", et. al.) make each variant more identifiable and whimsical.
With hundreds of teas being carried, tea samplers are also available. Luke Despatie & The Design Firm created some of the collaterals for Tealish, and the vibrancy of colors and its association with each "tea style" capture the different ways to enjoy tea.
TIPS:
Your label artwork is mainly an identifier of what your product is to your customer. That being said, don't be afraid to deviate from traditional naming schemes if this suits your brand personality.
If your products are line extensions (ex: gourmet teas, dessert teas, wellness teas) under a main product umbrella (tea), color schemes or template layouts work well with providing cohesion to your label designs. This gives a visual skeleton that is easy to follow.
As demonstrated by this example, a matte finish works to create muted colors and a soft finish. This affords a delicate overall look. When finishing your labels, consider the correct finish (gloss, matte, satin) to complete the "demeanor" of your packaging.
With its flagship restaurant in New York's SoHo neighborhood, Sanctuary T delights patrons with tea-inspired cuisine complementing artisanal teas. With incessant experimentation, owner Dawn Cameron and her team expertly innovates to produce perfect tea blends and find ways to use this precious integral piece in the food and cocktails they serve in the restaurant.
Dedicated to bringing fanatics the best tea experience, Sanctuary T also hosts "tea classes" for its fans. This holistic approach includes teaching the proper techniques as well as correct preparation of their specialty iced tea recipes, snack recipes and pairings to be able to fully enjoy their offerings.
The packaging design is by New York-based Barrel agency, having worked with the brand over the years to strengthen its presence and augment its services. We think the labels look sharp, with each layout having a white space for easy identification of each tea variant.
TIPS:
While most designers would shy away from using more than two fonts and typeface settings to ensure easy readability, this example shows that with a systematic approach, this can be done without looking cluttered.
If you'd like to use more styles on your layout, keep it organized with sectioning each part of the label. Step back and take a look to see if what you instantly see is The circular logo is maintained on most of the labels by using a diecut. This cleverly draws the eye in toward the central point to focus on the brand and the type of product.
—
Labels carry the heart and soul of your brand, and we don't take this huge responsibility lightly. We're always excited to discuss branding, Prepress, and then sanding down to all the fine points until we're absolutely happy with the end result. We hope you enjoyed this post, and stay tuned for more awesome label designs!
*Just a note that we believe that branding isn't everything: what makes your labels work in the long run is the dedication you put into your products and services, from defining your brand values, to your company culture, to speaking about things that you care about through your brand's voice.
NEED ADVICE WITH YOUR OWN LABEL DESIGN?