Packaging Design
The Essentials – Vol. 2
#Printispower
If you're a small business that doesn't have the resources nor the time, free resources can help you work smarter, especially when it comes to packaging design.
We get a ton of design requests and many of these sometimes only require help sourcing good, workable materials for print branding. And while we're extremely thankful and ready to do all these new design requests, we know how tedious the process can be, especially getting all your artwork elements together into a professional layout ready for press.
Whether it be for revisions of a current packaging design layout, We're sharing awesome options now for you—good styles that you can apply to your own print packaging designs.
Our Design and Prepress Teams were quick to offer, and so we've come up with a well-rounded list of references and free downloadable fonts and icons from the web for your packaging design.
---
CLICK ON EACH LINK TO DOWNLOAD, AND DON'T FORGET
TO GIVE THE DESIGNERS SOME LOVE!
---
These are all free to use for your custom packaging projects, and we share this with you in the hopes that you can use this to help make your designing life easier (especially if you're designing your custom labels, custom tissue paper, or custom bags yourself), cutting down on time and effort, with these professional art element sets.
---
ESSENTIAL RESOURCES FOR
CUSTOM PACKAGING DESIGN
In response to many requests for us to compile a print design-approved list of resources to help make print projects move forward a lot faster, here are some of our handpicked design resources you can use to apply to your own print packaging designs… Volume 2!
I. ICONS & BACKGROUND TEXTURE SETS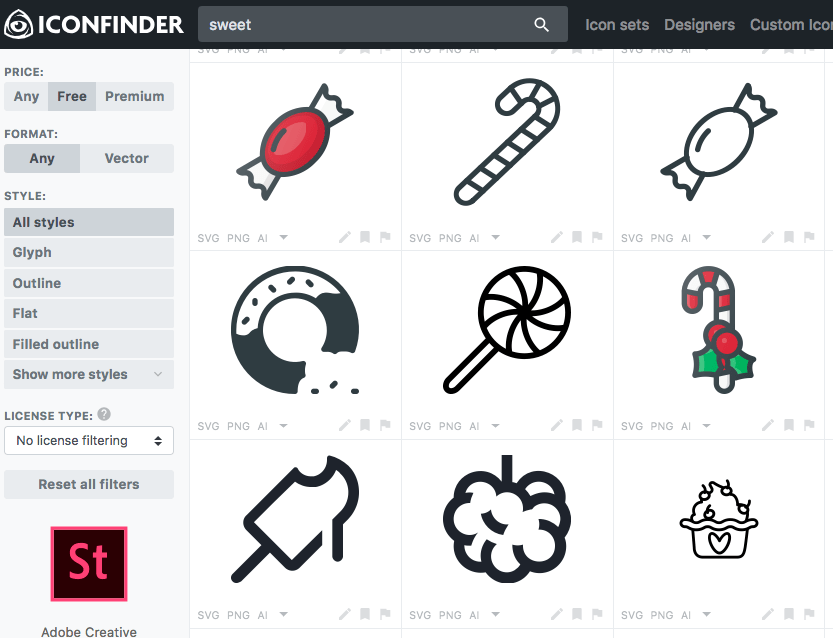 Designing and creating custom icons on your own or with the help of a graphic designer means taking a chunk of time to plan, execute, and refine said icons. If you're not particularly keen on customizing icons and are looking for generic and ready-to-use symbols, this huge online library contains 58,000+ icons in any of your preferred color, format, and size.
Icons are easy to find based on styles and categories, and can be integrated into Xcode and Photoshop. You can also embedded these into your website HTML for consistency.
From L+T (Lost and Taken) comes a highly versatile set of beautiful high-resolution bokeh photos that you can use as background images for your website and print packaging design. These are great for setting the mood when creating layouts, and can be layered over solid colors and create interesting texture as compared to simply white or a monochrome wash.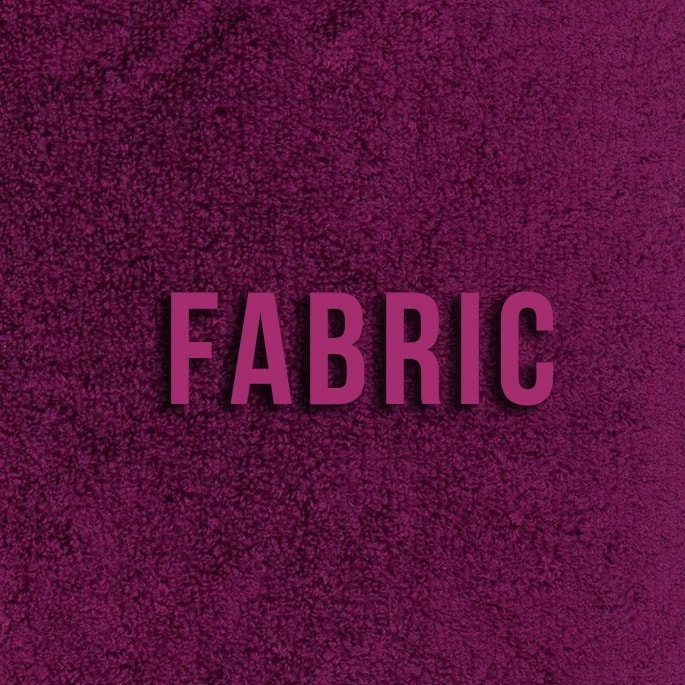 Another useful L+T (Lost and Taken) set featuring a myriad of free, high-resolution macro fabric photos of various textures and colors digitally enhanced and cleaned. These photos are great for adding depth either as side panel images on different packaging variants, or as a repeating pattern to use as a background motif.
This last featured L+T (Lost and Taken) set is one of our favorites—and you probably already know why!
Comprised of different patterns, splashes, swirls, and movements of ink, these photos are bright additions to an otherwise drab and plain background on your custom label or custom bag design layouts. These vivid images are perfect if you think that your artwork is lacking in personality and simply need something artful and interesting to set off text and vector images.
---
II. REFERENCES
1) Niice: A responsive, highly versatile platform that helps you curate all of your (and your team members'/clients'/peers') ideas, inspirations, and iterations in one place. This is your ultimate remote mood board, your library of swipe files and images that will help you more efficiently create the branding that you want.
This site is really neat—lots of functionalities that enable you to declutter your workspace, digital and physical, for highly organized resources and pegs that also include Niice's database of stunning imagery.
2) Typewolf: No one can argue against the power of well-planned, well-designed, and well-executed typography. This website is a lifesaver when it comes to finding applicable font and font styles to help shape your brand personality.
Typewolf also presents great guides and suggests different font combinations based on your preferences, and shows you visual examples from around the web, rather than simply telling you what the fonts are.
3) Coolors.co: This nifty site helps you develop, try, and compare different color combinations for your branding projects, for both online and print. Great all around branding tool for one of the most crucial aspects of design and packaging—your color schemes.
Dubbed "the super fast color schemes generator", this website assists you from start to finish—from simply creating color palettes with just the tap of a spacebar, to picking colors from photos, to saving and sharing your color combinations in the cloud.
---
III. FONTS
Designed by y Mats-Peter Forss of Finland and Emily Spadoni of the USA, this beautiful and unconventional typeface is hand-lettered, with Sophia Left and Sophia Right helping you create your own decorated word styles.
Very stylistic and decorative. The creators describe Sophia as sweet, saucy, and a little shabby. We couldn't agree more. Use for a heavy yet clean ornamental text effect, for titles and product names that need a more personable vibe. Free for personal and commercial use—DOWNLOAD HERE.
Inspired by the eponymous lovely Audrey Hepburn, this font was designed by Cristina Pagnotta. Available in three weights (regular, medium, and bold), Audrey combines curvy geometry and straight lines, creating contrasting effects. Use this font for your body text, but this also works perfectly for titles and subtities. Free for personal and commercial use—DOWNLOAD HERE.
Designed by Google, this all-encompassing font supports more than 800 languages, 100 writing systems, and hundreds of thousands of characters. This font is actually recommended for web more than print, but we wanted to include this because this really works to make text visually harmonious across multiple languages, with compatible heights and stroke thicknesses. Free for personal and commercial use—DOWNLOAD HERE.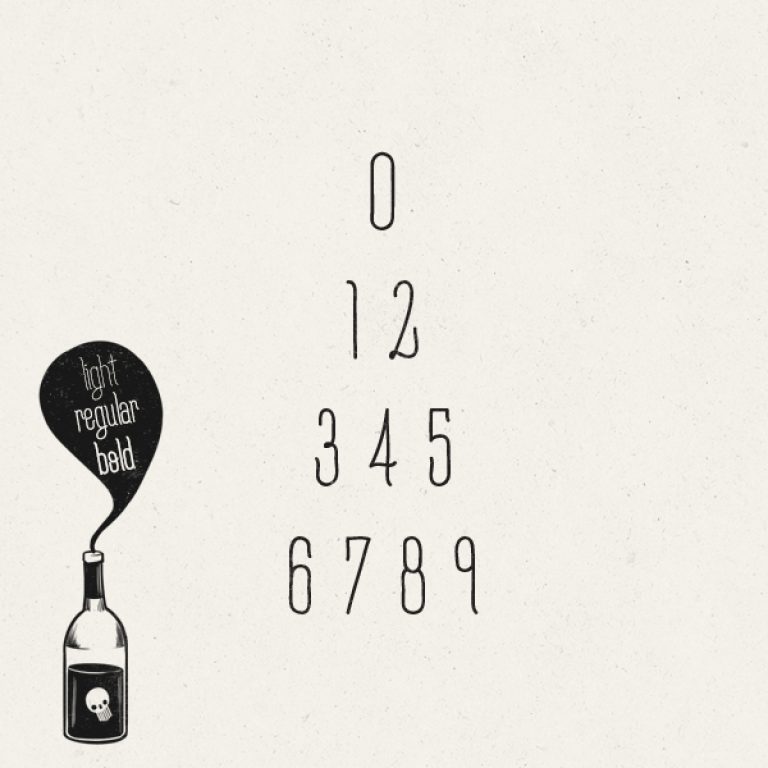 Designed by Flou, a designer and illustrator from Bratislava, Slovakia, this font is brimming with personality. Where other scribble styled fonts are clunky and disjointed, this typeface presents a clean, modern, and dynamic rendering on the handwritten font. Free for personal and commercial use—DOWNLOAD HERE.
Designed by Hanken Design Co, this is a big favorite of many designers and the go-to typeface for small text. Inspired by classic grotesques such as Trade Gothic, Univers, Akzidenz Grotesk, and Gill Sans, this sans-serif typeface was designed specifically to answer the need of having a friendly and distinguishable font substantial for small text. Use for your product descriptions or short blocks of text on your custom labels or bags, for ultimate legibility. Free for personal and commercial use—DOWNLOAD HERE.
Designed by Anna Giedryś, this smartly-designed font was engineered specifically for long-distance readability. If you're someone who wants to make sure that your text is legible and easily deciphered even from afar, this sans serif font is your perfect choice. Boasting of low contrast and tall x-height, Signika's weights (from light to bold) carry alternative negative versions that have been optimized by its designer to solve the problem where text in negative tends to look thicker. Free for personal and commercial use—DOWNLOAD HERE.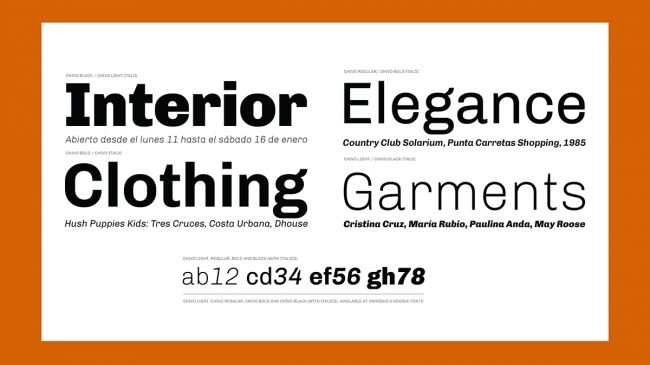 Designed by Héctor Gatti and the Omnibus-Type Team, Chivo is definitely one of the most striking typefaces around. A grotesque font that is equally bold and elegant, its four weights (with matching italics) are perfect if you want your text to instantly catch attention. Use for your brand's call-to-action text, key benefit text, headlines, or any other sections of text that need to command attention. Free for personal and commercial use—DOWNLOAD HERE.
Designed by Daniel Ratighan at Monotype under the direction of Intel, this highly legible font works perfectly for web and print. Characteristic of this typeface are its slightly narrow proportions and minimized characters that make Clear Sans a great choice for comfortable reading short and long passages in both screen and print. This pack includes medium, regular, thin, and light weights, with upright, italic, and bold styles, and supports a wide range of languages using Latin, Cyrillic, and Greek scripts. Free for personal and commercial use—DOWNLOAD HERE.
Created by typography institute Astigmatic, this brush font is akin to classic 30's fonts like Kaufmann. Yellowtail is an old-school, flat script typeface of medium weight that is a mix of connecting and non-connecting letterforms. This certainly makes this font unique, and allows for more legibility despite the typeface style. Use this for main text to add character and movement to your text. Free for personal and commercial use—DOWNLOAD HERE.
Brushed by Ieva Mezule and assembled by Krisjanis Mezulis of Latvian agency, this font works under the principle that no two leaves are the same—Leafy is a leaf that represents individuality. Boasting of 95 hand-drawn, totally unique characters (and basic glyphs), this typeface is an all caps brush font that will work to add that handmade, personalized touch to your printed packaging. Free for personal and commercial use—DOWNLOAD HERE.
---
WE HOPE YOU FIND THESE USEFUL, AND DON'T FORGET TO SUBSCRIBE FOR MORE FREEBIES AND PRODUCT UPDATES.
P.S.: If you need any help with designing your custom printed packaging, need help checking to see if your files are good for printing, or simply need someone to clarify confusing stuff about printing, feel free to drop us a line!
We're always happy to be of service to you!