Best Candle Label Designs
Hot off the press are uplifting candle label designs that truly honor the traditions of candle makers throughout the world. Ignite your senses with our featured brands below!
If you're still at the stage where finding inspiration for your own candle label designs isn't coming by too easily, you're not alone. Don't beat yourself up; many designers and business owners have gone from Study A to Study Z before achieving that perfect candle label design.
[Tweet "Get inspired with these exceptional candle label designs!"]
In the meantime, take a look, take down notes, and enjoy our best candle label designs list, for remarkable labels that are both relevant and eye-catching!
---
Inkable Label Co.'s
Best Candle
Label Designs List
---
MASON JAR SOY CANDLES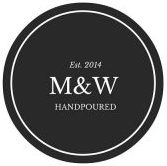 Mason & Wax believes that a candle, when it is carefully and lovingly made, can transform any room into a home, reconstructing spaces with the flicker of a comforting flame that instantly inspires an ambience one cannot get from modern conveniences. Its founder, Laureen, trusts that customers will enjoy her handcrafted candles by letting scents evoke memories of the past, reconnecting with familiarity, warmth and serenity.
Being a New Englander, her candles are inspired by nature and the seasons. Housed in the modest and stately mason jar, these uniquely scented offerings contain hand-blended scents from pure essential oils extracted from seeds, flowers, leaves, roots, stems, or the bark of plants and premium fragrance oils—free from harmful phthalates. 100% pure and un-dyed soy wax ensures Mason & Wax candles always burn cleanly, with cotton wicks that don't contain lead. As a thoughtful gift, these are truly wonderful, in their reusable mason jars and eco-friendly kraft boxes that come with a tag and old fashioned twine.
CUSTOM LABEL DESIGN:
Clean packaging, fresh ingredients—all of these support Mason & Wax's brand identity. The labels are devoid of any additional affectations and are quaint and straightforward, with no graphic icons and photos to distract from the simple presentation.

Various blended scents are posed gracefully alongside each respective candle. Pepparkakor Gingersnap warms with notes of cinnamon, ginger, cardamom, cloves and sweet sticky dark molasses. Buttermint delights with white chocolate peppermint, creamy cocoa butter, fresh mint, and a sprinkle of maple sugar. All these otherwise indulging combinations are tied to their simple labels that yield to delightful and comforting scent experiences that stay true to their humble roots, and stay with you long after the flame goes out.
LABEL DESIGN TIPS:
As demonstrated by this example, white labels definitely convey simplicity and elegance. Many of our customers initially start with lots of design elements; however depending on your brand image, sometimes less is more. Simple labels will make your product "shine" through.
A plus: Product styling is easy. Even if you pose your products in a very involved setting, color considerations and blocking won't be difficult, and you'd be hard pressed to make each product shot complicated and abstruse.
Photo credits: Logo and all images by Mason & Wax
---
ALL-NATURAL SOY CANDLES
Coco & Bubbles are all-natural soy candles carefully handmade in Westland, Michigan. Duo Bryan and Lindsay are behind this delightful brand, with their shop name hailing from their two loveable dogs. With the ultimate goal of bringing customers all the items they themselves enjoy in life, Coco & Bubbles is a fun and inspiring brand that will definitely continue spreading good scents and good vibes across the space.
Simple, clean, and fresh, these 100% soy beauties are hand-poured into clear tumblers that can be used as a drinking glass, or shared as a set if you purchase more than one. Animal friendly and eco friendly, the shop offers smaller tin-encased candles and larger candles in glass tumblers, with delicious scents ranging from Grapefruit + Mangosteen and Banana Nut Bread to the time-honored Fresh Cut Grass. Customers love these heavenly scents—there are 48 tumbler fragrances and 47 tin fragrances to choose from!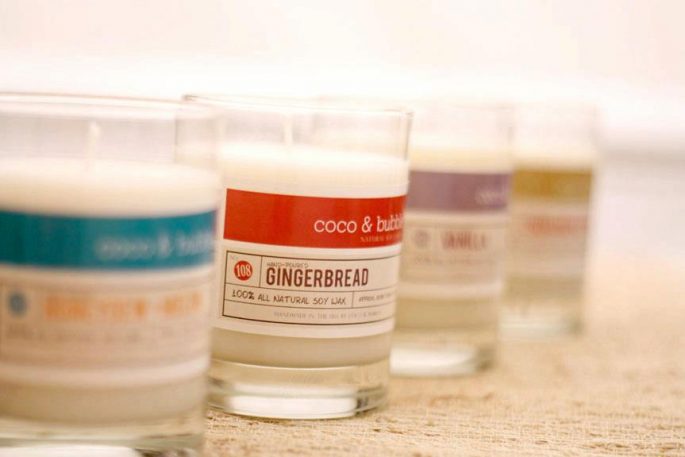 We love the clean yet dynamic labels on the simple tins and tumblers that are wonderfully attired in the stamped burlap bags. Everything ties in together extremely well.
CUSTOM LABEL DESIGN:
Keeping their logo at the top, in a colored bar, for both branding hierarchy and candle scent identification, and sectioning information in simple black-lined boxes—the contemporary design of Coco & Bubbles' labels is simple and classy. Their labels do their job really well.
LABEL DESIGN TIPS:
If you'd like to use more styles on your layout or want to use more than two fonts and typeface settings, de-clutter and organize by sectioning each part of your label. Color schemes are also powerful tools in label design. Sectioning and using color for ID bars provides cohesion and a visual skeleton that is easy to follow. Coco & Bubbles shows that with a systematic approach, this can be successfully done without looking cluttered.
Photo credits: Logo and all images by Coco & Bubbles
---
FINE HOME FRAGRANCE
Sydney Hale Co. is a home fragrance brand out of Purcellville, VA, with wife and husband team Meghan and Chris Cook creating unforgettable scents like Clementine and Clove, Fir and Blue Sage, Tobacco + Sandalwood, and Bourbon and Brown Sugar. They specialize in handcrafting beautiful candles with subtle and delightful scents coupled with natural soy wax made from American-grown beans. With more than 26 signature fragrances to delight in, customers always find their favorite Sydney Hale Co. handmade candle creation. And once you've thoroughly enjoyed your aromatic love affair, each creation is sustainable in that the 14-ounce tumbler once empty can be reused as a glass or vase.
Boasting of 150+ boutique retail locations across the USA and Canada apart from their online shop, each candle is handmade in a modest 700 sq. ft. studio, lending to an authentic 'small batch' operation that keeps their team humble and proud.
What's truly impressive about this company is that they've transformed their passion for candle making into a conduit for a worthy campaign that is close to their hearts. 10% of proceeds from each sale go to a local animal rescue group, The Lost Dog & Cat Rescue Foundation. Each sale is equivalent to a helping hand, and Sydney Hale and Co. calls this, "Burning for Rescue". They even have a space for a "Dog Shop" which links to products such as beautiful Found My Animal jute dog leashes, Best Friend Collar Charms, and another lovely brand whose diecut labels we've also featured, Dr. McGrath's products.
CUSTOM LABEL DESIGN:
We hold their product and packaging in high esteem, because we think it reflects the identity and values of their brand. Apart from carrying their strong advocacy, we love that each candle is hand-stamped before shipping out—a genuine labor of love. The polished packaging owes a lot to the delicate gold stamping on highlighted art elements and the small detail of the double black borders. On the dark glass tumblers, the second black border melds into the background, creating thin white borders that make the labels look more pronounced. On the white tumblers, the strong double borders make the labels more prominent.
LABEL DESIGN TIPS:
Create exceptional labels by adding finishing touches—this makes all the difference in transforming the final look and feel of your labels. Embellishments such as foiling and embossing create light play and dimensions that make labels true showstoppers.
While a diecut label (A.K.A. cookie cutter shape) definitely adds a premium look, if your container has a flat surface all throughout standard shapes such as squares and diamonds are also elegant in their simplicity, given the right artwork and execution.
Photo credits: Logo and all images by Sydney Hale Co.
---
Founded in 2012, with the mission to create an exceptional brand that provided safe, and effective products for babies (and moms, too!), this venture started when a dad named Christopher and a mom named Jessica realized that most of the products in the market were uninspiring to them. Not finding what they wanted for their own babies, they worked toward their ideal product line-unquestionably safe, beautiful, convenient, and affordable products for the home.
Striving to be the brand that offers the safest and most thoughtfully designed offerings, the company has since expanded from baby products (Feeding, Diapering, etc.) to other products that focus on the whole family (Vitamins and Personal Care). Their Honest Aromatic Soy Candles are a big hit, which feature signature handcrafted soy candles in three essential oil blends: Gardenia Jasmine, Lavender Vanilla, and Orange Cypress. Their scented candles delight customers with aromatherapy from pure essential oils and extracts blended in long-lasting and non-GMO soy wax. The Honest Company's soy candles make for the perfect gift or for a mood boost for personal indulgence.
The 8 oz. tumblers are easy to reuse when the candle is done, and makes a great art supply holder, milk (or wine!) tumbler, vase, or votive. Vegan and lead-free, each candle purchase from the Honest Company helps fund access to safe products and advances in research and education that support healthy, happy lives for all.
CUSTOM LABEL DESIGN:
We think the finished packaging is delicate and elegant, and the addition of the logo as a badge in grey at the top makes it an effective branding piece. The center-justified front panel highlights the right information, in the correct reading hierarchy. We think the clear tumbler is a great choice, and this matches the beauty and simplicity of their labels even more. The top part of the logo is maintained on all the labels by using a diecut (cookie cutter shape is what we call them). This cleverly draws the eye in toward the central point to focus on the brand and the type of product.
LABEL DESIGN TIPS:
Use color and style to tie in your brand image and personality with an authentic identity always resonates loudly with your target consumer. In this example, The Honest Company stands out as a personable and amiable brand—the vibrant colors and consistent external packaging style use patterns and textures, imagery that is instantly recognizable and represents what the candles are made of. Add that to the elegant labels that are enhanced by beautifully done visual and tactile external packaging.
Photo credits: Logo and all images by The Honest Company
---
Geeky, hand-poured soy candles

Now here's a brand that's full of character. Kylie Brown from Folklore Fragrance offers a variety of geeky candles, with its origins inspired by gaming, anime, and mythology. Visit the shop and you're guaranteed to see "nerdy candles all across the nerd spectrum". Hand-poured soy wax and custom blended fragrances are transformed into illustrious character concept candles that will entertain, enchant, and fuel your room with a magical experience.
Drawing inspiration from fandoms, Folklore Fragrance's tremendous love for film and art is visibly translated into wonderful, one-of-a-kind candle pieces that fans admire and cherish. Well-loved characters figure prominently to create a keen and effective relationship between visuals and scents.
CUSTOM LABEL DESIGN:
There are floral-scented Fire Emblem Fates inspired scents, each blended with their own Hoshidan and Nohrian flair. The Steven Universe inspired Rose Quartz candle actually has a piece of real rose quartz in it to encourage and sustain the flow of a relaxing energy. Delightful Animal Crossing inspired candles are truly meant to brighten your days. Each character shines as Folklore Fragrance's brand ambassador and brand benefit all at the same time. Kawaii!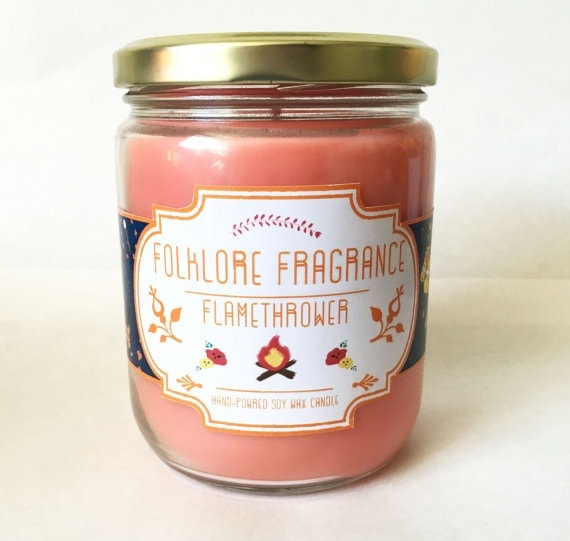 LABEL DESIGN TIPS:
It's always good to inject personality into your brand. Custom labels are not only meant for identification—more so they are vehicles that make your products visually remarkable. Just make sure to align your label artwork with your brand identity to make sure these are consistent and represent your brand personality and values well.
These are perfect examples of diecut labels. By choosing a diecut mold, you can dictate the exact shape that your labels should be printed and cut. Diecuts are cookie cutter molds that make it possible for you to get custom shapes and sizes, for seamless and 100% custom labels.
Photo credits: Logo and all images by Folklore Fragrance
---
Creative Custom Candles and Hand Turned Wood Items
Arlington-based Curt's Candles specializes in homemade and handcrafted candles. The shop's name is eponymous to its owner, craftman and creator Curtis Eveler. What started as a Christmas gift-giving project is now a full-fledged, successful Etsy business. Now professionally-packaged for more people to enjoy, his candles are highly scented, and the store has since expanded to offer different scents, varieties, even an assortment of container choices, to customers since its inception.
Curt's Candles are beautiful handcrafted candles that are hand poured in small batches. They are lead free and don't contain harmful Dibutyl Phthalate (DBP) and Diethyl Hexyl Phthalate (DEHP). Their fragrances are a plethora of wonderful contributions—from traditional scents like Fresh Cut Grass, Apple Cinnamon, Crème Brulee, Lavender, and Mango, to more unprecedented (and unsung!) scents like Cowboy, Monkey Farts, and Storm Watch.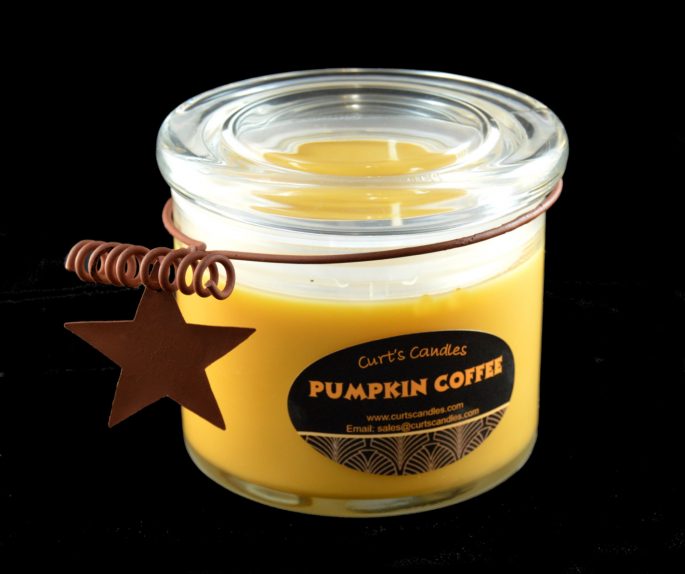 Scented candles, Soy wax candles, Palm wax candles, Double wick candles, and Wood wick candles are all made-to-order to ensure that customers receive the freshest and best candle possible. They provide an excellent scent, with Curt's Candles remarking that each candle has at least double the amount of scent than normal candles, and each crackles just like a real open fire. Wood wick candles are very clean burning and are made with the finest wood in the USA and pressure processed for 3 days.
CUSTOM LABEL DESIGN:
Curt's Candles have custom labels that just pop. The choice of a reverse, light-on-dark label artwork makes each label eye-catching and dynamic. Add that to the various container shapes and strong scents and you've got a collaboration that works to deliver a unique visual and olfactory experience. Goes the distance when it comes to ordering and receiving your perfect candle… Their wood wick candles can be customized, as with their other candle variants (read: 11 color choices, 49 scents, up to 7 personalized candles) and we truly admire this extent of dedication to ensuring customers are happy and get exactly what they want.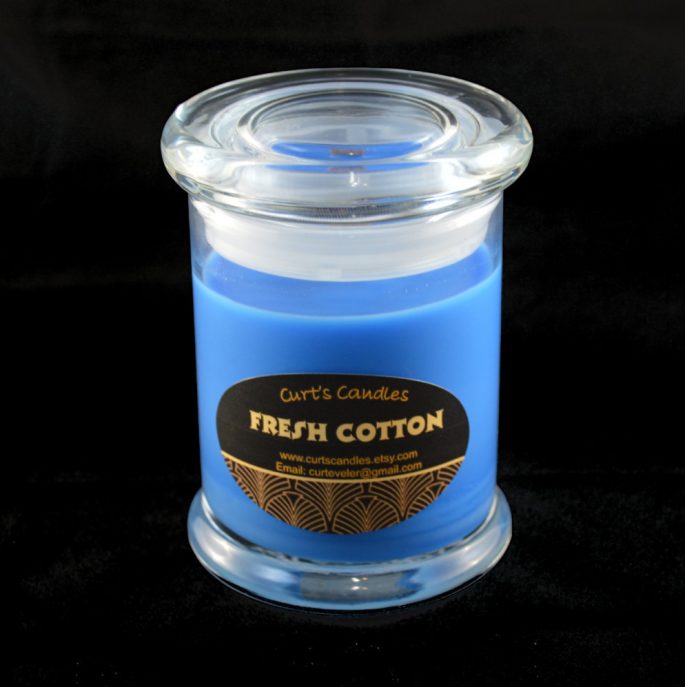 LABEL DESIGN TIPS:
What would be an otherwise plain artwork design is cleverly made graceful by the decision to apply a simple repeating pattern as the background layer, on space that isn't filled in with text. This makes it ornamental instead of taking away from the readability of the text. Try experimenting with patterns if you're stuck at design and see how you go.
Photo credits: Logo and all images by Curt's Candles
---
Built on values, honesty, and hard work , Manready Mercantile is the brainchild of Travis Weaver, a small town guy originally from Zephyr, Texas. Travis started the business in 2014 simply to prove the running idea that you can start something from nothing and make it successfully, even with tough competition, as long as you work smart and work hard. The success of his company is veritable proof, and his candle offerings are exquisite. Apart from candles, which are in the Apothecary section, the Houston-based store for American-made goods features Travis' personal brand extensions in Manready Mercantile and T.S. Weaver & Co., with curated goods from other makers in the USA. However, the real goal, apart from creating and delivering novel products, is also to create jobs, help other makers, and support USA made goods.
Starting small, the very first product Travis churned out was a Lemon + Verbena soy candle made on a stove in his apartment, poured into whiskey glasses from his pantry. Diligently selling door-to-door, the business eventually took off and sold through manready.com and to retailers across the U.S..
Manready Mercantile's candles are all natural, with everything made in small batches, in Houston, Texas. There are four candle offerings under the brand's umbrella, The Noble Series Candle: Lemon + Verbena, Bergamot + Teak, Frankincense + Orange, and Cedar + Sage. Each Noble Series soy candle is hand poured into whiskey glasses and is made from 100% all-natural essential oils derived by distilling plants.
CUSTOM LABEL DESIGN:
We love the earthiness and stark simplicity of the labels, which crosses over to sleek and elegant. Taking on a minimalist approach with modern fonts creates a context that suggests that it is medicinal (read: therapeutic) and not merely a candle. The smart choice of using two ink colors make the label design, despite not having too much graphic elements, look more cohesive, cleverly drawing the eye in toward the highlighted text.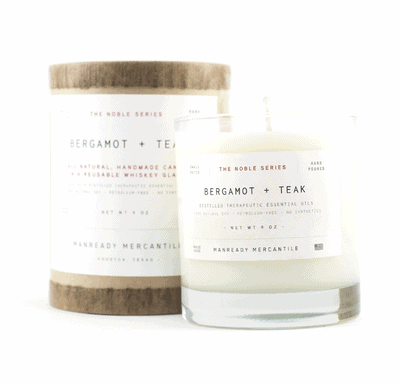 LABEL DESIGN TIPS:
The dedication and care that you put into your business should be translated into both product development and product presentation. Your custom labels need not be showy to be remarkable. Two common approaches to label design would be to either reflect or offset: reflect simplicity in austere designs, or garnish this simplicity with rich visuals. While styling will hinge on your brand identity, it is your call whether to do ornamented designs or take it to the bare-bones.
Photo credits: Logo and all images by Manready Mercantile
---
Great products, big heart. Wendy Lawhon, along with her family, started BeSem Natural Scents in efforts to raise money for the adoption of two children into their family. Now 10 years strong, the shop is a wonderful catalog of delightful candles, soy tarts, and natural bar soaps infused with proprietary blends made by combinations of over 30 different pure essential oils. Resolute in their advocacy, all profits of the company are donated to orphan relief programs, and the owners are steadfast in raising awareness about the need for loving families and the great benefits to those families who open their homes to provide these children with a "forever" family.


"Besem" is Hebrew for "pure, worth, a sweet smell," and their products and scents are indeed that—from the vibrant and fresh lemongrass, to the deep and earthy patchouli. BeSem's mason jar candles look and smell heavenly, and are made with soy grown by American farmers which allow candles to burn for longer while diffusing their natural and captivating scents. The Lemon Tea candle sounds divine, and customers rave about all scents being natural and not overpowering. The jars and lids are made in America and can be used for a myriad of things once the wax is gone.
CUSTOM LABEL DESIGN:
Their label designs add an overture of vitality with the spirited, colourful palette and added line and shape border illustrations. We love the addition of the secondary label. It acts like a badge and helps the eye focus on the singular message that strengthens the quality benefit offering of the company. The result is an effortlessly fresh and energized set of gracefully packaged candles in lovely mason jars that promise comfort and vitality.
LABEL DESIGN TIPS:
If you are actively promoting an important advocacy that is directly linked to the sales of your product, intensify this by adding blurbs, icons, and even short text to your labels, or a secondary label if you foresee difficulty with keeping just one label with seasonal changes or product development updates. Your own packaging is the perfect canvas to also reflect your brand values and this can be used to further your advocacies directly tied in with your specific product.
Photo credits: Logo and all images by BeSem Natural Scents
---
A pop of color. A punch of fragrance. A statement for your senses.
Hand-poured in Starkville, Mississippi, Capri Blue Candles have become cult classic luxury candles—the destination for unique fragrances and vibrant candle vessels. The company is housed under the parent company CURiO, a well-established manufacturer of multiple high quality candle lines including Capri Blue, Aspen Bay Candles, and Thymes. Stately and luxurious, their offerings are works of art that take inspiration from fashion and home. The results are sensational and bring a truly engaging combination for the senses, with its striking aesthetic and complex scent mélange. Our favorites are their exquisite Muse Collection that houses their candles in differently colored frosted faceted jars, and their Signature Collection featuring a delightful new fragrance, Cactus Flower, which is a novel mix of peonies, peach, and cactus flower.
With over 20 scents and multiple styles, one cannot help but have more than one favorite. Capri Blue Candles trigger the lover of all things graceful and beautiful in us, appreciating the attention to fine detail and how each candle can infuse any space with color and style. Their unique flair and personality are the fruits of eco-friendly practices and the highest quality materials, and this is evident in the scent that lasts long after the candle's been extinguished. Their fragrances are formulated and designed in-house, under the guidance of some of the finest perfumers from around the world. Whether you go with the fresh floral bouquet of Aloha Orchid, or the citrus groves of Volcano, each experience is satisfying and eloquent.
CUSTOM LABEL DESIGN:
Their minimalist custom candle label designs are sleek and look like they shouldn't be anywhere else but exactly on the custom jars—this may seem like a simple task, but it's always hard to achieve when you're just starting out with finding your own packaging concept. The blue peripheral circle smoothly transitions the label as it moves from the blue background to the white ring, which focuses the eye inward and centrally, toward the name of the candle. The result is a cohesive and effective label, with the dark background making the white bar pop, for quick and easy identification of each candle name. All labels are designed in-house by the team at Capri Blue.
LABEL DESIGN TIPS:
When designing custom labels with dark and extremely saturated backgrounds, it is important to get your files checked by Prepress (print designers) to check for ink values. This aspect is called TIC, or Total Ink Coverage, which can cause problems if the ink saturation (ink levels on your file) is too high, which can lead to muddy colors.
When color matching your labels to your containers, keep in mind that this is usually achieved by using a set of color values to create a specific color, called "Spot Color" or Pantone Color. Be sure to get a hard proof for checking if you haven't done a print run of your artwork before to make sure you are getting exactly what you want.
Photo credits: Logo and all images by Capri Blue Candles
---
The Original Shop for Book Lovers' Soy Candles
Located in the Northeast Minneapolis Arts District, Frostbeard Studio started out in 2012 as a pottery studio owned by married couple Roxie, a ceramist, and Tom, a commercial animator. Their candle business however, started a bit later, and thankfully created its own niche. Yep, authenticity plays well with businesses that develop real solutions to pressing candle needs. Roxie, one day, in frustration after not finding candles to satisfy the couple's nerdy, book-inspired sniffing needs, took to the books (pun intended), ordered some supplies, and set out to make the bookiest candles anyone had ever smelled.
And so a novel scented candle was born, Oxford Library, which marked the start of the Frostbeard candle explosion. Bookstore, Old Books, and Wizardy inspired scents soon followed, until the company was crafting over 50 scents of literature-inspired candles.
BuzzFeed featured Frostbeard Studio in December of 2013. From then on, more bibliophiles from all over the world have since sent in more orders of books distilled down to neoteric candles that emit inspiring, atmospheric fragrances allowing precious and prized stories to come alive. Favorites are reimagining Sherlock Holmes' studio with the tobacco, cherry wood, and tinge of fresh rain, the floral peachy-ness of a Trashy Romance Novel, and Winterfell's strong firewood-cum-Scotch pine.
CUSTOM LABEL DESIGN:
We love the concept of soy candles for bookworms, with book-themed scents. This creates more than a visual and olfactory experience. Their labels, much like book title pages, are simply a means to annex these fictional worlds and literary characters. The clear choice and use of the fonts—one meant to look like flowing handwriting, the other a classic typewriter—is smart in solidifying both concept and branding. The color scheme of the labels is kept uniform and only the colors of the candles vary. Like characters in a story, the labels play differently depending on where they're placed. Altogether cool and unique, the labels, packaging, and concept is memorable, fun, and notable.
LABEL DESIGN TIPS:
Injecting personality into your brand is a surefire way to make sure you remain top-of-mind with your customers. Be the onliest of them all. Custom labels can make your products remarkable as long as you plan it out correctly. But fun concepts are not for everyone—make sure to align your label artwork with your brand identity to make sure these are consistent and represent your brand personality and values well.
Logos are your unique fingerprint that ties everything together. While most logos utilize stylized text, fonts, and shapes, creating a charismatic mascot can extend your franchise and take up a life of its own, all at once making your brand more memorable and personable to customers.
Photo credits: Logo and all images by Frostbeard Studio
---
Recycled Wine Bottle Candles
Bonny and James, the duo behind the company, recycles old bottles of wine and transforms them into beautiful candle pieces. They carefully and thoughtfully sift through lots of reclaimed wine bottles and their designs to find the most unique and eye-catching ones, sourced from friends, family, restaurants, wine shops, and anyone willing to donate. Once hand-cut and sanded to a smooth finish, these reconditioned containers are made into art vessels of 100% soy wax (made from soybeans grown in the Midwest) blended with lush phthalate free fragrance oils.
Scents such as Sun & Sand, described as a tropical beach breeze of sweet orange flower, lemony citrus, fresh lavender, and powdery musk, and Mountain Leaves, which is the crisp fall leaf scent made with notes of cedarwood, pine, balsam, fresh cut grass, and a "light rain top note" sound marvelous. To be sure, Vino-Eco Candle Co.'s candles are food grade and environmentally safe, a pure and filtered product that can even be eaten… minus the fragrance, of course. Customers can bring special request bottles to the stores close to them, or ship them out if they can go to the physical stores. The working concept is to choose labels based on a favorite name, animal, wine, or something memorable used for a special occasion.
CUSTOM LABEL DESIGN:
Now, we know these aren't original label designs and are reprocessed designs of different wine brands. However, as print geeks and creatives, we truly appreciate the value of art (especially custom label art!) and its indestructible power, as reflections of life and as representations of rituals and memories, of emotions attached to unforgettable things that we've come to love. We think Vino-Eco Candle Co. turning "trash" into a practical, elegant, and nostalgic treasure (and keepsake) is a big win. Send them your favorite bottle, and they'll create a custom candle for you that you can't buy anywhere else.
PRINT IS POWER:
We love that this example basically celebrates all kinds of label designs! Encompassing merely design is that labels, if done right, retain their appeal and impact long after the product has been emptied from its container. That is the real triumph of the humble label.
Photo credits: Logo and all images by Vino Eco Candle Co.
---
Labels carry the heart and soul of your brand, and we don't take this huge responsibility lightly. We're always excited to discuss branding and Prepress until we're absolutely happy with the end result. We hope you enjoyed our best candle label designs post–stay tuned for more label design inspiration soon!
*Just a note that we believe that branding isn't everything: what makes your candle labels work in the long run is the dedication you put into your products and services, from defining your brand values, to your company culture, to speaking about things that you care about through your brand's voice.
NEED ADVICE WITH YOUR OWN CANDLE LABEL DESIGNS?