A big inky splat to you!
Hot off the press are endearing pet care product label designs that are professional, stunning, and full of personality.
The future is bright indeed for the pet care and pet supplements market, with market researcher TechNavio seeing a strong compound annual growth rate (CAGR) of 5.26% for the global market spanning from 2016 to 2020.
However not all supplements are created equal, and this comprehensive yet concise report by Your Dog Advisor certainly puts things into perspective, with salient reminders about things to check and avoid when it comes to choosing the right pet supplement.
As a pet care business owner, your best bet at buttressing and bolstering your brand and products is hinging on your best value predictor—your packaging!
If you're still at the stage where finding inspiration for your own pet care product label designs isn't coming by too easily, you're not alone. Don't beat yourself up; many designers and small business owners have gone from Study A to Study Z before achieving that perfect pet care product label design.
[Tweet "These awesome pet care product label designs will definitely get your light bulbs firing!"]
In the meantime, get inspired and take a look at our best pet care product label designs list, for remarkable custom labels that are both relevant and eye-catching!
---
Inkable Label Co.'s
Best Pet Care Product
Label Designs List
---
Online shop + lifestyle brand for dogs • inspired by the unparalleled joy of being a dog •
A strong young player in the market, the Canadian-designed and manufactured World Of Angus brand is dedicated to delivering a premium collection of original products to match every pooch's preference and awesome personality. Engineered from a dog's perspective, every month brings a fresh curation of apparel, grooming, and home products for the dog that knows best.
World of Angus' mission is to make the things your doggie pals do every day much better, and they aim to accomplish this by focusing on Canadian and American made items that are unique, organic, and sustainable. We love that their collections are so dynamic and fresh—wonderfully scented (edible) balms and invigorating (biodegradable) shampoos are popular all natural favorites!
CUSTOM LABELS REVIEW:
We love the stark simplicity of these sleek labels. The consistency of their branding collaterals is seen in the continuity of the thin lines cutting across the logo on the front panel, as is used repeatedly on the banner ads on their website. The off kilter framing certainly makes the labels look more stylish, rather than having the usual orientation of square outline. We think the white labels work extremely well with the white caps and complement the silver tins nicely.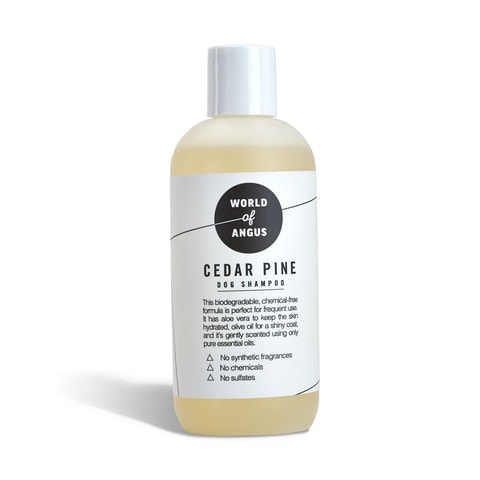 LABEL DESIGN TIP:
For containers such as shampoo bottles, remember that this will certainly mean that your labels will also need to be able to withstand the stress of repeated compression and decompression. Use the appropriate label stock for your purposes. Need this to be oil-proof and waterproof? Choose plastic film (BOPP) over paper—the cost would be a bit higher, but your customers will thank you for it. A more flexible option would be to go for shrink wrap sleeves to ensure your labels stay pretty for as long as they are used.
Photo credits: Logo and all images by World of Angus
---
Fine Health Foods for Companion Animals
Founded early 1980s by Dr, Harvey Cohen, a successful nutritionist and lifelong animal lover, the eponymous brand continues to lead the way in the natural pet food space, 30 years since its founder embarked on the journey to perfecting formulas that promote a fresh, holistic, and natural diet will lead to a healthier, longer life for pets. The company is uncompromising in their belief that chemical-laden and inferior quality ingredients remain the #1 reason for the rise in degenerative diseases. Their impressive repertoire of products for dogs, cats, and birds contains only human consumption ingredients and nothing "pet grade" nor chemicals or preservatives. This equals to hearty and fresh protein added daily.
Everything from Dr. Harvey's is sourced and manufactured in the USA, free of chemicals preservatives or dyes, and is 100% human grade. A ton of information on pet nutrition and an analysis of ingredients are freely accessible on the site. We love their wide range of options—from complete and balanced diets, nutritional supplements, to meal add ons—and how this makes it extremely easy for parents to give the best to their pets!

CUSTOM LABELS REVIEW:
With regard to packaging, the bag format with the clear front panel showcases the pet food and treats inside, giving customers a preview (clear view!) of the beautiful colors of the various healthful and natural ingredients that go into each sealed bag. The wraparound labels for the supplements and grooming essentials look very stylish, carrying a more formal and uniform layout per artwork panel.

LABEL DESIGN TIP:
When planning for your custom label artwork, try doing a mockup to see if the size accommodates your text comfortably and fits your packaging well. There is no standard label size or label placement—you don't need to cover the entire front and back. If you want to feature the contents of your packaging (in this case, the visually-stimulating colors and textures of the contents), make labels that don't cover the entire bag.
Photo credits: Logo and all images by Dr. Harvey's
---
NATURAL PET HEALTH PRODUCTS
Armed with a passion and knowledge of the healing power of herbs, the Bouk family now successfully runs a shop that focuses on promoting a more eco-friendly and cost-effective way toward relaxation and health. Now, this doesn't discount our furry friends—under their umbrella of all natural handmade herbal products on their Etsy shop is a delightful shop section for pet care. Pooches with cuts, inflammation, psoriasis, sore paws, dry cracked skin, and other skin irritations will find relief in the gentle yet potent creations of Kimberly's Kupboard.
Their formulations use only high quality oils, the freshest herbs and botanicals, and pure therapeutic grade essential oils. No synthetic fragrance oils, dyes, or preservatives are used to ensure everything is non-toxic and is safe for sensitive skin. Winsome ingredients such as calendula, wildcrafted plantain leaf, lavender, eucalyptus, wildcrafted chickweed, and safflower oil are carefully handcrafted into exquisite herbal delights. Customers can be sure that all products are safe and effective—Kimberly's Kupboard tests these on their own pets and have had wonderful results.
CUSTOM LABELS REVIEW:
Black is the predominant color in the palette with regard to packaging and labels. We love the graphics that pepper the periphery and consequently serves to frame each label, focusing the eye to the central point of the labels. With the exception of their salve label, the dark background makes the white bar pop, for easy identification of each product.
LABEL DESIGN TIP:
When designing custom labels with dark backgrounds, especially black, it is important to get your files checked by Prepress (print designers) to check for ink values. This aspect is called TIC, or Total Ink Coverage, which can cause problems if the ink saturation (ink levels on your file) is too high, which can lead to muddy colors. Different printers may have different recommendations, so be sure to get a hard proof for checking if you haven't done a print run of your artwork before.
Photo credits: Logo and all images by Kimberly's Kupboard
---
FINE CANINE SOAPS AND SUNDRIES
Creating artisan soaps since 1999, Three Sisters Apothecary is the author of this remarkable pet care line, following the time-honored tradition of the first soap guilds of 7th century Europe. This Soap Cauldron brand extension, Soapy Tails™, takes good care of the health and beauty of our canine friends, without the harshness of synthetic ingredients that leave coats looking dull and lifeless. All their formulations embrace natural botanicals, essential oils, gourmet plant oils and butters, and are handcrafted in small batches so that they are mild as they are ultra-cleansing.
The dreamy swirls of color in the artisan soaps make these products distinctly lovely indeed, but it is their recipe that has earned them fanfare from their customers. A true soap, their bars are free of SLS, parabens, petroleum-based synthetic ingredients, and are 100% biodegradable. Key actives not only nurture canine coats for optimum skin health—these also provide daily flea relief. We love the addition of the nourishing coat tamer, pad soaks, and beautiful gift sets!

CUSTOM LABELS REVIEW:
23 Goblins Graphic Design created the brand identity and packaging + label designs. Clean packaging theme, pastel colors, fresh ingredients—all of these support Soapy Tails' brand identity. The labels and packaging are graceful, easy on the eyes, and complement the artisan products they contain and identify.
LABEL DESIGN TIP:
While dark backgrounds and gradients have the propensity toward the dramatic, it is only with a keen eye, good taste, experience, and print design skills that you can execute complex and involved designs. And if your products aren't in the luxury market, it is better to precisely match your brand personality with your custom labels rather than go off into a different art direction for the sake of impact. For readability's sake, choose light backgrounds and dark text to ensure that your labels have good contrast and are easy to read. You can also vary the degree of ink saturation as in this example (very dark black logo, washed out pastel subheads) as a technique to make the overall look softer.
Photo credits: Logo and all images by Soapy Tails, last photo courtesy of 23 Goblins Graphic Design
---
SENSIBLE AND SIMPLE ANIMAL CARE

Juliette Fassett, President of Dr. McGrath's, started the business after deciding to leave her career in product and business development, prepossessed by her mission to create an exceptional pet care brand. This venture started while she had a stint grooming horses and realized that most of the grooming brands, products and packaging were uninspiring to her. After years of R&D, refining concepts and having perfected her own products, Dr. McGrath's was born.
Titular to one of the very first female veterinarians, Dr. McGrath's offers natural and wholesome grooming and treats for dogs, cats, horses and other pets. All their products marry old school sensibility and simplicity, with the assimilation of modern science and technologies. They've also established the Elinor McGrath Scholarship Program to continue the legacy of Elinor McGrath DVM, who is obviously a huge inspiration to the company.
CUSTOM LABELS REVIEW:
The impressive brand identity for Dr. McGrath's was created by amazing artist John Kendall. We love the sharp-looking, old-timey labels and packaging designs! The center-justified front panel highlights the right information, in the correct reading hierarchy. We think the clear bottles is a great choice, and this brings our the beauty of their labels even more. The top part of the logo is maintained on all the labels by using a diecut (cookie cutter shape is what we call them). This cleverly draws the eye in toward the central point to focus on the brand and the type of product. The result are elegant labels, with that definitive vintage charm.
LABEL DESIGN TIP:
Dr. McGrath's labels are excellent samples of truly custom labels in that it is tailor-fit to their creative vision. Shapes like the above adds value by making your final packaged product look more professional. By using a diecut, you can mold your labels to grooves and around tight corners. Diecuts are cookie cutter molds that make it possible for you to get custom shapes and sizes, for seamless and faultless labels. If you aren't equipped to do it on your own, work with a designer who can execute your vision. And for thematic branding, consider the canvas (material, packaging base) of your labels and how this will enhance the aesthetic of your custom labels.
Photo credits: Logo and all images by Dr. McGrath's, last photo courtesy of John Kendall's Behance page
---
Heal My Paws

Heal My Paws is a balm product under the Heal My Hands brand. It's a protective conditioning moisturizer made with the finest waxes, emollients, and essential oils wonderful for hot spots and preventing rough cracking pads and salt and street chemical damage. Refills are available—each tin is put to good use. The company uses only the best ingredients, sourced locally whenever possible, organic ingredients wherever they can, and their standard ingredients are replaced with organic counterparts as they become available. The care they place in their developing their products is evident in the research efforts they continue to focus on, so that both consumer and environment is given the utmost priority.
Created by rock climbers and scuba divers, Heal My Hands and Heal My Paws are results of nine months of uncompromising experimentation to arrive at formulas that are extremely effective and truly address the problem. Each moisturizing cake is a little powerhouse of emollient protection, without artificial ingredients, fragrances, or preservatives. Currently, the company continues to whip up batches of their healing products at 7,200 feet above sea level, in a studio in the foothills above Santa Fe, NM.
CUSTOM LABEL REVIEW:
We love the simplicity of the layout and the precious photo at the center; as a graphic element under the brand name, it is very much like a smart Q&A visual for the prospective customer. The brand name stands as a call-to-action, and upon opening the tin, there is the answer. Heal My Hands' labels are straight to the point and effective—we're fans of the immediate brand recall the simple labels inspire. They're kinda like fun badges, with your furry best friend on them!
LABEL DESIGN TIP:
Think your label design is too "simple"? Before trashing that design why not try to mix things up a bit… Sometimes, less is more. If all the info you need is already on your artwork and it just seems so sparse, changing full-color into single color and vice versa can make a huge difference in giving your label design a visual premium. This certainly wont work on every case, but adding/changing one aspect (color variable, fonts, main image or vector) might just be the answer to your problem.
Photo credits: Logo and all images by Heal My Hands
---
BECAUSE WE LOVE THEM™

Elice Davis' mission is to save the world, one snout at a time. Her remarkable journey—from a career in real estate, to Nutrition Consultant and Master Herbalist—has culminated in the establishment of the Natural Dog Company, the might and main of dozens of rescue organizations around the world. With the impetus being her own Fibroymalgia diagnosis, Elice set out to find ways to a lifestyle free of unnatural preservatives and chemicals for herself and realized that the same principles of natural health could be applied to her beloved pets, too. With a background in Holistic Health, she set out to make products that would help dogs regain their health naturally. Fueled by her tremendous love of dogs, the company now provides natural and effective healing solutions in the form of organic, vegan, all natural, edible healing balms for crusty or cracked noses and paws.
Natural Dog Company strives for a pain-free world for dogs, dispatching gentle and non-toxic products such as Skin Soother and Pawtector, to make available great solutions to aid in the betterment of the health of our furry best friends. As it is coming from an extremely personal place, Elice has also made it a point to enable on her site charitable support requests for their products to back events or organizations than need assistance, and even virtual memorial home postings for beloved pets on their Rainbow Bridge page.
CUSTOM LABELS REVIEW:
We love the color palettes and the layout as a whole as they are easy on the eyes, very personable, and have that definitive charm. As seen in this example, paper labels are very flexible media. With an overprint and laminate, the stock gives an interesting look to the final prints.
LABEL DESIGN TIP:
If you're having a hard time unifying the layout of labels of multiple, related products, color schemes or template layouts work well with providing cohesion to your label designs. This gives a visual skeleton that is easy to follow. Keep the layout uniform and stick to your color assignments so that customers are able to identify each product quickly.
Photo credits: Logo and all images by Natural Dog Company
---
THE PET & PLANET FRIENDLY BRAND – GROOMING AND PET CARE PRODUCTS
The Opie & Dixie brand is not just a small business—it is a labor of love by its founder, Debbie Guardian, and has as its core its two inspirations, Opal (Opie) and Dixie, who are her loyal companions. Stemming from the promise to deliver "nothing but the best" for her beautiful dogs, Debbie concentrated her efforts into filling the gap and extending the same care and devotion she has for her girls through helping other people care for their pets through all natural, organic and vegan grooming aids for the holistic care of both dogs and cats.
Established in 2008, Opie & Dixie is known for its comprehensive and trusted line of safe and toxin-free products. Their ingredients are sourced from North America and production is under stringent standards. Their offerings include grooming products such as the Organic Kitty Shampoo and Organic Ear Wash, balms, Snoutstiks, and Pawstiks.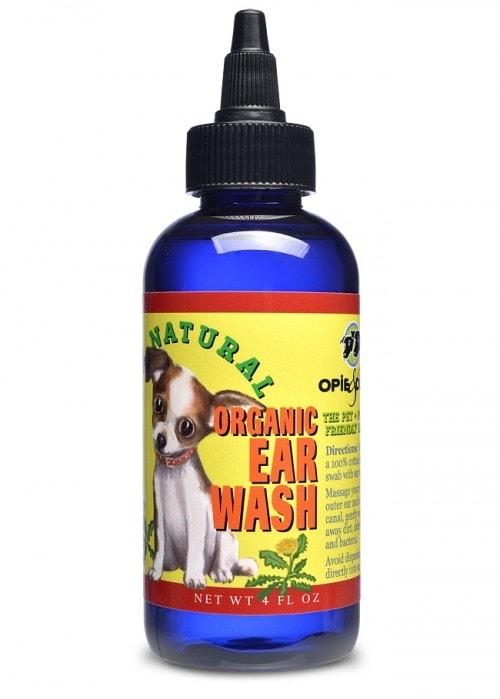 CUSTOM LABELS REVIEW:
We love the vibrant and playful illustrations that adorn each label, and how the artwork is set up in a poster-type layout, maximizing the visual impact on each panel. The grooming product labels include a thin, solid header and footer bar, each with a printed color that contrasts nicely with the main background color to frame each label art.
LABEL DESIGN TIP:
Most often, designing label artwork can be an overwhelming task. If you need to use the whole wraparound space for product information and want to make this more creative, make a content outline first. Because this can quickly go from simple to cluttered, mockup sketches on paper rather than on screen can help you determine where it gets too busy. This especially saves time if you aren't too adept at handling graphics programs. You can always hire someone to finalize everything when you're set and ready.
Photo credits: Logo and all images by Opie & Dixie
---
Bully Doodles is a new small business by husband and wife team Patrick and Sara O'Connell, owners of two awesome bull terriers. This Ohio-based online business takes pride not only in the luxurious and curative products that they sell, but also in the portraits of its packaging. What started as an artistic endeavor of sharing their one-of-a-kind, handcrafted cards and prints had expanded to a shop that included medicinal items that pets and pet parents love.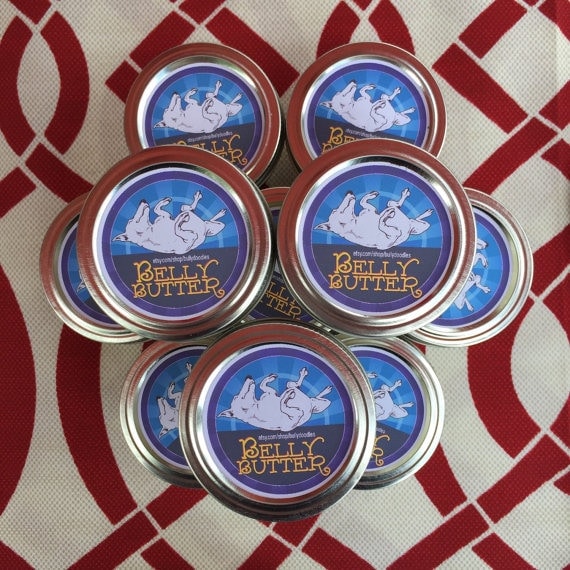 With invigorating ingredients such as pure mango butter, pure avocado oil, coconut oil, and lavender oil, the Bully Doodles pet care line includes a delightful whipped body butter to stave off infections and avoid conventional antibiotics, a paw wax perfect for dry, cracked dog paws that need a little tender loving care, and a nose ointment that goes on smooth for dogs that can't seem to keep their noses clean! All products come in lovely silver tin cans with screw on metal caps for easy use.
CUSTOM LABELS REVIEW:
Working with prints makes us all the more appreciative of genuine handmade items. We love the illustrations on these! The love that the owners' have for their own bullies translates into the label artwork, and each version really stands out, full of personality, intensifying the appeal with the iconography.
LABEL DESIGN TIP:
While most logos utilize stylized text, fonts, and shapes, creating a strong charismatic icon can extend your franchise and take up a life of its own, all at once making your brand more memorable and personable to customers. In this example, Bully Doodles doesn't go by the conventional label "rule" of including their official logo on each label artwork. Instead different sketches are marked in the communication of each benefit/application of each product.
Photo credits: Logo and all images by Bully Doodles
---
From humble beginnings as a small market in the loft space of a store to a full-fledged small business, the Maiden Long Island brand is comprised of two creative friends who set out to promote upcycling and art. Fulfilling their dream meant hard work, and now they not only offer gorgeous handcrafted items such as bags, jewelry, and candles, but also an intro line of pet products.
Their first pet product, organic catnip blends, are delightful treats-cum-toys for feline friends! They've got two choices in store, Purrple Haze or Fat Cat, both perfectly mixed as satisfying blends to give your kitty that thrilling high. We admire how diverse yet consonant Maiden Long Island's offerings are, and think their creative dreams have come true… And just in time for customers who are looking for some awesome catnip!
CUSTOM LABELS REVIEW:
We've always been fans of top and body merch when it comes to tins, and the catnip blends labels are great examples of how each part (of an assembly of labels on each product packaging) must be synergistic with each other to pull of a cohesive look. Both label sets execute this really well, and the consistency of the layout as well as the addition of character sketches make these not only eye-catching, but also tons of fun!
LABEL DESIGN TIP:
To extend the life of your labels (and if these labels doesn't necessarily need any handwritten notes on them after printing) always use a laminate over your label prints. A laminate is an added layer that provides some protection from ink scuffing, helping preserve your labels for longer. Laminates don't necessarily mean that you can't achieve the aesthetic of uncoated paper—opt for matte laminate which gives a satin finish and better writability than gloss laminate.
Photo credits: Logo and all images by Maiden Long Island
---
PET WELLNESS DONE BEAUTIFULLY
With a bustling HQ in Charlotte, NC, OmegaPet's mission is to make pets happy and healthy by producing only the best premium pet products. One of their brand benefits is working side by side with Amazon's national fulfillment network to nail down delivery is as little as a day. They offer outstanding customer support, easy returns, fast shipping, and supporting the experience with an "OmegaPet Promise" that guarantees clientele and their pets will be happy, lifelong customers.
Their award-winning U.S.-made repertoire is lean and comprehensive, naturally-derived products and ergonomic supplies fall under pet grooming, pet health, and dog training. Founded in 2012, OmegaPet works with some of the most established veterinarians, distributors, and seasoned pros in the pet industry.
CUSTOM LABELS REVIEW:
We love the simple yet effective logo and layout of the OmegaPet labels. With the exception of the Pet Stain and Odor Remover and the Oatmeal Dog Shampoo, the finished white label with the wraparound label set against the white opaque containers makes the upper art elements blend seamlessly onto the packaging, creating a clean and sleek look. Breaking the continuity are thick colored bars with more info that are easy on the eyes and give the whole look more personality.
LABEL DESIGN TIP:
While the traditional "real estate" for directions for use would be placed at the back part of the wraparound label (sometimes almost as if fine print) consider placing more important info on the front. This helps your customers easily see what it is and what it should be used for immediately. In this example, further visual aids are given in the form of icons or bullets—this gives the label higher marks in terms of being user-friendly and easily identifiable.
Photo credits: Logo and all images by OmegaPet
---
Labels carry the heart and soul of your brand, and we don't take this huge responsibility lightly. We're always excited to discuss branding and Prepress until we're absolutely happy with the end result. We hope you enjoyed our best pet care product label designs post–stay tuned for more label design inspiration soon!
*Just a note that we believe that branding isn't everything: what makes your pet care product labels work in the long run is the dedication you put into your products and services, from defining your brand values, to your company culture, to speaking about things that you care about through your brand's voice.
NEED ADVICE WITH YOUR OWN PET CARE PRODUCT LABEL DESIGNS?