Say hello to a sweet August!
We are extremely honored to have Yim Tea Co. for our Spotlight this month!
Sharing is caring; this is the precise tenet that sparked the remarkable inception and journey of Yim Tea Company.
Theirs is a specialty Thai tea offering with its hallmark orange-hued thumbprint—a showy tea that is ambrosial and certainly addictive, promising a beverage experience that delivers a particular interlude of spices and honeyed flavor combinations that serve to delight.

Dylan, the company's founder, has successfully made this unforgettable tea not only conveniently available—it is now also safe, with no chemicals found in other brands that are known to cause cancer. Yim Tea Co. is the brand to offer the first authentic 100% Natural Thai Tea mix in the market.

Giving center stage to their integrity and steadfast promise of putting health first before flavor, Yim Tea Co. stands by its spotlight product (pun intended) that is beautiful inside and out, giving credence to what started this journey, "We care about what we consume."
---
What is the Yim Tea Co. story?
On my first visit to Thailand a few years ago, I fell in love with Thai tea. Over the course of 5 weeks in Chiang Mai, I consumed gallons of the sweet orange drink and wanted to continue sipping and sharing this new obsession with friends back home.
After ordering a Thai tea mix online in the US, I was shocked to find a sticker on the bag that said it contained a chemical that "is known to cause cancer." Tea?? Really? Surely there had to be a way to consume the beautiful orange tea without the radioactive ingredients.
So, I decided to embark on the journey of creating my own. That's when Yim Tea Co. was born, and we began working with a wonderful tea farm in Northern Thailand to source a native, high-quality, naturally grown Assam tea that we combined with other natural ingredients and coloring to proudly present the first authentic 100% Natural Thai tea mix.
---
What have you learned in your cooperative with the Northern Thai tea farmers, and how did this shape your unique brand of Thai tea?
One of the main reasons we love Thailand so much is because of the warmth and hospitality of everyone we meet there. We were instantly welcomed upon meeting the wonderful people of the tea farm.
Hearing the story of a multi-generational effort and their loving commitment to cultivating quality tea was so inspiring that we knew we needed to partner with them.
Among the many tests they use for quality control, it all comes down to a rather simple one; that is, would they themselves be proud to drink their own tea? Their answer is yes. We take the same approach with our product.
---
What makes Yim Tea Co.'s tea distinct from other brands?
After returning from Thailand, I immediately went to an Asian supermarket to buy Thai tea so I could make it at home.
Many brews later, I began to wonder what made the tea so orange, and found out that the coloring used for the tea was FD&C Yellow #6, which is essentially made from petroleum.
I figured there must be a safer Thai tea mix, but couldn't find anything on the market that was still authentic in flavor. Some tea companies have launched their own version of a tea mix but none actually tasted like Thai tea. In fact, most were much more like a Chai.
Yim Tea Co.'s 100% All Natural Thai Tea is an all natural alternative to the standard petroleum-based Thai Tea mixes on the market, without sacrificing the authentic flavor of traditional Thai Tea (no artificial colors or flavors…ever).
---
For our readers who aren't quite acquainted with your particular tea product,
Could you quickly give them an overview of the characteristics of Thai tea?
Thai tea is a "perfumed" tea that originated in Thailand somewhere around the 1980s when Chinese tea farmers immigrated there. When combined with milk, it turns a beautifully distinct orange that has become synonymous with the flavor of Thai tea.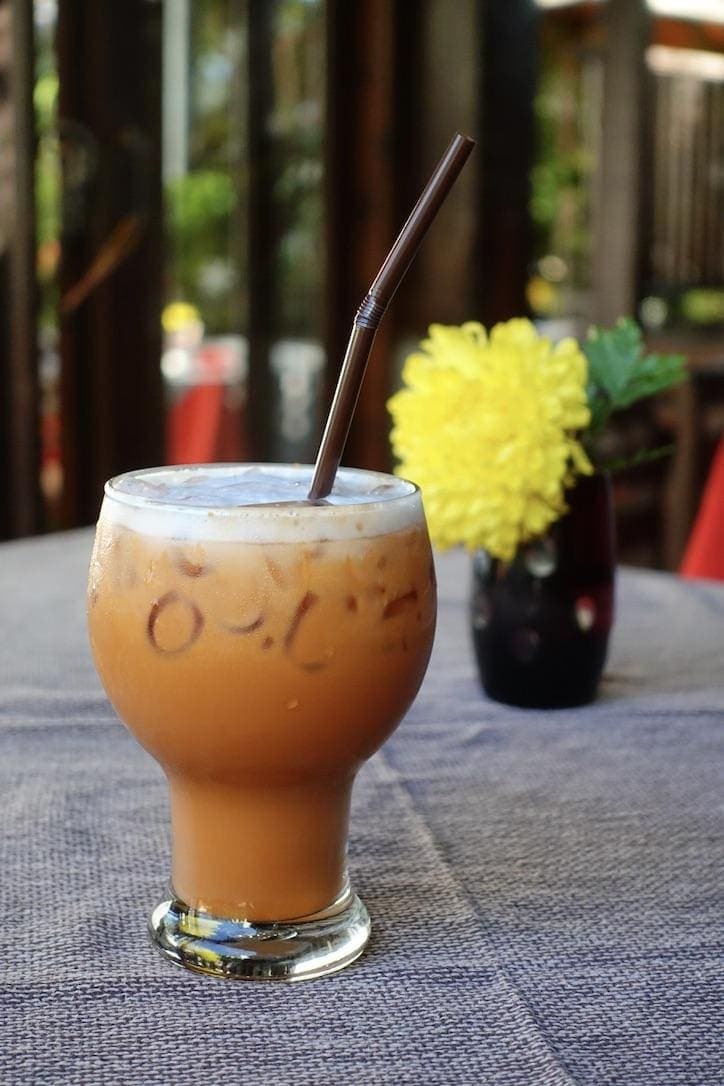 If people haven't heard of Thai tea, I like to describe it as a type of milk tea, similar to Iced Chai Lattes which have become popular in America.
It's naturally caffeinated, which makes it the perfect afternoon pick-me-up or an after dinner treat to prolong evening festivities and cure the sweet tooth.
---
Why do you use Assam tea leaves and what flavor does this afford to the final product?
Similar to coffee, tea can have different flavor profiles depending on the region it was grown. We use a native Thai-grown Assam tea to create the bold authentic Thai tea flavor that people have come to recognize.
Assam is a heavily oxidized tea, which means it has a great body and can stand high temperatures when brewing. It's bold flavor really comes through when mixed with milk or the many popular milk alternatives.
---
What's your biggest inspiration, especially as someone who provides such a comforting, rewarding, and satisfying product?
The umbrella company for Yim Tea Co is called Makeway Brands.
It's about making way for good, making way for change. It's a great feeling knowing that people appreciate something that you've created and that it's more ethical and safer than what's already out there.
The support and feedback we get from happy customers has been incredibly rewarding and pushes me to explore other products that could be better than what's currently on the market.
---
What is Yim Tea Co.'s proudest moment to date? And can you give us a sense as to why it's such a key milestone?
Before releasing any type of product, there is always a risk that the market won't accept it. However, since the first day we made our product available, we've received glowing reviews about our All Natural Thai tea.
People are genuinely relieved to find a Thai tea mix they don't feel guilty about consuming. That's what makes us proud.
---
It's been a pleasure being part of your journey through printing your custom tea bags.
Being in a very specialized industry, what were the main considerations for your bag format, branding, and design?
Going into the design process for our bag we knew that creating a "design system" would help people recognize the brand on a physical and digital shelf.
Since we wanted to iterate and test as we went, it was ideal to start small and invest a minimal amount into our packaging, accepting higher costs in the short term and making adjustments as time goes on. Most companies providing custom bag quotes wanted a high minimum quantity that didn't work for our start-up budget.
Inkable surprised us with a very low MOQ at a very competitive price with free shipping as icing on the cake. Inkable has been very helpful by fitting our graphics files to their templates and ensuring that the final design fits our needs.
---
What are the three adjectives that best describe Yim Tea Co., and why those three?
Customer Centric
Our customers are our number one priority, period. We constantly assess our customers' feedback to ensure our product meets their needs.
Transparent
We believe developing trust can be equitable for both the customer and the business by providing products that we are proud to make and our customers are proud to buy.
Eco-conscious
Our products are both sustainably sourced with minimal impact on the environment and economically viable for our tea partners, our customers, and our business.
---
Can you impart words of wisdom for people who are just starting out or would like to start on their own endeavors?
1) If you have an inkling of a desire to want to start your own business, do it, even if it means spending 1 hour a week on it.
2) People are often afraid of taking risks because they fear they will lose.
3) Start small. Iterate. Learn.
4) When starting out, don't be afraid to sacrifice early profit margin in exchange for creating scalable processes. This could mean outsourcing tasks to specialized professionals (ie. fulfillment, design, bag printing, etc.) while focusing on the important aspects of growing your business.
5) Reduce as many personal expenses as you can so that you can invest more into your idea when the time is right.
---
Where else can we find you?
Official Website: www.yimteaco.com
Instagram: instagram.com/yimteaco
Facebook: facebook.com/yimteaco
Email: hello@yimteaco.com

At Yim Tea Co, we fell in love with Thai Tea but never did like those artificial ingredients normally found in other mixes. Our All Natural Thai Tea doesn't contain any of those nasty chemicals that you hate. We use an Assam black tea native to the hills of Northern Thailand, grown under organic conditions along with 100% all natural extracts and coloring to provide you with the vibrant Thai Tea experience you love.
---
We have been fortunate to have met awesome people through our work, and learning about them and their challenges and triumphs is always humbling and inspiring. As print advocates, we truly enjoy talking with artists and small businesses who inspire us everyday.