Packaging Design
The Essentials – Vol. 4
#PRINTISPOWER
If you're a small business that doesn't have the resources nor the time, free resources can help you work smarter, especially when it comes to packaging design.
If you liked Vol. 1, Vol.2, and Vol.3, Volume 4 of our curated resources will help you work efficiently even if you're short on funds. These are reliable and high-quality. While most are for print, you can also apply these resources for web design jobs. We know how tedious the design and layout process can be, especially getting all your artwork elements together into a professional layout ready for press.
Whether it be for revisions of a current packaging design layout, We're sharing awesome options now for you—good styles that you can apply to your own print packaging designs.
Our Design and Prepress Teams were quick to offer, and so we've come up with a well-rounded list of references and free downloadable fonts and icons from the web for your packaging design.
---
CLICK ON EACH LINK TO DOWNLOAD, AND DON'T FORGET
TO GIVE THE DESIGNERS SOME LOVE!
---
These are all free to use for your custom packaging projects, and we share this with you in the hopes that you can use this to help make your designing life easier (especially if you're designing your custom labels, custom tissue paper, custom bags, or custom printed packing tape/washi tape yourself), cutting down on time and effort, with these professional art element sets.
---
ESSENTIAL RESOURCES FOR
CUSTOM PACKAGING DESIGN
In response to many requests for us to compile a print design-approved list of resources to help make print projects move forward a lot faster, here are some of our handpicked design resources you can use to apply to your own print packaging designs… Volume 4!
I. FREE GRAPHIC DESIGN TOOLS
We open our list with a resource that is extremely useful and helpful in so many ways. While there is a paid version, the free version is still powerful and comes with 500MB of cloud storage to get you started.
Creating custom packaging design means being able to work with tools that help you move with ease, and this resource is a full-featured vector graphic design app that works on all platforms, with great templates, intuitive functions, and an extensive online documentation library to help you quickly learn how to use all the tools in the app.
If you're a graphic designer, this is an awesome comprehensive resource. If you aren't, put in some hours to learn and you can get started easily.
Need to create instructional graphics for your packaging directions? This (CC Attribution 4.0) free design resource, created by Pablo Stanley, is a beautiful app that allows you to make modular, vector illustrations of humans in different positions, actions, styles, that you can rotate and position to customize your own designs.
Great not just for custom packaging design, this app can help you create visuals for your website, and other marketing collaterals, to assist in getting your comms off the ground. Humaaans is free for both commercial and personal use.
3) GRAPHIC PEAR
In creating your custom packaging design, you will always need a "vector" image or design. It is because this type of image can be made smaller or larger infinitely without losing quality. Unlike "raster," which gets "pixelated" when blown up, vector-based images are not comprised of dots and are instead made by "paths", which are have a start and an end point, joined with points, angles, and curves in between, to create a shape.
Vectors are great for print layouts, because you will need your art elements to be editable for revisions, and crisp and not blurry when printed. Confused about this? Give us a shout and we'll get you sorted out!
Ok, so designing and creating your custom badges or symbols on your own or even with the expertise of a graphic artist will always entail investing in enough time to sketch and refine these art elements. To save on time, check out Graphic Pear above, which is a great resource for both free and premium vectors!
---
II. REFERENCES AND LIBRARIES
1) BRANDCOLORS: A comprehensive library of official colors and color palettes of many recognizable big brand names. We aren't sure if this repository is the largest, but certainly this is a huge collection! Get inspiration, mix and match, and simply click on the color you're keen on using to instantly copy this to your clipboard.

2) PALETTE CREATOR: Color is one of the fundamental, strong elements of custom packaging design that make your brand instantly identifiable. The more familiar your customers are with your brand, the more they can identify you by just looking at a set of colors! If you're having a hard time composing the right color formula after our first resource above, this free app makes the job super simple and quick.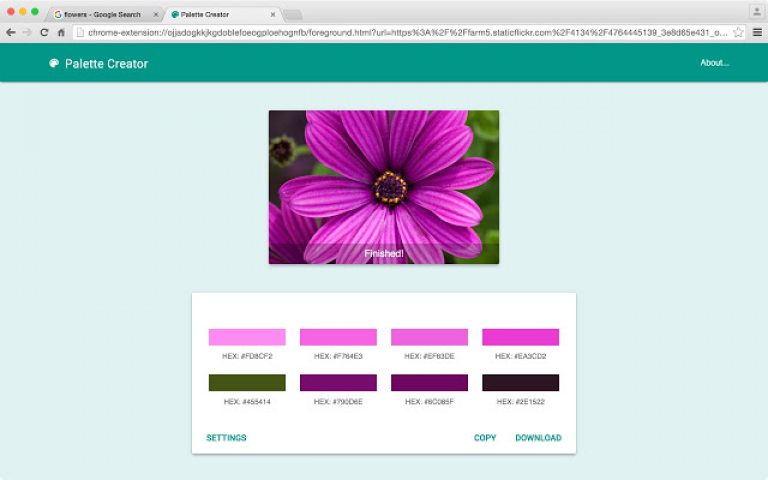 The Palette Creator is lightweight–it's an easy-access Chrome extension. Simply find your inspiration (your product image, or an image you've found online, or any inspiration peg) and right-click on your chosen photo, choose the 'Palette Creator' option, and specify the number of colors you want your custom palette to have.
3) PIKIWIZARD: This newly-launched stock photo and stock video website has a simple, well-designed interface, with popular tags lining the main menu bar to help prompt the user's search. Pikiwizard is a gem in a sea of stock photo websites, mainly due to the volume of photos featuring people that they have in their cache.
If you don't find what you are looking for on any stock photo websites and want to try taking your own photos, Pikiwizard also has an awesome instructional cornerstone post called The Ultimate Guide to Taking Beautiful Pictures, which is also a valuable repository of consolidated resources from different websites. Everything from focus, to shutter speed, to nifty tips for smartphone photography are covered in their full guide.
4) PICJUMBO: Another awesome site where you can choose and download high-resolution photos, created by graphic designer VIKTOR HANACEK and are free of copyright restrictions. All stock photos are consolidated from a community of generous photographers and travelers.
5) PHOTO CREATOR: Another site for photo inspiration/reference, or if you need something for your packaging that you don't have the time or resources to take yourself. JPEGs are free for a link.
Create unique compositions by combining people, objects, backgrounds, and even add your own images, simply by dragging and dropping these onto an easy-to-use interface. PSDs are $20/month, which give you all models and objects masked and layered.
6) FONTSTRUCT: Before we move on to our curated, free fonts, let's add a reference site that can make this process more custom. Sometimes, your logo or custom packaging design needs something that you simply can't find anywhere.
This is where this nifty site comes in. Fonstruct helps you make your own unique typeface using geometric shapes. This font-building tool is truly amazing.
---
III. FONTS
This lovely scribble typeface was designed by Philippe Cochy and mimics handwriting. The font is coded with full Unicode glyphs customary in Latin and pan European languages, the phonetic alphabet, katakana, mathematical operators and many symbols. Very emotive and natural, this font can be used for your titles and subheads, but we don't recommend this for your packaging body text, as it can get pretty illegible.
Inspired by Pentagram's Michael Bierut work for Mohawk Paper, this free SVG font was created by IVAN FILIPOV, and is a stunning explosion of color and texture. Fully customizable, until recently, this used to be comprised of vectors only and not built as an actual font. This adds a festive flair on prime custom labels or custom bags, great for headers and large call-to-action text.
3) GABO DRIVE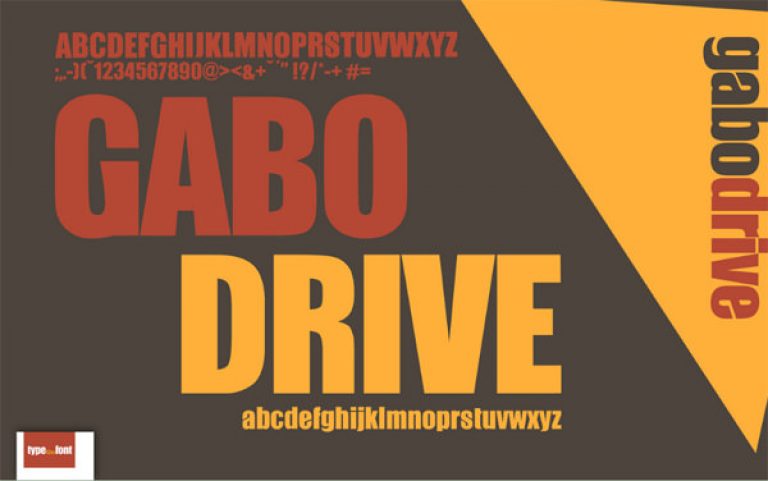 Created by DANNCI and hosted on Deviant Art, Gabo Drive is a chiseled sans serif typeface that comes across as strong as it is elegant. Available in boldface, this font is designed to have strongly left to right leaning glyphs and contains neutrals. This blocky font is perfect for bigger text and its sharp designed corners help this font appear as crisp, even if you choose to use this on short packaging body text.
Wonderfully Art Deco, this stylistic font instantly adds character to any custom packaging design layout. Created by KEITH HAYDEN, this free font can be utilized in Regular and Bold types. Use this for larger text–the Regular type is especially nice for foil stamping and will create a grand, showy aesthetic for your custom labels and custom bags.
Designer VLADIMIR BELOKON was inspired by the famous hand-painted nesting dolls called "Matryoshka" when he started designing this font. This typeface is full of character and is truly graceful. Available in two types, this font follows the shape of the wooden doll outlines and the download includes glyphs for punctuation. Use this font for any text on your custom packaging design–this works well at any size, save for finer print.
Using this typeface will instantly give the feel of an old typewriter or computer programming text. Monospaced and quite easy to read even when applied to small text, Monoxil has 551 glyphs per font. It is designed by Ondrej Jób/Urtd and is wonderful as a spindly sans serif.
A joint project of THE KINETIC and ESTIAN FOURIE, this ultra stylish font comes in three weights–Regular, Light, and Bold. These three options can already make a world of difference on your custom packaging design, and are really effective at creating a good communications hierarchy on your custom labels or custom bags. This set can be used for all kinds of textual art elements, and can manipulation while staying legible.
Designer ZAR NI offers up a font that feels both modern and classic at the same time. Zebrazil is serif typeface that is graceful and delicate, yet still appears commanding and not too fancy at all. This beautiful font features subtle serifs, thin strokes and high lines, overall giving a refined appearance. This certainly is very classy, and remains a favorite if you want to use it on titles and blurbs for your custom packaging design.
PAUL REIS successfully combines the best of both worlds with a font that can be made to look dramatic, yet can also stay relatively straightforward on a layout. The regular type is plain enough and is perfect for big acronyms or even small text for your accompanying product details such as weight and formulation percentage. The stylized types however, Stitch and Mesh, are both exciting and novel alternatives to the more commonly used College A and B typeface.
Calendas Plus is the successor of Calendas, having been completely revised and redrawn to include ligatures, optical adjustments, small caps, and new accents. This extremely rich and elegant typeface comes from Spanish design studio ATIPO FOUNDRY and they have made this available in Regular, Italic and Boldface styles. Take advantage of the great legibility and refined classical air of this font by using all styles for any kind of textual element in your branded packaging design. While this will definitely pair excellently with products such as wine and luxurious skin pampering products, Calendas Plus can certainly be applied to any industry or kind of product, if you are keen on using calligraphic finishing in your branding.