A big inky splat to you!
Hot off the press is a sweet set of honey label designs that we love so much that we're happy to make a big buzz about their distinct styles and share them with you. If you're looking for inspiration, these awesome honey label designs will definitely get your light bulbs firing!
If you're still at the stage where finding inspiration for your own honey label designs isn't coming by too easily, you're not alone. Don't beat yourself up; many designers and small business owners have gone from Study A to Study Z before achieving that perfect honey label design.
In the meantime, get inspired and take a look at our best honey label designs list, for remarkable labels that are both relevant and eye-catching!
Inkable Label Co.'s
Best Honey Label Designs List
FEED THE BEES AND YOU'LL FEED THE WORLD
Local beekeeper Jay Williams is a man on an extremely important mission. His remarkable journey—from his endeavors in film studies, to becoming a professional firefighter, to ultimately learning about Colony Collapse Disorder (CCD)—has shaped his passion and dedication to the preservation of honeybees and, by extension, the lush agricultural landscape of North America and Europe. And while his earlier inexperience led him importing a queen bee (now at six years old) to start his very own apiary (starting with only two hives), he has since then strived to cultivate wild, self-sufficient bees that are hardy against pests.
Williams Honey Farm's staunch philosophy of letting bees function and thrive in an environment that is natural, supportive, and caring means that they avoid synthetic growth hormones, medicine, and pesticides, and welcome nature and her omniscience to sort the strong from the weak. The result is the establishment of bee colonies having each feral member that may look smaller than average, but is definitely strong and up to the task. Each bee is considered a member of the family—Williams Honey Farm's mission is to simultaneously feed the bees in new and interesting ways while creating bee conservationists they affectionately call "Polleneers".
Responsible apiculture also meant preserving and respecting the natural rhythm of bees: unlike other apiaries, they harvest the honey all at once, at the end of June and never earlier. This patient manner, waiting until the end of the flow, is by virtue of their understanding and genuine love for their bee colonies, insisting that bees should have their fair share before the season is complete.
"1 in every 3 bites you take is thanks to a honeybee. If you feed the bees then you'll feed the world. We are ready to do this one flower at a time."
Operating in and around Williamson County since 2008, their raw, treatment-free produce include Wildflower Honey, Comb Honey, Cream Honey, Honey Flasks, Honey Straws, and Lip Rescue Lip Balms (made from beeswax of wild beehives that they rescue). The best part is that ultimately customers are assured that they enjoy honey products that are the fruits of sustainable beekeeping practices.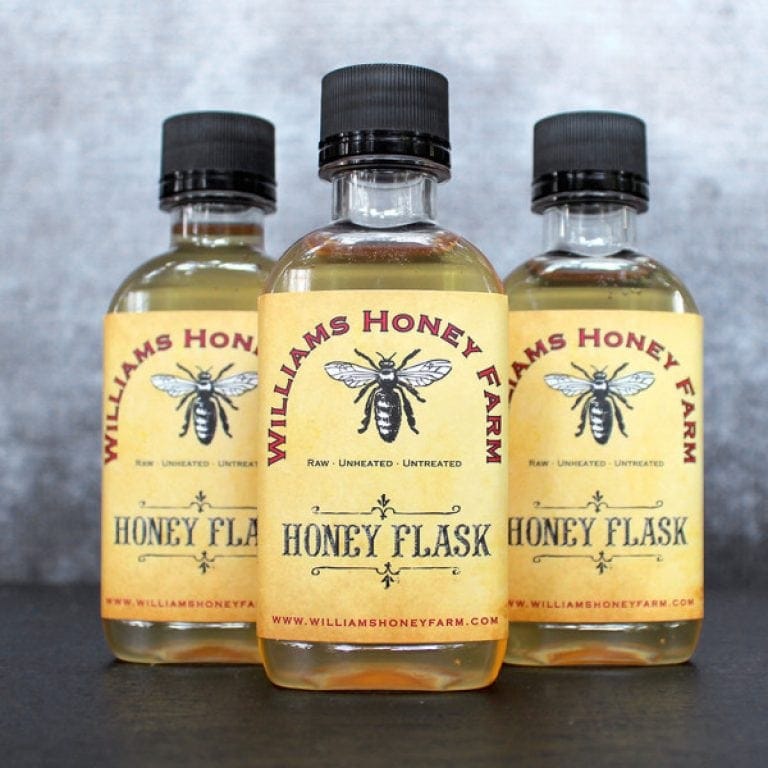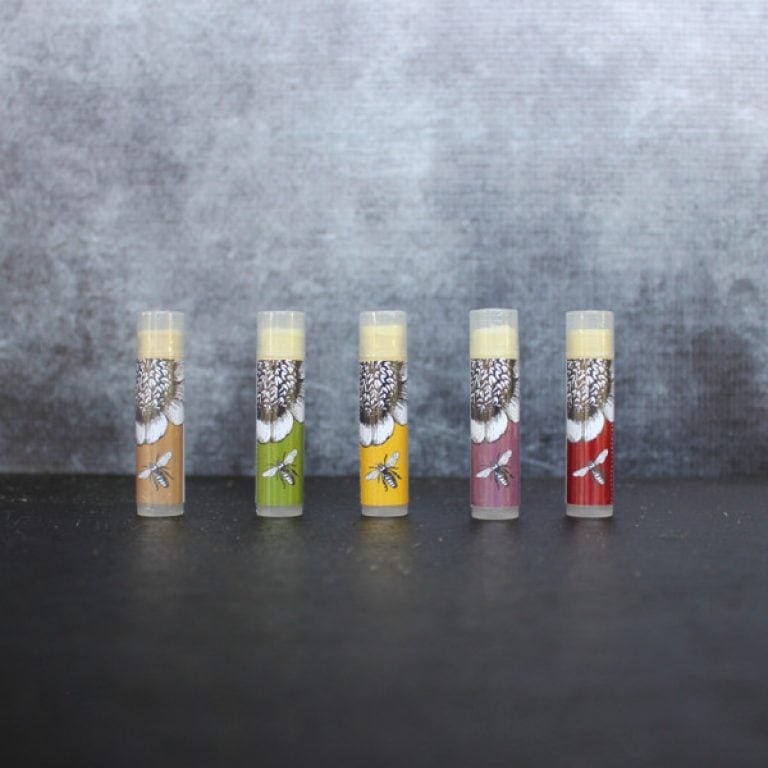 Their honey label designs and format aren't contained to a single, unified set. Depending on the product and product extension, their packaging comes in either jars, tall and short vials, and plastic tubes. Each product has its own identity, and this is kept consistent with the beautiful bee icon. We especially love the lip balm honey label designs because they also feature the "bee story" (with no text) as well as remind customers of the advocacy of Williams Honey Farm and the humble beginnings of the honey products.

Photo credits: Logo and all images by Williams Honey Farm
LABEL DESIGN TIPS:
Tailor-fit your packaging and labels to your product's needs—both aesthetic and functional.
In this example, opaque labels give a solid real estate on the labels and that extra wraparound space gives you more flexibility in the planning of the appearance (of the more important) front panel.
Clear labels gives that "no label look" and will feature the color of the contents of your packaging. The black print on clear stock is nicely highlighted by the bright gold of the honey, for great contrast.
BARREL AGED HONEY
Located on 20 acres of restored prairie and oak forest, and 25 miles south of the Twin Cities, Turkey Hill Apiary is perfectly situated in a rich and undomesticated landscape, enjoying its synergy with local food produce growers and hardworking small businesses. They are part of a thriving community in Minnesota, bringing to the table something distinct and truly delightful. Their proximity to the backwoods is also strategic—in the area are less than a dozen hives of Russian and Minnesota Hygienic bee breeds happy and content as they buzz around indigenous flowers, wild plum and heirloom apple trees, and various hardwood trees.
Turkey Hill Apiary is proud of the special qualities of their honey, and rightfully so. Apart from the inherent value of their breeds (their bees can deal with cold temperatures, and are naturally resistant to mites, parasites, and other diseases) a true "job well done" is only realized and recognized in the ardent servitude to the bee colonies themselves (respecting their natural rhythms, providing pesticide-free forage, and the maintenance of bee health) and for the company these are key factors that greatly affect the quality of their honey. This give-and-take works extremely well for Turkey Hill Apiary, and their responsiveness to their bees' needs fortifies the respect and admiration they have for these intelligent creatures.
"The bees need to visit almost a million flowers to produce a single pound of honey. With all that work, it's the least we can do to make sure they are happy and healthy."
As consumer products, they are divine. The bourbon honey is developed from harvested wildflower honey that is aged for several months in bourbon barrels, with its natural flavors intensified and made more stimulating by the charred, bourbon-saturated oak wood, lending undertones of booze and smoke. This smokiness and vanilla softness goes well with any bourbon drink, or dashed over a bit of strong cheese. Another delight is a rye whiskey honey (aged in rye barrels) that manifests mildly spicy undertones, with flavors of white grape and apple.
beastpieces.com // studioonfire.com
Studio On Fire created the exquisite label concept and designs for Turkey Hill Apiary. We love the vintage yet stylish look and feel of the impressive line work on the delicate stock. They successfully emulated the aesthetics "of an old liquor bottle or newspaper" and this, coupled with letterpress, gives a visual premium.
LABEL DESIGN TIPS:
Creating exceptional labels can boil down to the additional finishing touches—this makes all the difference in transforming the final look and feel of your labels. While letterpress is a true visual and tactile delight, it can get very expensive. If you're on a tight budget, you can choose to do embossing instead.
A good identifier for quick segregation is color. Color schemes or template layouts work well with providing cohesion to your label designs. This gives a visual skeleton that is easy to follow for your customer especially when looking for a certain flavor or variant.
Owner Corky Luster has always had a naturally good pulse with bees. But what had begun as a hobby was consequently transformed into a journey of a certainly grander nature. As an offshoot of an especially good harvest, in 2009 Corky decided to establish the Ballard Bee Company—starting with only four hives in his yard. Fast-forward to today and his company now runs two dozen hives in the city and owns an additional 130 hives, all housed outside of Seattle at Local Roots Farm and at Camp Korey.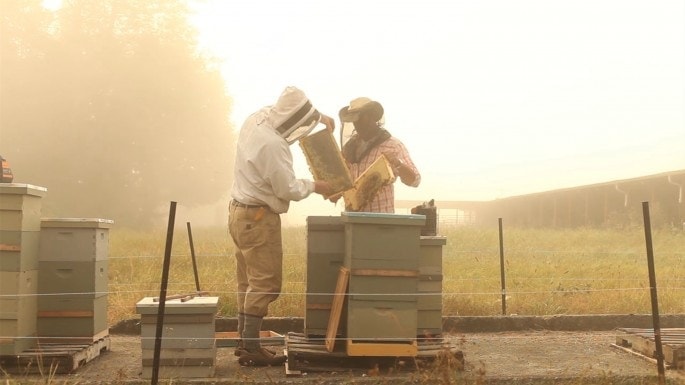 An urban bee company with a series of hives stretching from one neighborhood to the other meant that the raw honey produced would be specific not just to a particular region, but to a particular neighborhood. Depending on where the bees would be foraging, each flavor profile would be different. From first to last nectar flow, bees would be feeding on pollen from bigleaf maple trees, to blackberry bush flowers, to the Japanese knotweed plant. Ballard Bee Company is particularly fond of the last flow, which has a caramel and fig delectableness—it's called Dark Cream Honey, and it recently received national recognition as a 2015 Good Food Awards winner.
Despite big wins, Ballard Bee Company is still very selective and refuses to go on-shelf with the big retailers, opting rather to support small businesses and make its honey available only in specialty boutique stores, local restaurants, and small distributors in Washington and Oregon.
Apart from marketing honey, the company makes it a point to encourage the keen interest of novice beekeepers by offering consultation sessions and beekeeping supplies. Corky also successfully helped some of Seattle's finest chefs to set up their own rooftop apiaries, with the primary goal of imparting responsible beekeeping education and information.
Their honey label designs are clean and dynamic, taking on a modern packaging approach that suggests that it is medicinal and not merely a sweetener. The "Bh" symbol figures prominently in all their labels, an original symbol that looks like it is meant to be part of the periodic table of elements. This connotes that the product is its own element and cannot be broken down further, with a purity that is to be enjoyed in every bottle.
Photo credits: Logo and all images by Ballard Bee Company (Jim Henkens)
LABEL DESIGN TIPS:
Try to explore branding concepts. This example presents an organic product far removed from the traditional quaint packaging design. Instead, a more cosmetic look is applied to achieve an entirely different identity compared to other honey brands. A word of caution though: being different isn't always good—before you commit to a concept, get more sets of eyeballs to look at your labels to ensure that the message is clear and isn't lost in a vague theme or packaging concept. Discuss the final look with your creative team, if able.
Your honey label designs are mainly identifiers of what your product is to your customer and who you are compared to competition. That being said, don't be afraid to deviate from traditional design schemes if this suits your brand personality.
A TREATMENT-FREE APIARY
Oh Honey is a sustainable apiary with hives in both NY and NJ, and have since expanded to Brooklyn and Columbia County, NY. Their commitment to establishing a treatment-free beekeeping system includes raising queen bees from their strongest stock (of winter survivors) to create new bee colonies that are strong, resilient, and winter-hardy. This is especially fundamental in their production of their treatment-free, 100% raw honey—they opt to go as natural as possible, avoiding chemicals, acids, essential oils, antibiotics, or any medication in both hives and honey. Their products are 100% raw (not heated nor filtered), gathered using the cold extraction method to ensure that all the most valuable components of the honey is left intact, directly from the comb, and this includes propolis and pollen. This cold-extracted, unfiltered honey, bottled fresh for their customers, means that you can even see small bits of propolis and pollen floating on top! Since the crystallization process sets in faster than in treated honey, their products have that extremely creamy texture. More recently extracted honey is liquid, because crystallization has not begun yet.
Apart from being a healthful treat, honey as a treatment for seasonal allergies is advocated on their site (with the propolis figuring largely in its health-enhancing properties) for honey that is "chock-full of good stuff".

Their honey products are favorites at the local Farmers Market, in both raw form (Jersey City Raw Hex, Hudson Valley Raw, Hudson Valley Raw Muth, Jersey City Raw Japanese Knotweed Honey) and raw crystallized form (Raw Crystallized Honey From Hudson Valley and Jersey City Raw Crystallized Honey). Another new Oh Honey addition also boasts of therapeutic and curative properties: a healing balm of ribwort plantain made with their treatment-free beeswax (the wax is as pure as can be and a desirable ingredient in cosmetic products). While not a honey product, the salve's main component is plucked from Oh Honey's upstate apiary and has been traditionally used as a homeopathic remedy for infections of the skin and respiratory tract, as an insect bite/wound/diaper rash soothing balm, and a chest liniment in the case of respiratory infections. Other beeswax-based products include several types of lip balms (both plain and tinted) and an amazing healing cream that contains another valuable bee product in addition to the beeswax, namely propolis. Hives are covered in this amazing pest-resistant substance which research shows to be not only anti-inflammatory and anti-fungal, but may also be anti-carcinogenic. This product line up supports the business' philosophy and active call for a more holistic appreciation of the environment and its amazing synergy, and the preservation of the nourishing gifts from nature.
The business was built by Darius Plavinskas, who came to US to continue his expression of art through his house project, encountering a different kind of art—beekeeping—and loving it enough to dedicate his time and efforts to learning everything he could about bees. The proof of his hard work, passion, and patience is seen in around 60 hives all over NY, which started just on his and wife Tine's roof deck in Jersey City, NJ! With an honest dedication to his craft, he apportions time to regularly attend conferences that further best practices for sustainable and organic, responsible beekeeping. And Oh Honey's raw honey is definitely natural—you'll be able to see the difference versus filtered honey, which has been pasteurized and filtered to a clear finish. Darius is proud of his honey that is cloudy and will crystallize over time, intimations of beneficial and prime nutrients, live enzymes, and a complete flavor profile of how honey should be.
Labels and branding is Oh Honey's "in house" project–one of their friends, Nataliya Byrne of NB Lettering Studio, is a calligrapher and lent her capable hand to produce the script featured in the label, while Darius put together the final design of the entire label. Wide, hexagonal jars get a landscape label. Antique-looking bottles get a vertical label and a natural cork stopper. The black, white and gold design perfectly contrasts the rich tone of the honey.
Photo credits: Logo and all images by Oh Honey
LABEL DESIGN TIPS:
If you have a vision, put it down on paper and consult with your designer to see if your concept is feasible in terms of execution. Darius, wearing both hats of co-owner as well as designer, enjoys full control over how brand identity is translated into both product development and product presentation.
As demonstrated by this example, a matte finish works to create muted colors and a soft finish. This affords a delicate overall look. When finishing your labels, consider the correct finish (gloss, matte, satin) to complete the "demeanor" of your packaging.
Friends Casey and Morgen, the makers of Bees Knees Spicy Honey, knew that they had something extraordinary when they were able to grow quickly from a small batch honey business into an exceptionally successful online shop. Now with a strong presence in retail, their delicious products are the efforts of bringing together unexpected ingredients "that basically throw a party for your taste buds". Working tirelessly to create and test a multitude of flavor and spice combinations has paid off, and they've come a long way since establishing Mixed Made, the umbrella brand that carries Bees Knees Spicy Honey and Trees Spicy Syrup. Selling $170,000 of spicy honey in 10 months was a veritable milestone that they also hope serves as a testament and inspiration to other entrepreneurs, showing that while it takes a lot of effort, it can be simple to launch your own small business.
Their brand flourishes in Brooklyn, NY, with their hot honey meant to delight with its indiscreet chili-infused sweetness. The versatile sauces use only two ingredients: honey and chili peppers. Spicy honey is a new category, and their first product—Bees Knees Spicy Honey—is a unique and innovative offering that is concocted by mixing raw honey (sourced from a small farm in Hudson Valley) with a special blend of chili peppers, dishing out the perfect balance of sweet mellowness and spicy intensity. It really is extraordinary, and an undeniably versatile honey-hot sauce delectation.
"We at MixedMade believe in the unexpected.

We believe food can taste extraordinary in its simplicity.

We believe in filling our bottles (and our bodies) with nature's finest.

And we believe life should be fun."
All these principles are the guiding credos that make this range of switch-hitting hot sauce-honey goodies possible. Each bottle is certified free from corn syrup, vinegar, additives, chemicals, and each batch is handmade—infused, mixed, made, bottled, and shipped straight from their kitchen. The perfect balance of sweet and spicy is further highlighted and enhanced in food pairing suggestions, with recipes and advice on how to add an intense kick in and on everything from roasted root veggies, to feta cheese, to figs, to fried chicken. To sweeten the deal, they offer a "Sting-free Guarantee": If you aren't satisfied for any reason, they send you your money back.
We love the crisp and contemporary design of MixMade's spicy honey jars, and the nice touch of changing the standard, square bar code into the outline shape of a chili. The look is simple and classy. The no-nonsense design is in-your-face, and even bad eyesight wouldn't stop anyone from distinguishing their bottles from afar.
Photo credits: Logo and all images by Mixed Made
LABEL DESIGN TIPS:
Clear packaging with simple labels will make your product (and, of course, its ingredients) "shine" through.
A plus with simple labels: Styling goes a long way. You can "pose" your products in a very involved setting and add embellishments without making each product shot too complicated and confusing.
————————–
Labels carry the heart and soul of your brand, and we don't take this huge responsibility lightly. We're always excited to discuss branding and Prepress until we're absolutely happy with the end result. We hope you enjoyed our best honey label designs post–stay tuned for more label design inspiration soon!
*Just a note that we believe that branding isn't everything: what makes your honey labels work in the long run is the dedication you put into your products and services, from defining your brand values, to your company culture, to speaking about things that you care about through your brand's voice.
NEED ADVICE WITH YOUR OWN HONEY LABEL DESIGNS?